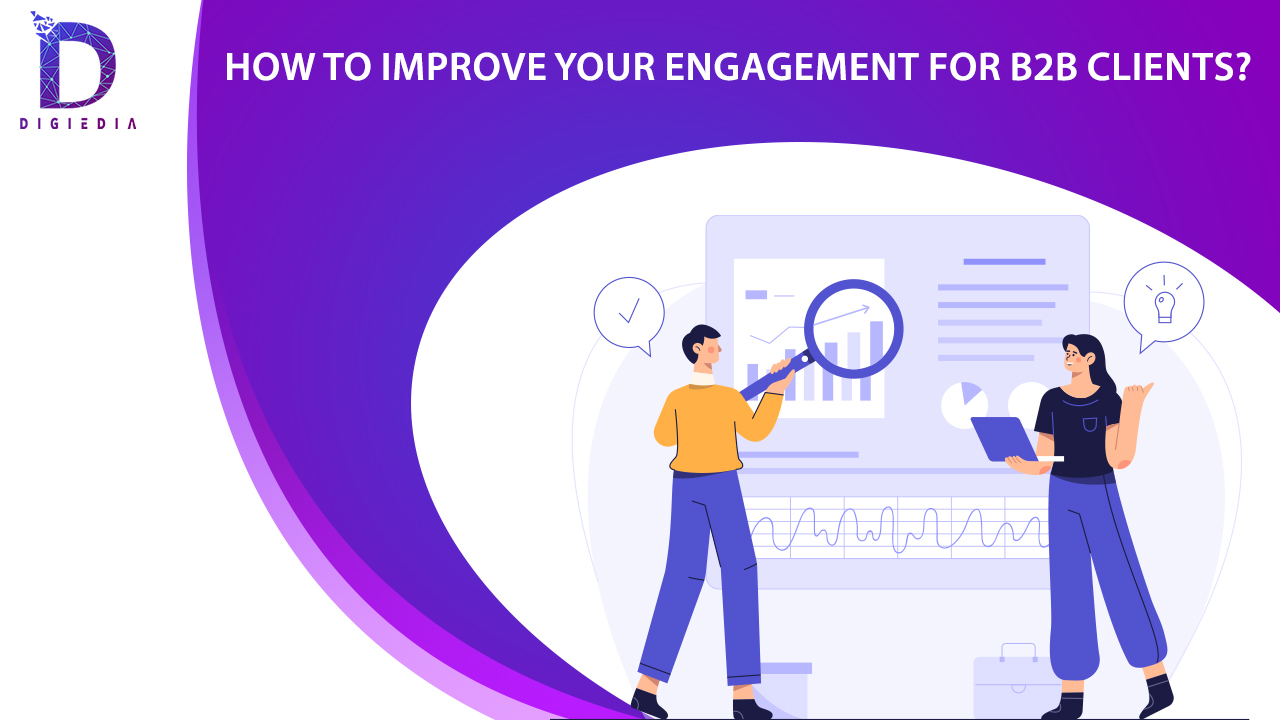 HOW TO IMPROVE YOUR ENGAGEMENT WITH B2B CLIENTS?
DIGIEDIA

22 September 2022
Given the fact that business environments are always shifting, it is frequently necessary to re-calibrate your marketing and outreach tactics in order to guarantee that you and your partners make the most of new market chances. If it has been a while since you last examined the strategies that you use for outreach, it is high time that you have a strategy discussion with your allies. Your ecosystem has to be able to adapt quickly in order to keep up with the fast changes brought about by technology in the way B2B businesses interact with their respective clients. Here are a few ways HOW TO IMPROVE YOUR ENGAGEMENT.
Personalized communication
Not only do B2B buyers want sellers to sell to them, but they also want sellers to educate them with news and information, assist them in resolving their issues, and give relevant, customized suggestions that are special to them. This is another method how to
Your competitive edge will come from your ability to hyper-personalize customer experiences. It will build deeper one-on-one connections with consumers and prospects, taking personalization one step further than the strategies you are presently utilizing. The application of artificial intelligence (AI), automation, and real-time data from customers enables hyper-personalization, which in turn enables the sharing of highly relevant and contextualized information (product and service marketing) through targeted messages sent at precisely the appropriate moment. According to research, companies that do not provide tailored marketing run the danger of losing up to 38 percent of their consumer base. A company's website may be made more relevant to a particular client by displaying a variety of goods and services in accordance with what the customer has previously seen on the website. Another example of this would be emails that include links that are particularly tailored to the receiver, as opposed to sending out general information that may not appeal to all of the people in their database.
Promotion of the brand through endorsements and testimonies
When it comes to establishing business-to-business sales, direct referrals and word-of-mouth recommendations are more important than they have ever been before. This may be a consequence of the often-confusing nature of the technology era in which we live. According to research that was conducted not too long ago by HubSpot, more than half of B2B customers depend on recommendations and testimonials when they make purchase choices. It is essential to include actual customer endorsements in your marketing materials and to actively seek out new methods to motivate your current clientele to become brand advocates. It is quite beneficial to your company's brand awareness to have a referral program in place. This is a very efficient way how to improve your engagement with B2B clients.
Assessing the level of satisfaction of the customers and their suggestions
It is increasingly required of businesses in today's day and age to be responsive to the requirements of their customers. Companies that aren't may very rapidly find themselves lagging far behind their competitors. It is essential that the levels of customer satisfaction and recommendations be recorded in your Customer Relationship Management (CRM) or Public Relations Management (PRM) system alongside other important Key Performance Indicators (KPIs), and handled with the same degree of care. If a significant number of your customers are reporting the same issue or making the same request for a change, you need to make sure that you are doing all that is reasonably reasonable to fulfill their needs. If you don't, you run the danger of having them go with another provider who can satisfy their requirements.
Create channel-specific content, specifically video content
Providing relevant material to customers at various points during their experience is an essential component of developing a customized customer journey. 55% of B2B firms' customers state that they want a powerful narrative that connects with them, and 32% of those buyers want material that is personalized to their specific requirements.
Video will remain one of the most often used content channels among purchasers since it offers the highest level of engagement compared to any other channel. It has been one of the top ways how to improve engagement. When asked how they would prefer to learn about a product or service, 69% of audiences said that they would prefer to watch a short video about the product or service instead of reading text. This information comes from the State of Video Marketing report, which was compiled by global marketing professionals. 18% of the remaining audiences have indicated that they would rather read a text-based article, website, or post; 4% have indicated that they would like to view an infographic; 3% have indicated that they would rather download an e-book or manual; 3% have indicated that they would rather attend a webinar or pitch, and 2% have indicated that they would rather have a sales call or demo.
Sending out Newsletter
Surprisingly, one of the methods of communication that has been around the longest is seeing something of a revival and a key how to improving engagement. The distribution of newsletters is widespread, and a well-executed newsletter may be an effective method for maintaining mindshare among a company's customers and leads if it is designed with care. The use of automated marketing type systems to produce customized newsletters based on individual customer profiles is a novel approach that is becoming more popular. One example of this approach is the creation of a digest version of recent blogs that may be of interest to the reader.
By following these ways, you can effectively improve your B2B client engagement and have a successful and rigid client relationship.