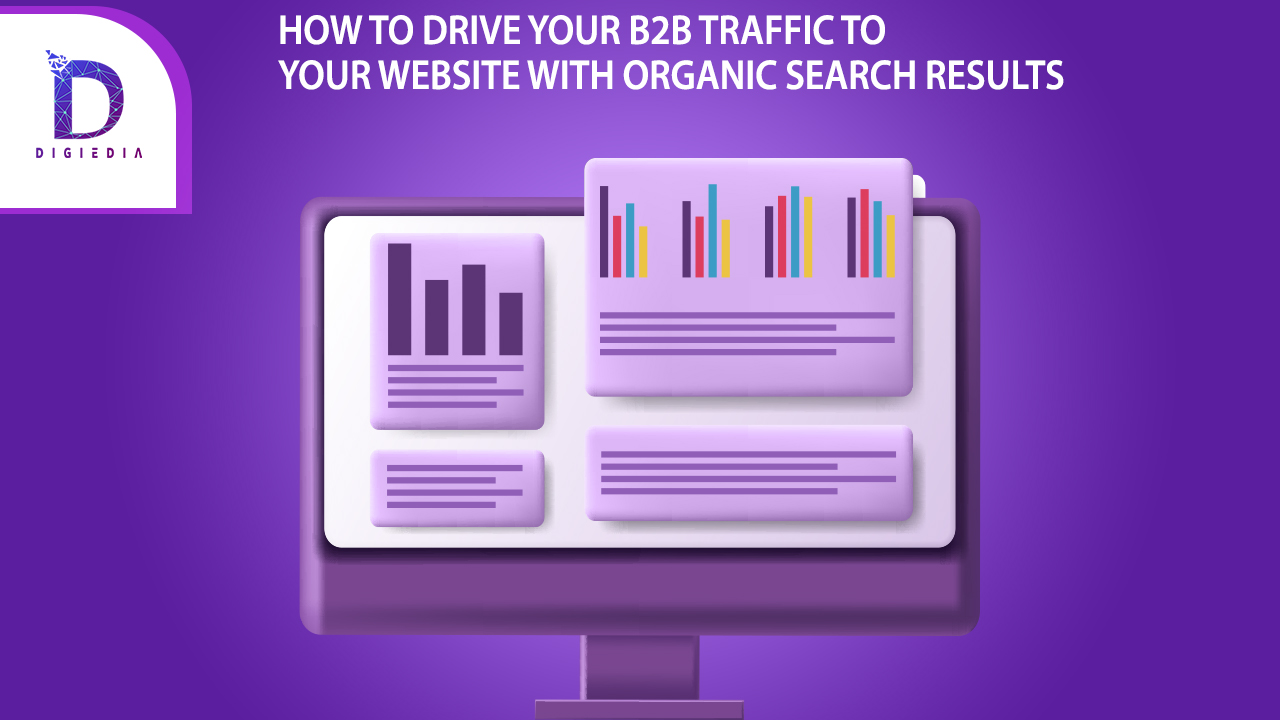 HOW TO DRIVE YOUR B2B TRAFFIC TO YOUR WEBSITE WITH ORGANIC SEARCH RESULTS
DIGIEDIA

21 September 2022
For those who are not acquainted with the term B2B or B2B marketing, here you direct your brand awareness to other businesses or organizations instead of individuals. In other words, B2B marketing is the advertising of a product or service to another company or organization. A business-to-business (B2B) organization can offer everything from office supplies to industrial equipment. Multiple marketing techniques are used in business-to-business marketing to assist you to promote these items and services to internet audiences. Like any other marketing, there are different effective methods for you to learn about HOW TO DRIVE B2B TRAFFICE TO YOUR WEBSITE, especially with organic search results.
SEO
If you are wondering how to drive B2B traffic to your website, SEO is an effective way to do so. SEO, when done correctly and at the proper time, may increase traffic to your website by 70-80%. The greatest technique to speed up your SEO strategy is to analyze your site's historical performance and find what works best for your site. After analyzing, you should stick to the method that has shown to be effective for your site. You can check your SEO result by looking at the blogs that appeared on the first two pages of Google search results and determining whether keywords or SEO approaches worked successfully for those blogs. A number of successful business makes Search Engine Optimization their first step towards driving B2B traffic to their website. SEO makes it easier for potential leads to discover you.
Social Media
Social media is a great way to drive B2B traffic to your website. Although paid social media posts might generate a considerable amount of traffic, organic social media posts, if done correctly, can also help raise exposure, drive traffic, and boost your brand. However, social media is more than simply a broadcast platform, so it is of utmost importance that you follow certain guidelines for using it. While it is simple to add a link, bear in mind that it may not bring the attention you expect. Learning how to successfully use social media will help you attract more visitors to your website. You should also use social media sites that B2B buyers use, such as LinkedIn, rather than those that consumers use, such as Instagram. Professional social media sites like LinkedIn will connect you to more businesses and companies and give you the exposure that your brand requires. It's comparable to a B2B brand's complementary platform, where you may connect your blogs or website to your LinkedIn postings. High-quality photographs and videos tend to receive more attention than basic text postings and don't forget to creatively connect your website with each post. Engaging with your target audience is imperative through comments or direct messages, and responding to their questions as well. This will not only draw visitors to your website but also establish a community of true consumers. Proper exploitation of social media sites is a proven method how to drive B2B traffic to your website.
Newsletter
Sending out a newsletter is another way to drive B2B traffic to your website organically. It shows you are dedicated and truly interested to engage with your target customers. Your newsletter should be professional and contain all the necessary information that you need to share with your potential customer. In the newsletter, discuss your product, provide value, enlighten them on a new deal on a product, and most essentially provide a link to your website at the end. If you are having a tough time getting the mail ids of your potential clients, take professional help. It's always beneficial to have expert assistance when automating specific tasks. It is unnecessary to waste time looking for each of your prospects' email addresses. Aero leads is an email extractor that allows you to quickly get a verified list of email addresses. Finding email addresses from Aeroleads is as simple as conducting a Google search. You only need to register with Aeroleads and install the free plugin. Go to LinkedIn or another networking site and look for the people you want to pitch or email. Tools such as this make your work so much easier and you can worry less about how to drive B2B traffic to your website.
PPC advertising
PPC or Pay-per-click is one of the best ways how to drive your B2B traffic to your website. PPC advertisements appear at the top of the search results. This B2B search marketing strategy can assist you in attracting B2B organizations that are closer to conversion. It's a great tactic for B2B companies looking to generate more quality leads. PPC is a great way for drawing organic traffic to your website.
Target audience
To master how to drive B2B traffic to your website, you need to first set your target audience. if you know your target audience, you will know what type of content to create in order to attract those sets of potential clients. This is a more strategic way to market your brand than wide-range marketing. Having varied content to appeal to the different customer bases or decision-makers at different phases of the purchase cycle increases the likelihood that your material will be utilized, shared, and read among colleagues and peers.
High-quality content
High-quality content is a fail-proof method to drive B2B traffic to your website. Experimenting is essential for increasing visitors to your website. Every B2B marketing team should be aware of the methods required to capture the attention of your target audience, and authenticity adds more value to your material. Do not become a copy, try staying original, and unique, and provide high-quality information to your audience. It is advisable to develop a story or foundation for the campaign before marketing your brand. A cause that will resonate with your target audience, and then launch the campaign. This is the time to unleash your inner creativity, make the campaign a success, and attain your prospective buyers.
These are a few ways how to drive B2B traffic to your website. By following these strategies you will increase your brand exposure and organically drive leads towards your business instead of you reaching out to them.