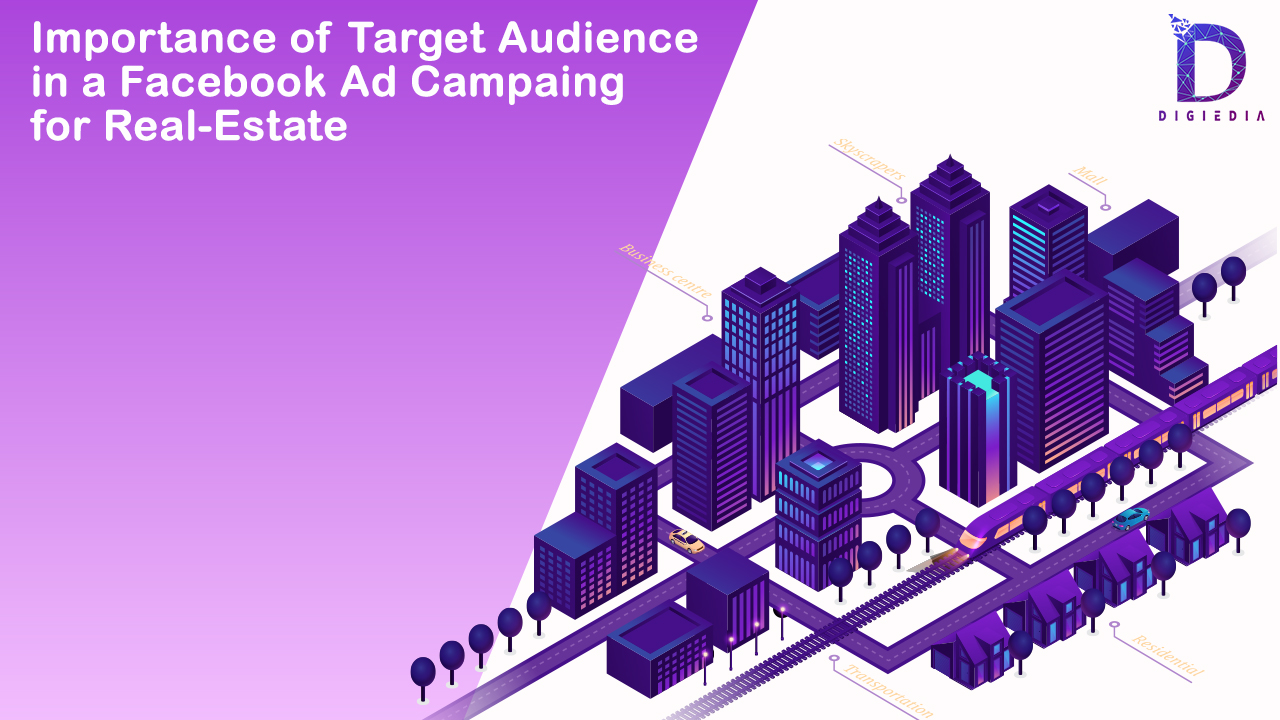 IMPORTANCE OF TARGET AUDIENCE IN A FACEBOOK AD CAMPAIGN FOR REAL ESTATE
DIGIEDIA

20 September 2022
When utilizing Facebook advertising for real estate marketing, the importance of target audience in a Facebook ad campaign cannot be overstated. The ability to target an audience in a Facebook ad campaign allows you to fine-tune the ad to reach the best prospects. These are not limited to one ad, since a campaign might include multiple, each tailored to a particular audience according to your company's needs. As an example, when a distinct set of advertising is utilized to contact vendors and obtain listings, another set is used for buyers. The picture and wording for each would be focused on the ad's purpose for the targeted audience. However, the marketer may also update it based on the greatest prospects by location, age, keywords, or other demographic criteria.
Targeting local customers
Facebook is one of the most successful venues for real estate advertising. Facebook advertisements may help you with your social media marketing strategy on numerous levels. In the targeted Facebook ad, local customers will be targeted. Local businesses are critical to the success of real estate professionals. Even though Facebook is a worldwide site, Facebook Ads Manager allows you to target local homeowners or house buyers in your region.
Visual presentation
The importance of target audience in a Facebook ad campaign highly rests on the fact that Facebook is an extremely visual site. As a result, Facebook advertising enables realtors to give potential customers a sneak peek at the beautiful properties they can provide. The visual presentation of the house is an excellent way for the real estate advertisement as the entire real estate industry is based on visuals. The best way to communicate your message is to use an eye-catching graphic. In just less than two seconds you need to pique your desired audience's interest. So you will need an eye-catching visual for your advertisement and Facebook is your medium to deliver your creative real estate campaign to your targeted audience. You can visit stock image websites and edit your photographs with online programs like Canva to create some mind-blowing graphics. Be creative. You must make certain that your visuals are relevant to your target audience.
Building a connection with the customer
It is critical for house buyers and sellers to work together with their real estate agents. For the customer to trust you with their dream house there should be credibility and a mutual amicability between the realtor and the customer. Facebook is a wonderful medium for building relationships with current and prospective consumers. Through Facebook targeted ads you can also generate leads. You can and must include all important information regarding the property in your Facebook advertisement. Building trust is one of the most challenging aspects of the real estate industry. When making crucial decisions that influence both their everyday life and their wallets, a person needs to know they're working with a trustworthy party. When there are so many real-estate horror stories floating around, it can be tough to create confidence. However, one approach to do this is to be as honest as possible to ensure that their lead never feels misled.
Leveraging Facebook Ad Targeting Process
Once you learn about the importance of target audience in Facebook ad campaigns, you need to exploit the benefits that Facebook provides you in the advertisement targeting process, especially essential for real estate marketing.
User location
As a real estate marketer, you should not make your ad location as broad as possible. Targeting specialized markets where your customers are focused works wonders for the real estate business. By restricting this field, you may reach out to a larger portion of your audience who could be interested in your property. When you specify a broader geographical range, you risk exposing your ad to people who have a very low probability of becoming a client. It is advantageous to become considerably more concentrated on your desired destination. Why display your ad to someone a thousand miles away when you can focus on a place near your property? The exception to this would be a vacation or investment home market, where your ultimate clients reside elsewhere.
Target age and sex
It is obvious that younger people will not have the intention or means to buy a house which makes you understand the type of content you need to promote for your business. The narrowing down of the consumer base is another importance of target audience in a Facebook ad campaign. Considering your audience's gender might be highly valuable as well. The gender of property purchasers becomes important depending on whether your project is in or out of the city. Your target market for a 2 BHK property in the city would primarily be customers wishing to relocate with their families. Bachelors, on the other hand, might comprise any gender seeking studio flats in a metropolitan location. If you are targeting a certain gender, be sure to include the appropriate headline and body copy to appeal to that demographic. And because you will have a target audience, your marketing strategies will be clear to you. Not only that, but a target-specific campaign is also more effective.
Target interest of people
The target audience can also be categorized based on the interest of your clients. When you have a target audience, you can tailor advertisements according to each interest group. For example – if you are advertising for 1 BHK flats in a metropolitan like Delhi, target interest and affinities connected to the same, such as 'buying a property' or those interested in sites like 'Magic Bricks,' etc. This will not only help you target the proper consumers, but it will also help you limit your audience to relevant ones. If you're looking for investors, targeting topics like "real estate investment" might help your ad stand out.
Relationship and language targeting
The relationship field on Facebook becomes relevant for your ad campaign when you are aiming for customer groups based on their family status for your project. Targeting families makes sense if you have higher inventory sizes. Your potential single customers, such as college students or young professionals, would be perfect ad targets for studio flats or 1 BHKs. However, relationship targeting is more effective for renting real estate marketing than for selling real estate. This feature will help you focus on prospects who speak the local language if you wish to target a largely vernacular audience. You should only show advertising in the local language to individuals who are comfortable with it, especially if you are experimenting with it. You can, therefore, segregate your advertisements based on language once you know the language competency of your customer base.
Once you have understood your target audience, you can use the features of Facebook to craft advertisements that suit your niche. Being wide, especially in real estate marketing is not an effective strategy. It will take a lot more time to reach your actual customers, and therefore, you will not be able to sell at an expected rate. The importance of targeting customers in a Facebook ad, especially in the field of real estate, is to avoid irrelevant audiences and reach your actual potential audiences in a much faster and more effective way.