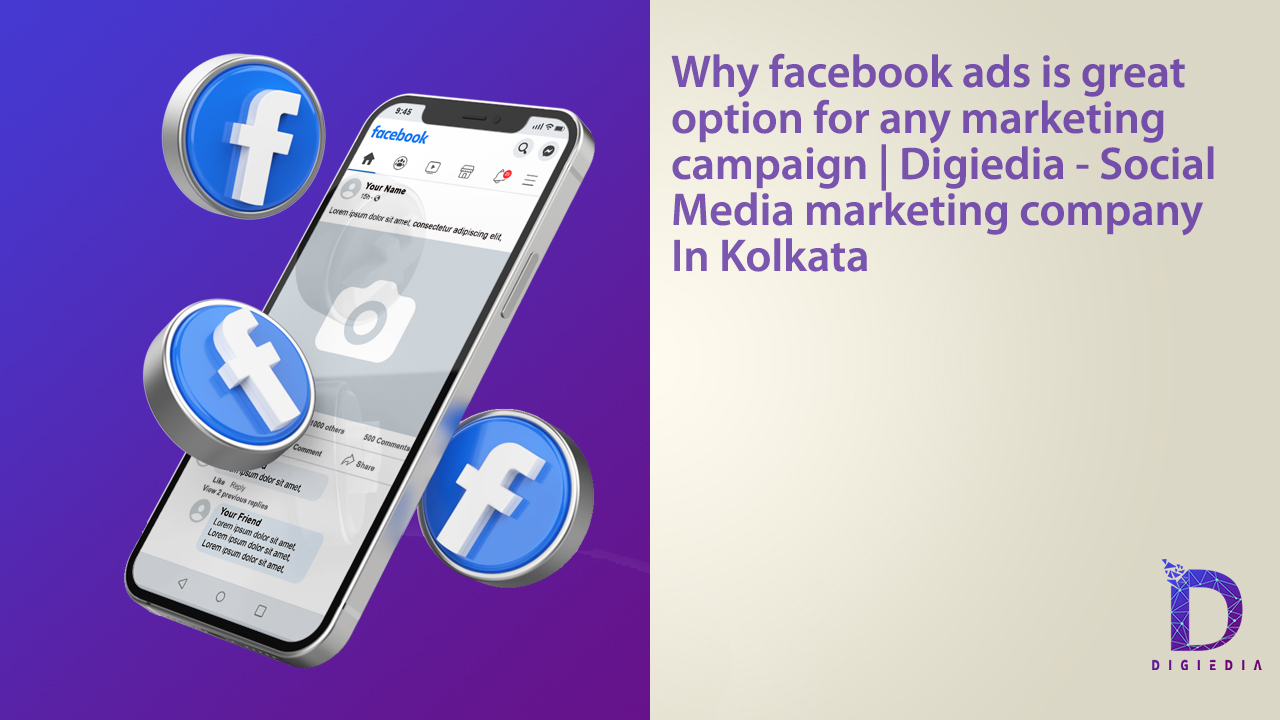 Why Facebook ads are a great option for any marketing campaign | benefits for using Facebook ads for marketing campaign: Digiedia – Social Media marketing company In Kolkata
Online marketing platforms have dramatically changed over the last few years. earlier, Facebook had just switched from being a platform reserved for college students to a platform that everyone could access. But now, Facebook has become The biggest social media network and currently becoming the biggest marketplace platform. There are so many benefits to using Facebook ads for marketing campaign.in this era, it is extremely important to have an online marketing platform for your business. Having a professional Facebook ad page can boost your business. 
Facebook is the main social media platform. Facebook has more than a double number of online users as any other social media platform other social media platforms like Twitter, Snapchat, Instagram, and Pinterest have gained popularity over time..
The below, we are going to discuss the benefits of using Facebook ads for marketing campaign-
Huge user base-Facebook marketing is taking a more significant role in business than ever. Choosing the right social media platform can boost your business and make your brand a well-known brand.
 By selecting the right social media platform, now it's time to analyze what type of content you want to share. You have to understand the buyer's persona and according to that, you should create an ad. over 2 billion monthly active users, Facebook is one of the largest social media networks. Daily, a billion of them being the daily user. Create some ads and pair those ads on the landing page or discount and you will improve your chance of bringing in even more customers. For that reason, whoever your perfect consumer might be, you can be assured that you will find it on Facebook.
With the powerful audience targeting tools, Facebook is amazing and it can help you to find your perfect customers. You can either choose the core audience, selected manually and based on characteristics such as location, gender, or age. A custom audience is uploading a contact list on Facebook. A lookalike audience is where you use information about your existing consumers to find people similar to them.
   Wide range of ad options-
A study shows, that over 90% of social media advertisers use Facebook ads. With the huge audience targeting capability, you can reach the most relevant people to display your ads to in an array of available formats. There are 6 ad formats available on Facebook, 3 main objectives with quite a few subcategories, and around a couple of ad placements.
Apart from that, you can optimize your ads for mobile and give the customers an immersive, awesome experience with CANVA or any other editing tools. You can also give facebook free reign with ad placements when running ads. So that, it can test the ads that perform the best and allocate your marketing budget to only the most convenient ad formats and placements.
Your competitors are there-
Facebook is a huge marketplace, but that does not mean that you should sit It out. Facebook is the most cost-effective marketing option. if you decide not to use it to your best advantage, you will be effectively leaving the field open for your competition.
The best point for promoting your online service is that you can see the product quality, reviews and how many things are available. With Facebook, you can also take action by creating or promoting your services.. 
Engage with your customers on social media by creating a poll about which services in your salon are the best, and discuss upcoming services. do not post regularly; post often and post some high-quality SEO-friendly content. loyal and genuine customers will come back to your online platform to see your most recent work. Facebook is a very busy place. You have to make sure your online presence is to the point and genuine.
 The benefit of marketing via Facebook is that it literally helps you to improve visibility, and thus increases recognition for the brand. Your social media page presents new options and opportunities to share your content and present your brand's voice and personality. By posting relevant content that adds value to your targeted audience. This is one of the good benefits of using Facebook ads for marketing campaigns You are making your brand both more accessible and familiar for new leads.
For instance, when a new visitor stumbles on your brand on facebook, They may not have heard of your company before, but through your facebook page, they will be able to learn more about your brand and the value that you share. The same thing can apply to your current customers of yours. After seeing your social media page on multiple platforms, existing customers can become better mutuals with your business, which may increase their interest in a regular purchase.
   Increase website traffic-
 The Facebook ads boost your website traffic. You can run a website, click a campaign to target your customers and send them to your website. While you can increase the website traffic by multiple sources. The to-the-point option and cost-effectiveness of Facebook ads make this platform more beneficial than other sources.
The interesting feature of  Facebook ads for marketing campaigns is that it can drive offline sales. Many customers who are running Facebook ads see higher instore traffic and work with them.
Some of your customers will see your ads on Facebook, check your website and watch ads and then visit your store once they gain trust in your company.
Once you visit the website, then after that you can see their ads in different apps, this is called remarketing. Remarketing allows advertising to recent visitors. which means that if someone visits your website, and does not buy or contact you, you can re-engage them through Facebook ads. this is the good point of using Facebook ads for marketing campaigns.