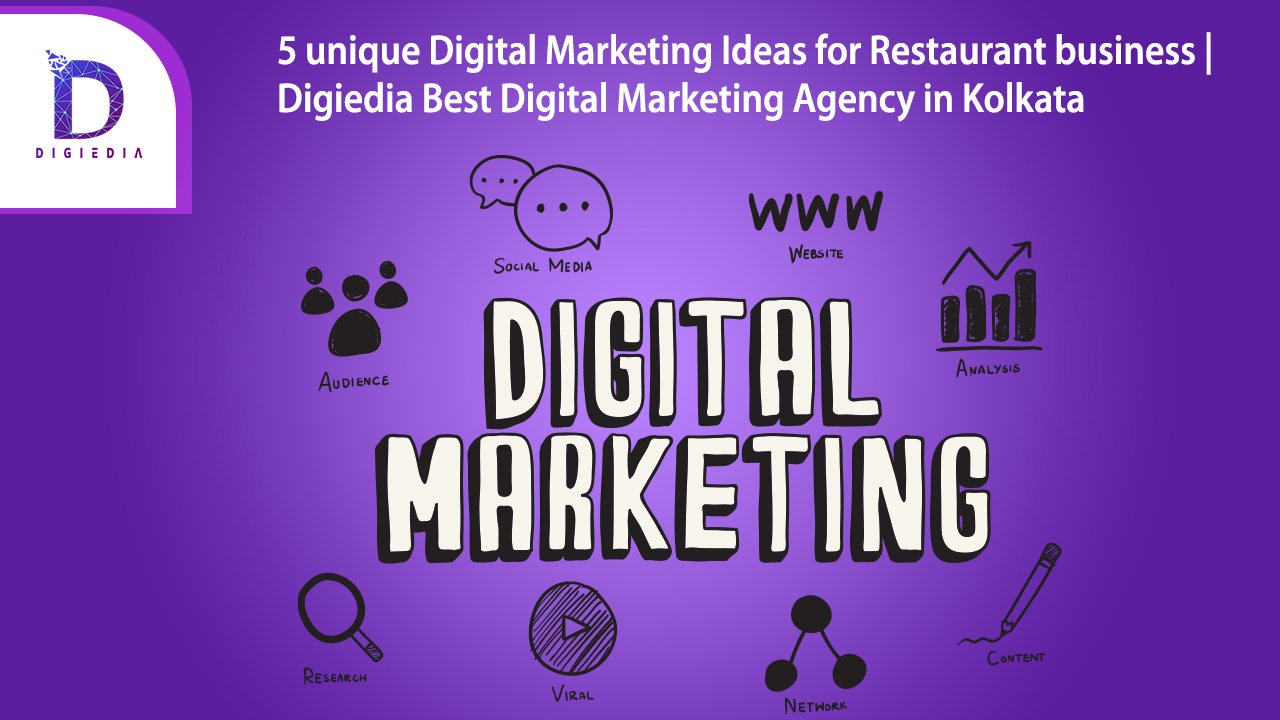 5 unique Digital Marketing Ideas for Restaurant business | Digiedia Best Digital Marketing Agency in Kolkata
The Restaurant Business and Online Marketing: Any restaurant manager or owner must stay on top of the most recent trends and incorporate them into their marketing plan, even if we don't recommend continually monitoring social media. Your business would benefit from adding certain Digital Marketing Ideas for Restaurant business even if it already succeeds without online marketing to stay competitive.
You must choose the digital marketing channels to use and how they will especially help your business grow in this competitive environment. Because each restaurant is unique, what works for one competitor might not be as beneficial for you. Due to this, we've gathered some tried-and-true methods for using Digital Marketing Ideas for Restaurant business to promote your business, as well as some channel-specific guidance.
Digital Marketing Ideas for Restaurant business
No of the type of food you provide, internet marketing may help restaurant owners advance their business. Additionally, it can assist you in differentiating yourself from your competitors and building a loyal consumer base that keeps coming back. Because you won't have to pay for expensive billboards or newspaper print ads, if done properly, it may be pretty cost-effective.
The Top 5 Restaurant Marketing Strategies
Your restaurant has a website. 
You make sure your phone number is there and that it is current, but in today's world, this is not enough. Here are some ideas for various media outlets that restaurants might use to reach potential customers:
blogs relating to food
Social media usage (Facebook, Instagram)
Apps and websites for mobile
video marketing
Email marketing and newsletters
In addition to providing some social media guidance for restaurants trying to expand their clientele, let's look at these platforms in more detail.
Blogs about food on websites: Whet Someone's Appetite!
Restaurants should try out food blogging sites. Bloggers are great because they're always looking for new material; all you need is an engaging restaurant-related story! You can even start reward programs on your website for all loyal customers. Small-town or rural restaurants can benefit from using these websites since they can utilize their food blogs to reach a wide audience without having to spend a lot of money on advertising.
Use Social Media with Integrity!
Restaurants should use social media to promote themselves, but they must be consistent. A few posts here and there won't cut it if you want to advertise your restaurant online. For people to read your posts, try making a schedule for updating frequently.
It's crucial to use social media for things other than just posting pictures of your meals, so make sure you're up to date on the latest tips.
Apps and mobile websites should be speedy and easy to use!
Because a mobile website or app is a fantastic method for consumers to stay connected with your business while they are on the road, it's crucial to make sure that they are easy to use. The convenience of being able to quickly buy food will be valued by your users!
As a result, restaurants might think about using push notifications to alert customers to special events like happy hours or free meals.
Using video marketing to draw in customers
Using video marketing to engage your audience is a great way to expand your company. Make sure the movies you show in your restaurant are of the highest caliber and entertaining for the audience. Additionally, you should upload them to YouTube because people who view the videos in Google search results can find your website by clicking through from there.
This means that you should continue being consistent. Don't go crazy when publishing videos, but try to do so frequently so that guests may learn more about your restaurant. Customers will grow tired of seeing the same stuff on their feeds regularly.
Email marketing and newsletters: Update Your Clients Frequently!
Any restaurant that wants to stay in touch with its customers and remind them of its existence should have a solid email marketing strategy. At least once a month, send emails with subject lines like "Our website has been updated with the summer hours."
Send out some occasionally different offers and see what happens. This can be used for advertising as well. The fact that people love receiving free goods means you'll get some new customers this way!
Find local business directories' online reviews!
If you want to boost the visibility of your restaurant business, going online is essential. You should without a doubt include Yelp, Google+, and other local business directories in your restaurant marketing strategy because they are great tools for assisting clients in finding restaurants in their area or neighborhood.
You don't have to apply all of these Digital Marketing Ideas for Restaurant business at once, so keep that in mind. Start with the ones you think would work best for your business, and then gradually add more as you become used to them or if they are delivering exceptional results. Remember that consistency is essential when it comes to digital marketing if you don't want people to quit enjoying or following the social media page for your company.
Final Thoughts
You may now have a better knowledge of Digital Marketing Ideas for Restaurant business because this blog post covers a lot of ground. There is nothing to be afraid of when using social media or other digital platforms. Just be conscious of them and have a strategy for how you want them to operate in your company. Digital Engage offers a range of digital marketing services for restaurants, including local SEO, PPC management, and more! Visit our website right away to learn more about how we can grow your restaurant business by leveraging online platforms.