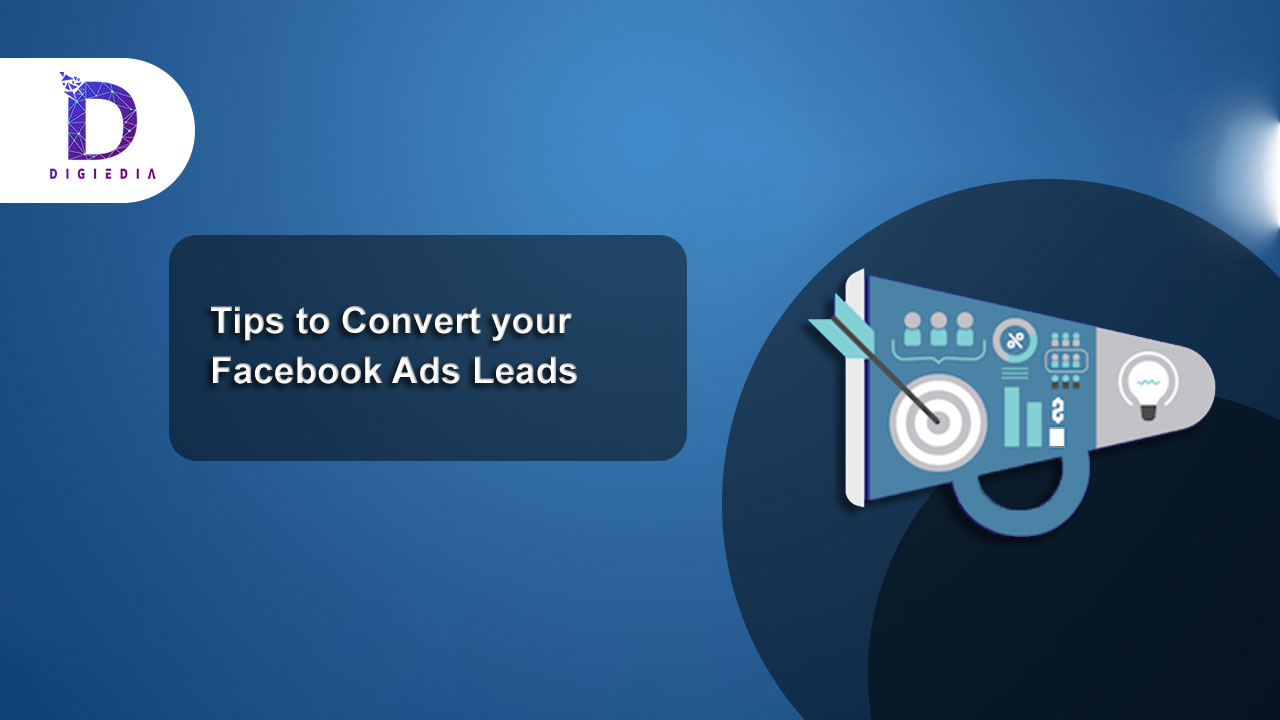 Tips to Convert your Facebook Ads Leads
DIGIEDIA

08 February 2022
IntroBecause of its brilliant UX, many of us are addicted to Facebook and wouldn't want to leave it once we're inside. This can be a problem for advertisers trying to gather leads here are some Tips to Convert your Facebook Ads Leads
Thankfully, Facebook came up with the concept of "lead ads" to fix this issue! Instead of sending prospects to a landing page, lead ads display ads to gather information from them within the Facebook platform. Lead ads, when done correctly, can be a cost-effective and ROI-focused tactic for generating more potential leads.
What exactly are lead ads?
Lead ads on Facebook are a great way to get people to notify your company and demand information and data with little effort. In the end, they're the most effective ad unit for capturing Facebook leads. Potential customers can provide you with their contact information and additional description of the goods or services they are interested in using this user-friendly, mobile-friendly ad format. Lead ads not only permit people to select detailed info, but they also allow you to collect customer information for later trying to target without them having to visit your site.
What are the benefits of using Facebook lead ads?
Forms can be customised in the following ways: This means you can ask for specific information about your company, which will streamline your sales process and make it easier to identify high-quality leads.
The advantages aren't limited to leads: The highly customizable essence of Facebook lead ads means allowing you to use the layout for a variety of purposes, including acquiring a newsletter contact list, scheduling callbacks, managing quote requests, and registering for events.
Integration with CRM: Your lead form ads can be synced with your CRM for instant follow-up.
Pre-populated aspects make data submission simple and quick, allowing consumers to obtain their information even when they're on the go. As people use their phones more frequently, this will only get more convenient.
More conversions result from fewer drop-offs: Because lead ads are simple and easy to use, more individuals are likely to complete and submit forms, giving you a larger number of people to retarget.
You can easily contact the people who are important to your company: People who have filled out forms are already considered "warm audience." This audience is beneficial for future retargeting and it can be easily persuaded to convert.
Find some reason to respond to your lead ad by giving them a reason to do so.
To persuade somebody to give you one's personal details, you must provide them with something that they want – this is something you should think about before constructing your ad. Consider a giveaway that is specific to your business, inexpensive, and gets you the data you need from a pertinent target audience, allowing you to achieve your goal.
Many lead ads, for example, provide free content. This is ideal for those looking to broaden their audience and grow their mailing list. If you're a company that provides a custom service, you might want to use a 's designed ad that provides a free consultation or quote.
Figure out what information you'll need.
Lead ads are a good way to collect information from your intended audience, but don't ask for too much information. This can take a long time and turn off potential leads. After all, this would be in direct opposition to the very appeal of a simple, user-friendly lead form ad. As a result, it's critical that you concentrate solely on data you need to achieve your goal. Facebook has a lot of fields where you can request data, but don't ask for much more than you require.
Make your questions unique.
While Facebook contains a huge number of default questions that you can use in your form, ask customised questions to ensure you get the data you need. The questions you should ask will be determined by your business objectives and the offer made by your lead ad.
Choose the right people to target.
It's critical, as with any ad format, to aim the right people. A lookalike of a lead audience is the easiest viewership to start with if you want to gain conversions. Upload a database of customers of your leads and afterwards create a 1-2 percent lookalike of that database to attack this custom audience. You can aim a lookalike of buyers only if you would not want to attack all of your leads.
Check the specifics.
Add a site that enables people to double-check their information to ensure accuracy and eliminate the possibility of typos. That's also useful if someone's contact information has changed after they first filled out their Facebook profile.
When selecting your form type, choose "Higher intent" to include this option.
Make the thank-you page your own.
After people submit their lead form, a personalised thank you site at least is a great way to keep them engaged with your company. To entice your new leads, include a headline to encourage brand awareness and a call-to-action button.
What can Facebook result form ads be used for?
 Before creating any ad format, you must have a goal in mind. Here are some examples of how lead form ads can be used:
Compile a list of email sign-ups: With lead ads, you could get more people to sign up for your mailings and email campaigns. This allows you to stay in touch with your customers while also increasing the capacity of your client list for remarketing purposes.
Organize your inquiry forms: Collect potential customer inquiries and ask them questions to better understand more about what they're looking for. This makes it easier for you to follow up and use them as more relevant information.
Offer special deals or promotions: To pique people's interest in your company, offer special deals and promotions. To gain access to the deal, have them fill out ones lead form.
The overall goal of each of these 6 steps is to tailor your ad to your company's needs, achieve your goal, and tips to convert Your Facebook Ads Leads.  should be trying to attract prospects who will remain in your area of influence longer and start engaging with your business if you follow these steps. Better yet, these tips to convert Facebook Ads  leads are more likely to become new clients and customers.