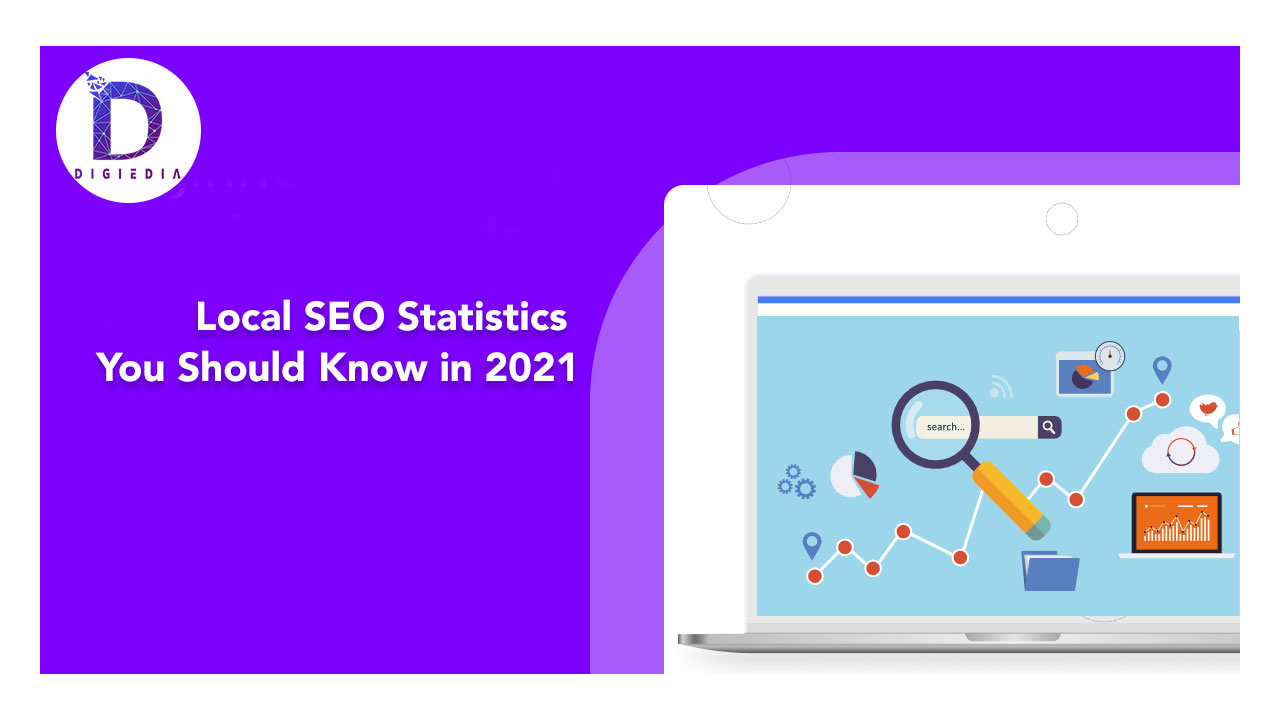 Local SEO Statistics You Should Know in 2021
DIGIEDIA

24 November 2021
SEO is and has always been about being on top. Elaborated as Search Engine Optimization, its meaning is just as the name suggests i.e. to optimize the search engine in such a way that your website shows at the top of the results section when searched for similar keywords. After the Covid-19 outbreak, many companies have shifted to making their presence online and thus, the competition has fairly increased in recent times. There are many professionals who have been hired in recent times by reputed companies in order to leverage their SEO ratings and attract more traffic. 
2021 has been the year of the Internet revolution, while many companies have shifted to the online scenario completely, many reputed companies have also started to notice the power of the web. SEO has been a key part of this shift as every company, be it small-scale, or big-scale wants to put its best foot forward in order to generate greater traffic and most importantly genuine leads. There are many SEO statistics that came up during this year and are very important too. Every company must or even every individual must know these in order to level up their website.
SEO is always considered as something which takes a lot of effort and time, but very few people know that with proper knowledge and manpower, a better SEO rating is not that tough task to achieve. Here are some of the SEO statistics which are quite important for everyone to know especially for this year 2021.
1:- Google has already achieved 365 Billion searches (and still counting) during this year-
As mentioned earlier that 2021 will be forever embarked as a year of the internet revolution, this fact is proved by the statistic given above. It clearly shows that the customers are searching every now and then, and with the introduction of fast-speed internet at every corner of the locality, there are no area restrictions as well when it comes to searching on the web.
Prioritizing SEO with proper knowledge and efforts can easily help a company to achieve greater heights by generating genuine leads. Ranking higher among the search results would easily help you enable buyers to get attracted to their website.
2:- Among the first page, the top 5 searches account for 67% of all the clicks-
Being in the top list of the result sections has always resulted in high profits and genuine lead generation, facts state that if your website is among the top 5 results when searched for a particular keyword, you have the highest chances of attracting traffic to your website. In recent times it is seen that the competition in every field has launched like a rocket and thus, it is very important for all the companies to stay ahead of the lot by updating new SEO methods based on the algorithm of the search engine.
3:- Google's algorithm has been using 200+ criteria to rank a website-
With the increase in competition among the companies, search engines have also updated their policies for ranking a website. It is not just a matter of a few things that a company has to keep in mind now. Google, being the most popular search engine has been looking through 200+ aspects to list websites in their result section.
Search Engine Optimization looks tough from the outside but if someone has the proper knowledge and knows the better techniques to rank a website higher, a better SEO score and a better rating can be easily achieved on the search result section of any search engine.
4:- High-Quality Content and proper backlinking have been considered as the two most important aspects-
Reading the trends of recent times, it is observed that every search engine is considering high-quality content and proper backlinking as the two main aspects for ranking purposes. By high-quality content, we do not mean that the content should have very good English and should use extraordinary vocabulary, but, high-quality content means that the content should be related to the keywords that might be searched by the users. Content is not a new thing for the website to rate higher, but instead content has been an important aspect since 2016 i.e. during the early days of the Internet.
Many companies also prefer to hire content writing specialists which shows their intention of putting quality over quantity and when any company does that, it automatically builds a feeling of trust between the end-user and the company resulting in better conversion rates.
5:- The more the number of backlinks a website has, the better ranking it achieves.
According to a survey it is observed that the websites having more backlinks are ranked higher in the search result section. Great content is always supported by better backlinking, therefore, when you know that your website has a long content length that is well-curated and will not only clear the doubts of the customer but would also give them some extra information too, then you also need to assure that the backlinking done on the website is also up to the mark. 
So, these were some of the local statistics that one should keep in mind while designing a website or working to achieve a better Search ENgine optimization score over any search engine. As mentioned earlier, Search Engine Optimization is not at all tough and it does not even require much devotion or time, all you need to do is update your content from time to time and upload quality content. Yes, SEO takes a bit of time but it will all be worth it when you will see your website generating a better conversion rate and genuine leads.