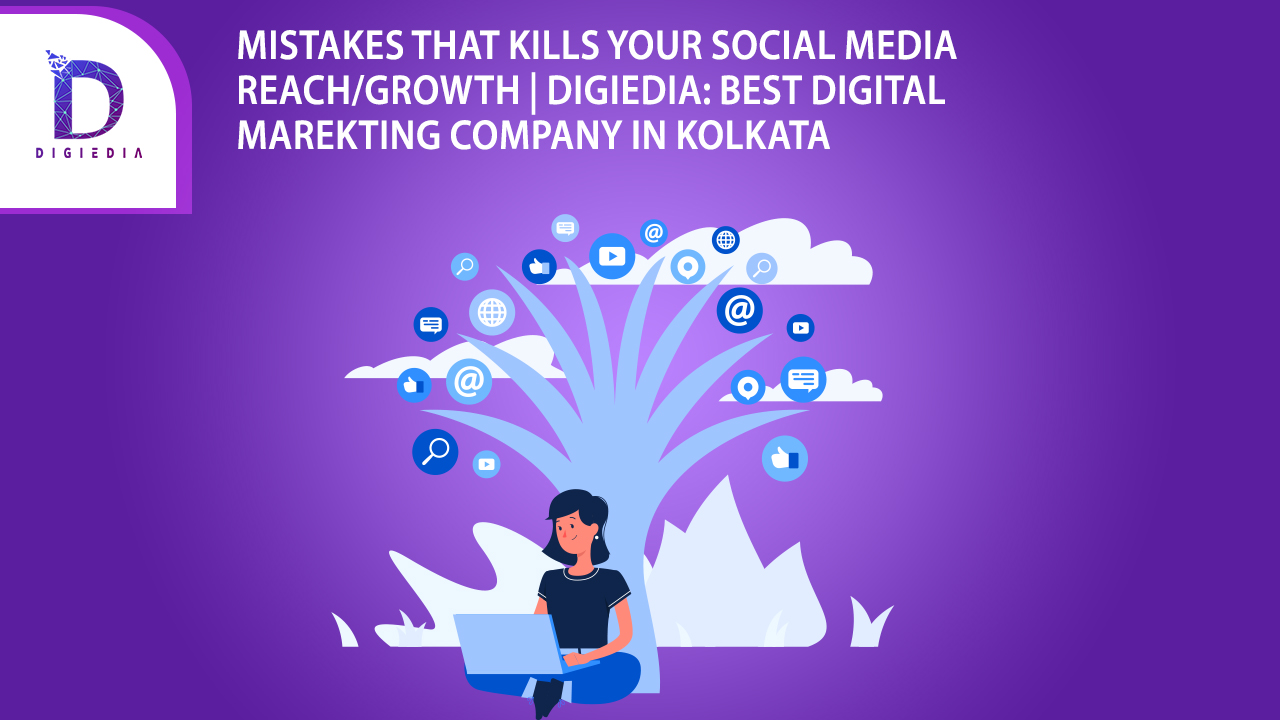 Mistakes that kill your Social media reach/growth | DIGIEDIA: Best Digital Marketing Company in Kolkata
The majority of businesses stand to benefit from social media marketing in a number of ways, but there are also a significant number of mistakes that may be made in the process, which is unfortunate. It's crucial to recognize these errors before looking into social media marketing. Your business will do better the more information you have. Not only will you learn about pitfalls to avoid, but you'll also get some good advice on social media marketing. Let us know about the Mistakes that kills your Social media reach/growth.
Mistakes that kill your Social media reach/growth:
Lack of Strategy
It takes more than just providing engaging content to use social media for marketing. Your efforts will be ineffective if you don't have a plan and clear goals in mind.
Without a plan, you won't be able to assess the effectiveness of your article or learn more about the behaviors of your followers. Before beginning your social media marketing journey, make sure you have precise goals in mind in order to avoid this.
Your goals should be as clear as possible, and you should make sure that each one can be evaluated using a variety of data metrics.
Being Strict
Nobody wants to make a purchase from a company that is rigid and incapable of knowing when to relax a bit. Yes, you need a plan when posting on social media, but that doesn't mean you have to adhere to it completely and upload information at the exact times.
The appeal of social media marketing is that you may let your imagination run wild when posting. It demonstrates to your followers that there are people who care about things other than generating money sitting behind a computer screen.
We advise you to keep using a content calendar. However, you should leave space in the schedule for adjustments if necessary. This is a crucial mistake that kills your Social media reach/growth.
Lack of Consistency
What makes publishing on social media too frequently worse? not enough posting. It appears as though your social media accounts have been abandoned if you don't post consistently on them.
Your followers will start to lose interest in your accounts when they seem to have been abandoned, and this could cause them to stop following you completely. Maintaining your aesthetic while you post on your website is another aspect of consistency.
It's best to make sure that each article that follows these rules if you're going to use the colors from your company's logo. When you stand back and look at your post, even if it might not seem like a big problem, the account will look cleaner.
Ignoring Remarks
Your followers leave comments on your social media pages because they want you to see them and reply. There are a number of comments-related mistakes that can be committed, the first of which is to completely ignore the comments.
Don't dismiss someone's complaint if it needs to be resolved. Spend some time pointing the follower in the appropriate path so they can handle the issue and discover the necessary answer.
Additionally, you ought to take the time to respond to compliments and express gratitude to those who have supported your company with their business. When it comes to comments, deleting them is another error that is frequently made. This is a common mistake that kills your Social media reach/growth.
Taking a Promotional Approach
We acknowledge that social media is a fantastic tool for business promotion, but it's not the only purpose for which it should be employed. You'll lose followers if all of your social media activity is directed at convincing users to buy your goods.
It's acceptable to mix promotional information with other types of content, but make sure you strike a balance between informative and promotional content. If you're starting campaign commercials, that's another incentive to reduce the promotional content on your social network.
Always adhere to trends
We acknowledge that not every trend is worthwhile pursuing, but you shouldn't completely disregard them either. Try your best to incorporate new TikTok sounds or dances into some of your social media posts, for instance, when they are released.
The likelihood that you will show up on social media platforms' "for you" or "explorer" pages increases as you keep up with current trends. The more people who view your postings when you appear on these pages, the wider your audience will be.
Your brand will benefit more from having more viewers of your content. It's a great approach to reach more people with information while gaining more followers.
Use distinct tactics for every platform.
It's simple to believe that your strategy doesn't need to vary based on the platforms you employ, yet nothing could be further from reality. It's crucial that you modify your material to fit the platforms on which you're posting.
Treat each platform as though it were a separate, distinct entity because it is. Nobody wants to come across duplicate material across all of their platforms.
You can aim for distinct audiences on each site, which is another reason to develop original content for each post. It's critical that you take advantage of and make the most of each social media platform's distinctive advantages.
We have a great option for you if you wish to avoid making social media marketing mistakes. Outsourcing your social media marketing relieves part of your workload while assuring that your marketing is in the hands of professionals.