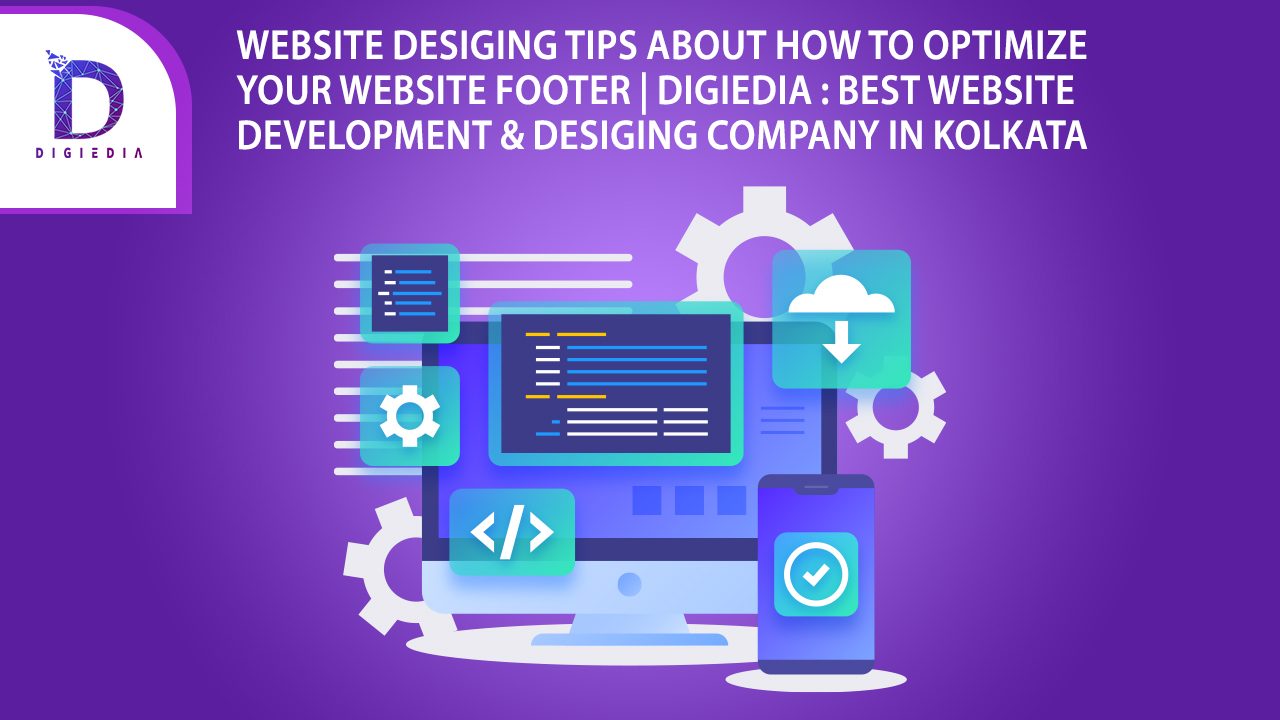 Website Designing Tips about how to optimize your website footer | DIGIEDIA: Best Website Development & Designing Company in Kolkata
The footer of your website represents one of the most significant areas. Which means, technically. It might not have the best design or the most attractive content, but it is a location where consumers routinely check for information. Your website's footer can reveal a lot about it. It describes to visitors who and what you are, what you provide, and how to use your website. Additionally, it reveals subtle qualities about you as a designer, such as your attention to detail and capacity for working in confined areas. An integral element of the design of the website is the footer. Be mindful of it. To make the most of the bottom area in just about any web design project, be sure to incorporate the ideal balance of content, design components, and usability. So, while creating a web design project, it is crucial that you don't overlook that area. What, however, needs to be incorporated? What are some unobtrusive ways to keep the footer structured and consistent with your overall style? You're in the correct spot. Here, we'll examine some suggestions for writing a fantastic footer and provide examples of several websites that are already doing it effectively. In this blog, we are going to discuss how to optimize your website footer.
Simple design
When working with a lot of information, and thinking about how to optimize your website footer then you have to keep in mind that as a footer mostly likely has to be clean and simple. a good and simple design attracts most people. Maintain orderly elements, lots of space, and intentional organization. Keep things simple and consider what will appear in your footer and why it needs to have it. The amount of information and the number the pages on your website are frequently correlated with footer size. The footer of Agra-Culture uses color, symbols, and text, but it's still straightforward and flows well. Each link is simple to click, and it's a great addition to have the farm picture in the box thing as a subtle element.
Provide the contact details
Your website typically involves a page with all of your contact information on it. It most likely contains your name, address, contact details (including phone and email), a link to an online form, and possibly even just a map with travel instructions.  However, while thinking about how to optimize your website footer then there are two main justifications you need to include your contact details in the footer. First of all, having the data on each and every page raises your website's ranking for pertinent searches. Second, most users don't want to leave the page they are now on to obtain your contact information. It is a huge benefit for users that it can be easily accessible from wherever on the website. The following details should be included:
Name of the business 
Address
Phone Number and E-Mail ID.
If you want to save customers from having to copy your email address into a new email, your phone number and email address should open the appropriate app when clicked. If any of your potential customers are likely to visit your business in person, you may also include a small Google Maps image.
Add call to action button
You need to Give users something to do once they've reached your footer by including a link. Add a box for them to subscribe to your e-newsletter or ask them to follow you on social media. Remember to consider this area's potential for converting clicks. For example- "Join Our Newsletter" was given a substantial quantity of footer space by Collaborative. Users can participate without necessarily joining a campaign thanks to this call to action, which is clear to notice, matches the design, and is easy to find.
Organize the footer's Links
Group similar footer elements together to generate a wonderful feeling of structure for links and information. Take into account a number of columns (or rows) of pertinent data, such as parts from your most popular pages and contact, links, and service columns. To make each part simple to view and locate, place each section beneath a heading.  For convenient access to footer information, SugarSync contains many columns of data. It is simple to locate the section of the website you want to utilize next thanks to the titles "Product," "Company," "Learn More," and "Connect with Us."
Search Bar
Most people imagine search bars at the top of a page or in the side navigation, but you can also add one to the footer. It's not always essential, but if you have a vast site, you might want to give consumers another area to input a search. In particular, if someone has read the entire page but hasn't discovered what they were searching for, having it near the bottom makes it quick and simple to find. It can be best not to overcrowd the bottom with a search box if your website is rather straightforward. Prior to incorporating anything, consider if you actually need it.
Social media buttons
The social media platforms like Facebook, Instagram, and Twitter provide users with convenient access to your social content that can increase brand awareness and consumer engagement. Businesses that often upload information to social media may decide to include widgets that show the most recent tweet or post. Displaying out-of-date content might hurt your brand, so carefully examine if you provide enough content to justify it.
Privacy policy
And lastly, if you are thinking about how to optimize your website footer, then you need to keep in mind that Users are constantly reminded of the data you are acquiring on your websites (such as user data, cookies, personal phone numbers, etc.), as well as how you plan to use it, through privacy policies. Although the privacy statement is a legal necessity, it also presents a chance to increase user confidence in your website. Make it simple to grasp and clear.