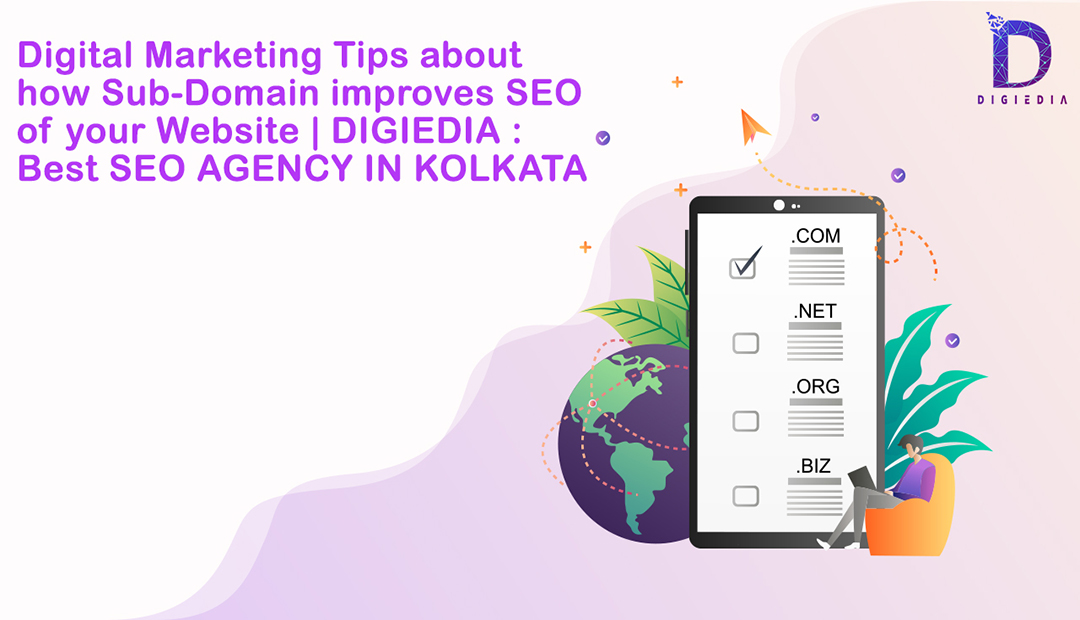 Digital Marketing Tips about how Sub-domain improves SEO of your Website | DIGIEDIA : Best SEO AGENCY IN KOLKATA
Before creating any website, building an online presence starts in a fairly straightforward manner. You need to buy a domain in order to create your own website. A subdomain is a prefix that is added to a domain name to separate the section of your website. As a website owner, you have to use subdomains to manage extensive sections which need their own content hierarchy. The subdomain functions as a separate website from its domain. This thing helps you to develop a section of your website without muddling your site's overall intent. As a result, you increase your chances to build a niche authority and as a result, your will gain more organic traffic to your website. No matter why you're creating a subdomain, make sure your string is optimized to make the goal of your independent site obvious. Additionally, be sure the SSL certificate vendor you're using offers subdomain security. In this article, we are going to discuss how Sub-domain improves SEO of your Website.
A subdomain is created for various reasons
A subdomain organizes a website's content in a better way
Helps to boost SEO and domain authority.
Maximize geo-targeting pages
Helps to create a separate e-commerce store.
Provide more detailed and in-depth information on a specific topic.
Subdomains are not to be confused with a subdirectory. A subdirectory is a major part of the main website. It is necessary to note down that every site needs a subdomain. They should be only utilized if it is relevant to your website and what you are offering.
Why using a subdomain is necessary?
To make it straight and simple, a subdomain is a part of a website. A subdomain is considered a different entity by search engines. It can be used for organizing properties, or even for a SEO boost. Sometimes you do not want certain pages of your website.
Most companies use a subdomain for different purposes like technical or political purposes. Some companies like to keep their blog post separate for certain reasons. This is because the blog has a different design than the rest of the website or they want to create a discussion between the content and the website. This is how Sub-domain improves SEO of your Website. If you are building out a blog that is a large content powerhouse, then you might want the flexibility that a subdomain will give you.
 How Sub-domain improves SEO of your Website
Domain authority refers to how individuals view your website. It's a software-as-a-service (saas) score created by Moz for search engine rankings. Subdomains can improve the ranking of the primary domain, even though they are frequently viewed as distinct entities from the main website. In addition, the new keywords may help them rank for search queries for which the original domain doesn't do well. The domain authority (DA) of a website is scaled from 1-100. In general, a site with a higher DA is considered to be more reputable and often ranks higher in search engines.
You can see the improvement in user experience. If you create a large website that loads slowly then it becomes hard to navigate. As an example, you can experience poor user experience. This is a negative point as a poor user experience means users will spend less time on your website which lowers the ranking. To avoid this situation, you need to use a subdomain as a subdomain helps to improve user experience.
A subdomain gives a better on-site experience to your website. By effectively high-ranking subdomains, The ranking of subdomains and conventional domains is unaffected by bias by the search engine crawler and ai bots. The existence of a subdomain or a standard domain name is completely irrelevant as long as your website has been optimized and contains the appropriate SEO keywords. An improved onsite experience comes from a subdomain. Different product lines can be displayed. Your company's product range and service. You may occasionally desire to divide the line of services and goods up into distinct niches due to its diversity. This entire procedure aids in your ability to concentrate, which enables you to deliver a comparable website experience for your visitors. This is how Sub-domain improves SEOof your Website.
The subdomain is an expansion of your current website, whenever you want to explore a specific topic further but do not want this information on your main webpage. This is how you can organize your website content which makes it easier for your users to find the essential pieces of information they want. This whole process gives a better onsite experience and get a chance to rank higher on the search engine page.
Image source – you need to stick your customer to your website for a longer period. Remember the more they will spend on your website, the better your SEO rank will be. This is how Sub-domain improves SEOof your Website. This whole process is referred to as dwell time- the time on a user spends on your site after finding it by a google search.
You can organize your website's content with headers – if you want to improve your google ranking, you need to keep in mind certain things. Though header tags may seem not necessary and minor it plays a huge role in your website to improve SEO. Optimizing then can improve your SEO and transform your performance in the SERP. The h1 tag is the primary header tag you need to worry about. With a subdomain, this is how you can improve your website.