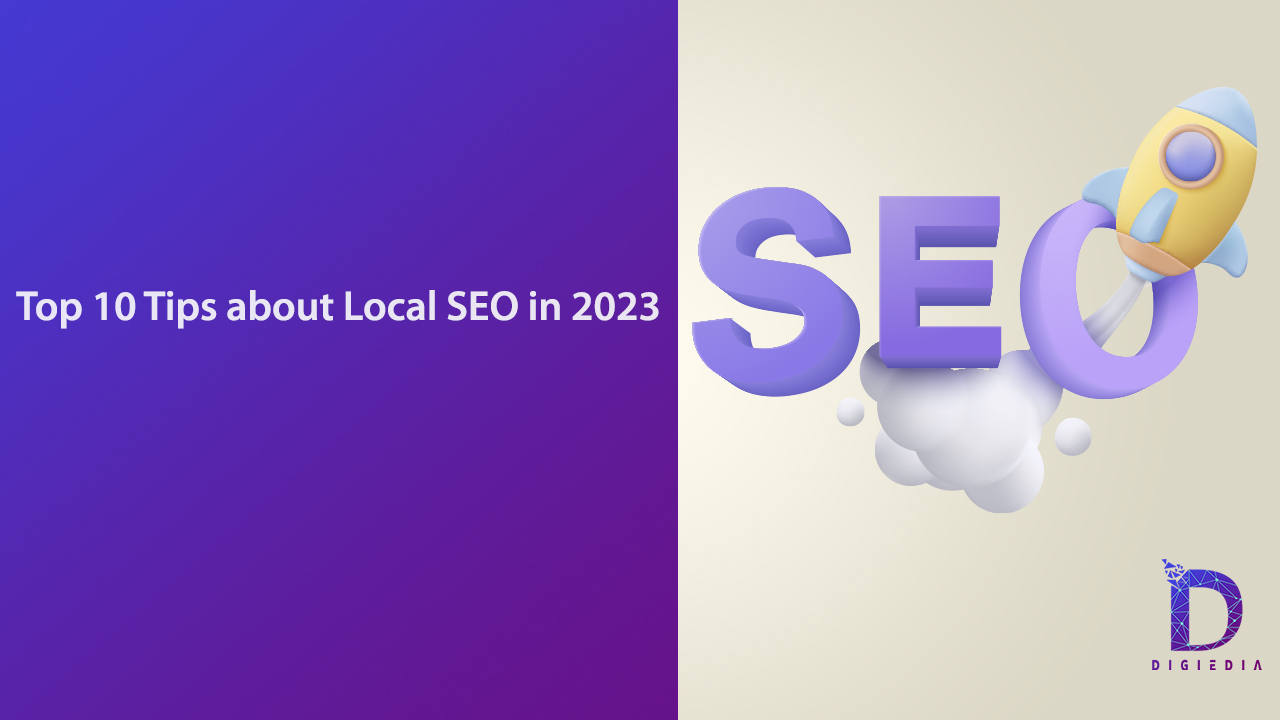 Top 10 Tips about Local SEO in 2023 | DIGIEDIA: BEST SEO COMPANY IN KOLKATA
If you have a business online or a small business in 2022 or 2023- then you have to learn several local search engine optimization that can help you to meet your goals by boosting your website to higher ranks on google. This will attract new customers in your area to your website, and increase your personal foot traffic and sales number as a result. Search engine optimization is an effective way to attract customers to your online platform. Top-ranking SEO performance requires attention to multiple metrics, including social share, traffic, and backlinks. In this article, we are going to focus on top Local SEO in 2023 (essentials) for online business
Do keyword research
Like any other seo strategy, SEO for local businesses should start with a specific keyword. The keyword should be relevant. For local SEO, though you will need to take a look at the keyword with the location in mind. The first step is to find out what your targeted or potential customers are searching for on google. According to that, you need to make sure your content is written and optimized perfectly and optimized for that specific keyword phrase. For example, if you are running a local clothing shop, to find your shop, someone will search on google- best clothing store in Kolkata or clothing store near me- all you have to do is to attach your location to those keywords within your SEO strategy. So your final list of keywords might include clothing stores in Kolkata. There are various tools available on google (keyword research tools). These tools will assist you in researching your keywords. For example- google keyword planner.
Obtain a Few Excellent Backlinks
Backlinks from trustworthy websites are a great way to increase traffic to your website and let Google know that it is a significant and authoritative source. To obtain these links, send articles and guest posts to sites with high domain authority that are pertinent to your business. Have included a backlink to your company either within the body of the text or as half of a reference.
Optimizing meta tags with local keywords
To improve local SEO In 2023 in your local businesses, one of the best places to put your keyword research to work is within your meta tags. But here is the main point to remember. Too much of a good thing can lead to a bad experience. Do not overoptimize your content and use keywords everywhere in your sentences or blog post. Google uses meta descriptions to learn about the content on your website. So use the keywords carefully and put them as naturally as possible in both the title tags and meta descriptions for each page of your website. It will help local searchers find your page more easily. It will give them all the information you need. Whenever you optimize, so the keyword in the important places of your blog and make sure it follows a natural rhythm or flow.
Customer review
Positive feedback and customer reviews are crucial parts of online business. Customer reviews are the easiest ways to grow and improve your local business. Focus on the review as it helps in SEO ranking on google. Focus on the reviews on Facebook and increase good reviews by linking to your review profile. 
Apart from that, effective local SEO is founded on a strong understanding of a customer's motivations. Do you need to find out what your customer wants? What type of questions they are asking? You can learn about what brings most users to your site by placing a first-party data strategy for your business then use these pieces of information to make your content more appealing to the audience you have collected.
Focus on on-page keywords
Once your business has set a keyword, you have to take some time and place them accordingly to maximize their efficiency and effectiveness. The on-page keyword should appear in title tags, heading tags, and meta descriptions. When working with multiple keywords, try to place them close together in the text to amplify their SEO effects.
Publish original content on your page or website
In the generation of the Internet, most people spend their time online, on social media, and google. To take this advantage as an opportunity, you can improve your local SEO by posting relevant content on social media platforms or by making google ads. Post original and valuable content on the platform that you know is popular with your targets such as infographics, videos, or images. As a result, it helps specifically and makes your SEO rank better. Content that is engaging such as short videos, and reels do well on the social media platform. Ideally, the user should be able to absorb most of your messages by casually scrolling through their feed. Try to post original content as we, the consumers can easily catch the copied content. If someone finds out that your business steals other's content then they might lose interest in your business. Make sure your business has a strong presence on social media and that the profiles are optimized for local SEO.
Boost your local SEO in 2023 by creating a mobile-friendly website
Make sure there is no "disallow directive" in place in order to guarantee that Google can crawl your URLs and that your page is user-friendly. Furthermore, keep in mind that Googlebot won't load material that calls for user engagement, such as clicking or swiping. The so-called lazy-loaded content must be visible to Google. Last but not least, be sure to utilize identical meta robots tags on both desktop and mobile web pages.
Business location pages
To rank up your local SEO  in 2023 on google, if you list all your business locations on a single page of your website it is not enough for SEO to read it all. Create a separate page for every location and make sure each page is optimized with the right keyword. This includes geo-targeted location tags, content, and descriptions.