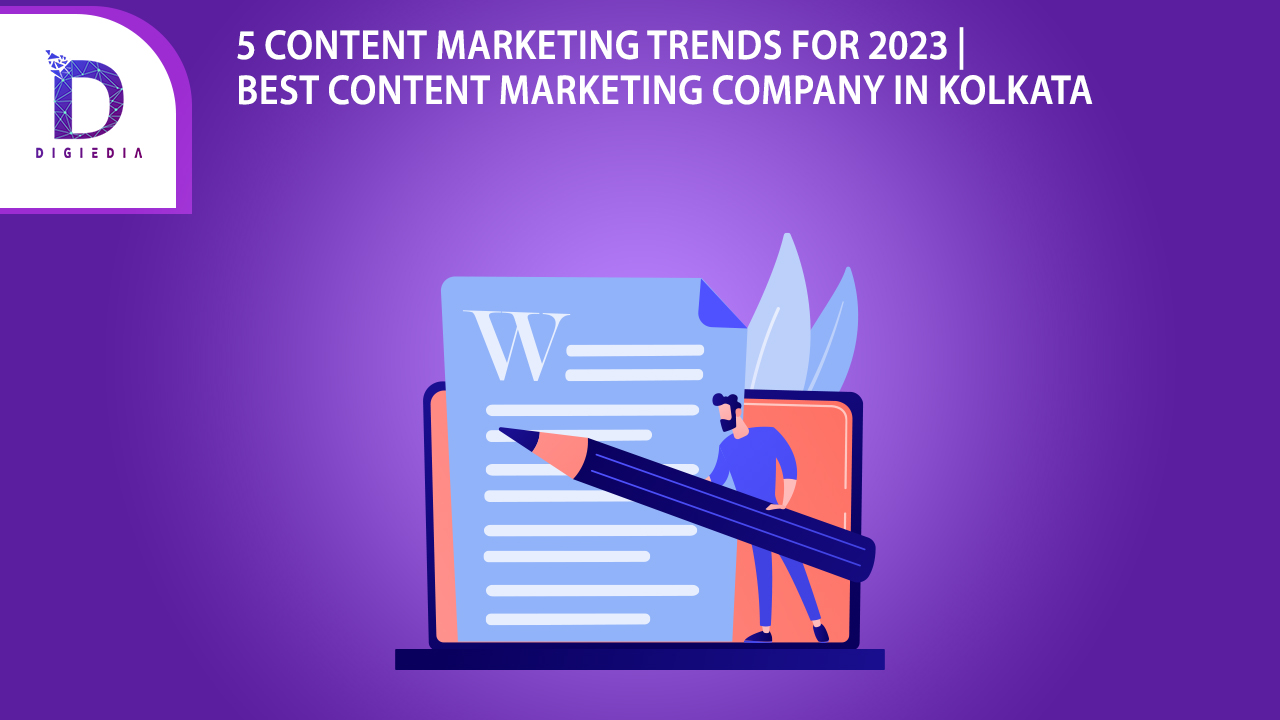 5 Content Marketing Trends in 2023 | Best Content Marketing Company in Kolkata
The definition of content marketing- Content marketing is a strategy usually used to generate and engage with the audience with relevant content, images or video, or another type of media. Most companies have moved their sales online and this is not changing anytime soon. With more businesses are investing more in online, and that's why the competition is growing. In this digital world, we all want to focus more online and getting our content noticed. With content marketing, you can make any kind of creativity to attract your customers. Whenever a brand thing about content marketing, they think about the owned content. But an effective content marketing strategy includes owned, earned, promotion, and shared content and paid. There are no boundaries. Some of the popular Content Marketing Trends in 2023 are
Blogs, Infographics, Videos, Ebooks, Checklist, White papers & Memes
Content marketing will become a common goal in 2023. Most of B2B content marketing strategies should
Have to Be audience focused. 
Must Use influencer- and user-generated content. 
Leverage AI.
Think outside the blog.
Update existing content. 
Here are some top 5 content marketing trends in 2023
Always prepare for quick content pivots
The content marketing field is dynamic. People who have an online business, often face crazy years ahead, from the economy to the spread of the covid-19. Though every business faced a huge loss during covid-19. Now they are trying to bounce back in their business. Some content departments will be too slow and miss the opportunity. Make sure you and your company remain flexible so the content your company creates on getting content out there that addresses real problems but it will also enable you to own the conversation in your industry, not simply react to others' words. You have to think about new angles that different publications and quickly change the conversation.
Build with influence and share with other people who have influence
You need to build up your authentic Chanel first and invest in it further. Consistently reaching out to your audience and companies with high authority sites or influential channels is an important part of online business. Content marketing and marketing In general allows you to borrow authority from others; this is a situation where the company you keep can boost your reputation and visibility. Build up your valuable channel first. This is one of the popular Content Marketing Trends in 2023. Whether it be via Linkedin, an owned channel, or a podcast, focus intently on one channel. Then, take your success from those efforts and leverage them into opportunities with others. 
Post original and quality content and personalize a message
While making content for your business to create a brand image, you need to maintain originality and consistency. When you think of creating content, what comes to your mind? Writing a blog or creating content that people read or react to? Absolutely yes. In the current situation, through content marketing, you can create interesting and attractive content people want to engage with. Recently, Google has updated the ranking factors to give more relevant results to its users. You have to move away from talking about your products and services and start creating meaningful content people will feel that watch, read or listen to. Now you can't just simply stuff your content with keywords. This is not going to help you anymore going forward.
Focus on the audience
Audiences are a major part of your business. Your audience deserves interactive and personalized content. The content you will create will add value to their lives. Apart from that, it is crucial to be audience focused in choosing your medium not just the message of your content. Video and audio content is still hugely popular among consumers. The content should be engaging as the audience wants and needs it. It is also important to focus on the audience. This is one of the popular Content Marketing Trends in 2023. Posts with videos get more than 80 % more traffic than those without video posts. The great way for brands to begin is to understand the why behind the wants, choices, and needs of their customers. Knowing the why helps marketers—and product developers and the whole organization—accomplish the mission of the company more effectively: solve the problem they set out to solve for their customers. The name of the game of b2b content marketing in 2023 is giving more focus on the recipient of the messages. Whenever you understand why your customers want to solve this problem- what their goal is – you can give solutions to these problems with all forms of engagement with them to their specific pain points.
Always update the existing content 
staying up to date and updating your existing content on your website is an important part of the content marketing business. Sometimes this question struck your mind- why update old blogs when you can write a new one?- well, there are important benefits to revisiting old content. Information gain is at the root of the statement. Information gain can be used to optimize what is featured out of data sets. Earlier, Google was noticed to be using information gain in its search engine results. With Google's latest update, it was giving importance to not just the best information but different information. This is one of the popular Content Marketing Trends in 2023. So you'll want to make sure previous content is updated with the most updated information, comprehensive subheadings, and a new perspective annually. 
Summary
As we can see. Most companies have moved their sales online and this is not changing anytime soon. With more businesses investing more in online, that's why the competition is growing. With more people stuck at home and forced to use technology to stay connected to the world, it is most obvious that digital content is becoming a major part of the buyer's journey. Today and in the upcoming days, consumers will become more tech-savvy and use technology always regardless of age and gender. As a result, they expect quick answers; otherwise, they will go to the next page on the list. So you have to follow all the Content marketing trends to stay up to date.