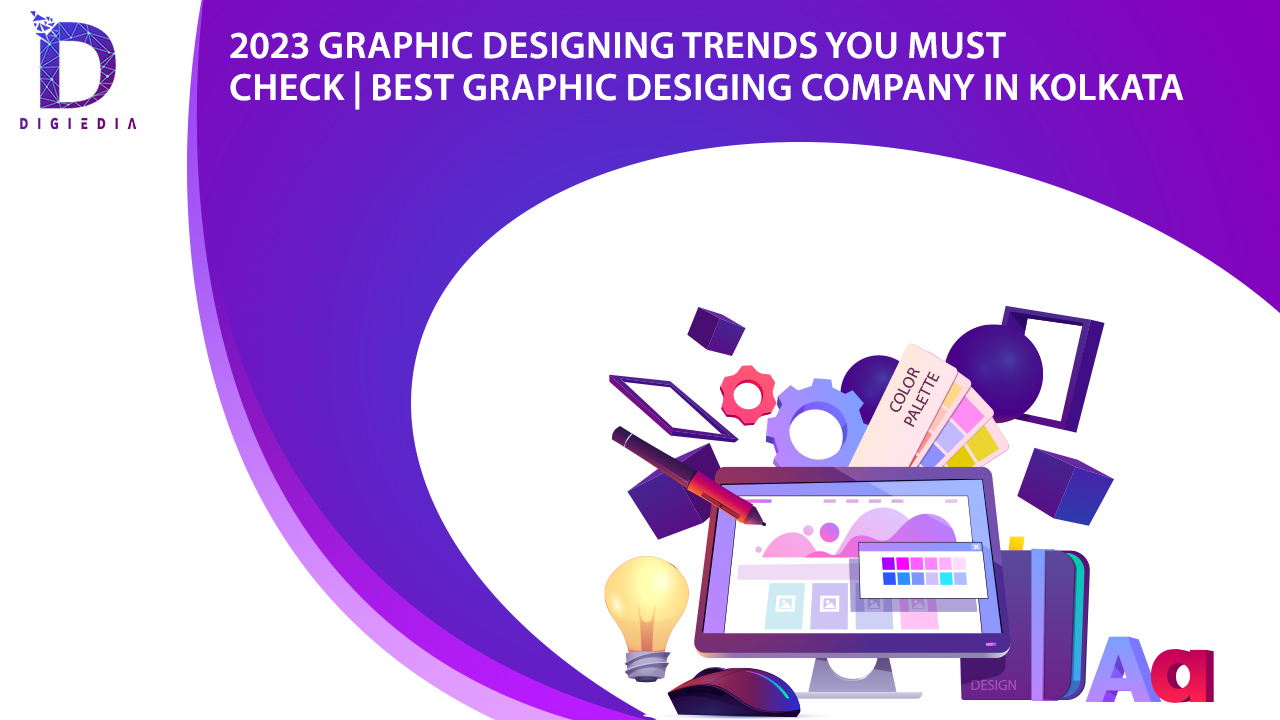 2023 Graphic Designing Trends You Must Check | Best Graphic Designing Company in Kolkata
Having in the trend is a bit challenging. Trends always emerge in the context of their time. The graphic designing sector is currently developing. This sector also reflects graphic designers respond to different circumstances in different ways. The most popular design trends of the past year, which were characterized by colorful impressions and designs reminiscent of past decades. Some graphic designers mainly focus on the ideas of excitement and curiosity, creating unique and tech-inspiring upcoming designs. In this topic, we will discuss the top 7 2023 Graphic Designing trends
Condensed Typography
One of the 2023 graphic designing trends is this typography trend. bold and impactful graphic designing trends in 2023 will be condensed typography. Many graphic designers are choosing these styles on their creativity. This is considered one of the best ways to move towards metaverse and futuristic styles. Condensed typefaces can have a slightly aggressive, in-your-face tone, so try to nurture the vibe with simple pastel color schemes or go full science fiction with black and neon. This condensed typography has always been a great way to attract attention even when space is limited. This condensed typography can be used in making commercial designs, editorial design ads, and social media ads.
Sans Serifs are returning
In the past, most designers' first choice was sans serif. It gives a traditional vibe. This font is clean, traditional yet versatile. That's why this trend is more likely to continue. There are some unique and fancy styles available that are easy on the eyes. We can see sans serif pretty much everywhere. However, we have recently noticed many brands are using sans-serif fonts in their regular ads. this is one of the 2023 graphic designing trends. The sans serif graphic designing trends are visible on logos, social media designs, and several places. This design looks good on both digital and print designs. And that makes them perfect for the current-day trending marketing approach. Naturally, more brands are willing to explore sans-serif styles. Some famous brands which use sans serif fonts are yahoo, Burberry, etc.
Nostalgia-inducing Design
Y2k is currently trending. We see a lot of y2k styles resurfacing in the world of fashion. From interior designers to graphic designers, everyone is following the y2k trend. From Vaporwave style to grunge, several Y2K designs might make a comeback. They rule the world in both the fashion industry and street-style fashion. As a consumer, we clearly say that they have won our hearts. As a graphic designer, you can use the y2k style as they will continue to rule in 2023 as well. try to keep up with the styles that have won people's hearts. In the retro palette, the y2k design looks good and with other vintage elements like pop art and neon styles, y2k goes very well. it gives a nostalgic effect to your design. With a muted retro theme, most graphic designers are choosing y2k styles over any other regular designs.
Creative typography –
From google, and Spotify to YSL, and Burberry- they are using both sans serif fonts and creative typography simultaneously. Most of the graphic design companies have been using typography designs for years. Experimenting with typography is all about pushing the boundaries of regular typography and exploring new designs which will use increasingly experimental techniques to create something different and unique designs. As a result, they will catch people's attention and stands out from the crowd. this is one of the 2023 graphic designing trends. This trend is getting famous rapidly and experimenting with this style will be fun if you are looking for something new and exciting to try in your graphic designing work. With creative typography, you can create attractive posters, ads, brand designs, and many more.
Radiant Design
If you are looking for something unique yet trending, choose the radiant design. With the radiant design, you can add any colors or texture to any design. Many graphic designers are using and increasing the trend with more experimental execution. they are versatile yet easy to add effect to your creative. This has led to exciting exploration and developments with unique and different colors blending among the creative community. You can also create gradients with radiant designs. With some quirky and irregular blends, it has become one of the trendiest designs in 2022 and 2023. For example -in London, they use a dark pink spray paint style splodge design in their anti fashion week- campaign- which is also a radiant design.
Minimalist Designs are becoming a trend
Minimalism is popular mostly in the packaging of the product in 2022. These trends now tend to become the designer's favorite style in 2022 as well. minimalist design is now finding its way into other areas of design. With the bright and bold color, the minimalist design can be used in any field such as creating a banner, poster, social media ads, and brand campaigning. For example- vivid minimalism brings a joyful feeling to the project without compromising on clean design. With minimal design, you can allow the designs to retain sophistication while having a different point of view.
Retro Art Design
Last but not the least, the retro art design trend is one of the 2023 graphic designing trends. retro art design will rule the designing world. Many designers are turning to minimal line art to create something unique and different illustrations which will make a great impact on people and give a humorous and fun vibe. The retro style will recreate the nostalgic memory of drawing with felt-tip markers. The retro art design is simple yet significant. Which is why the trend is a neutral fit for more light-hearted projects. Just because the drawing is minimal they can handle ultra-bright colors without overwhelming the viewer. To enhance the retro effect, many designers pair these illustrations with throwback bubble fonts and design features reminiscent of vintage magazine ads, such as oval borders and starburst stickers.