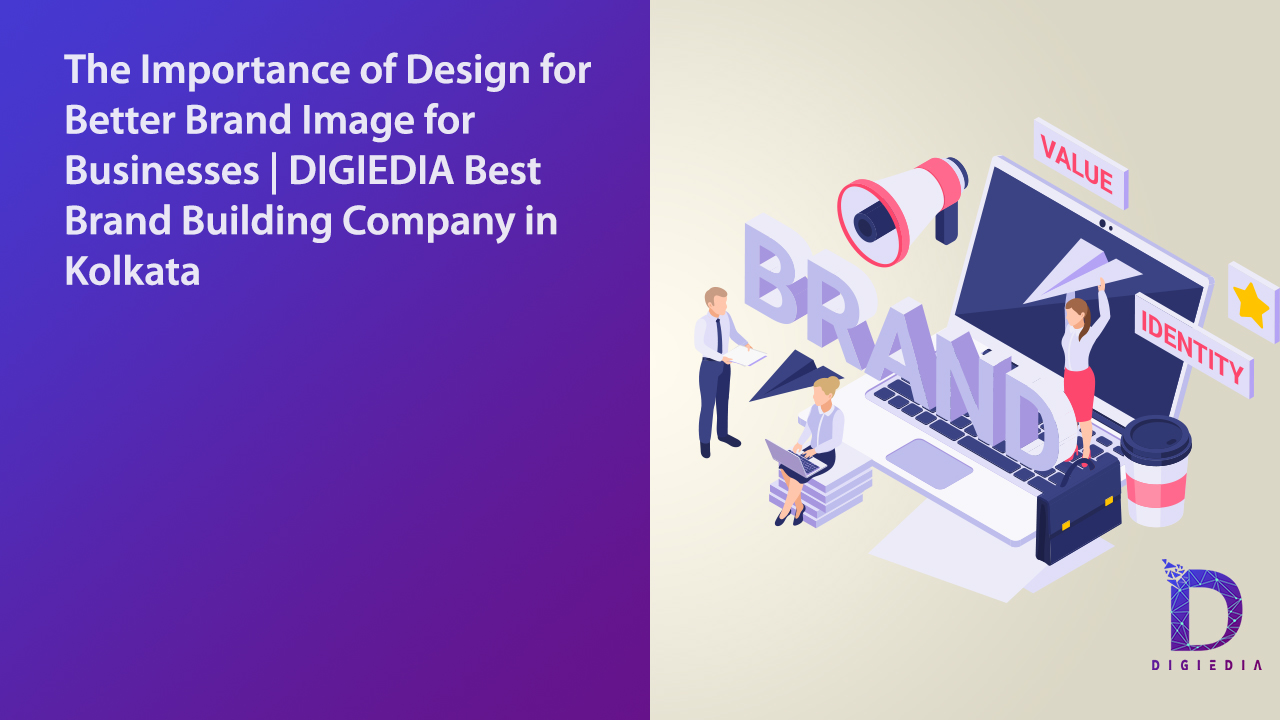 The Importance of Design for Better Brand Image for Businesses | DIGIEDIA Best Brand Building Company in Kolkata
Philip Kotler once said that –"An image is the set of beliefs, ideas, and impressions that a person holds regarding an object." A brand image is based on someone's perception. You do not have control over it. There is a range of other factors which you do have control over that can influence how someone perceives your brand such as your brand personality, voice, messaging, values, social media, and many more. As a business owner, you have to put effort into building a brand image. You need to rely on the Best Brand Building Company in Kolkata.  The quality of your product is not always the number one reason why a consumer might make a purchase. It is important, but in many cases, it is your brand image that is going to encourage customers to stick around and make the purchase again, and their friends and family.
Why is it important for business?
In the modern days, a company's image is as important as the functionality of its products. All the successful companies have proven the paramount status of a brand's image. According to research, the most successful business put their main focus on designing logos. The fundamental goal of creating an impactful logo depends on providing benefits, functional benefits, and rational benefits to the consumers. As a business owner, you have to put effort into a brand image. You need to rely on the Best Brand Building Company in Kolkata.  You have to try to build their trust in your brand. So it's time to think about building your brand identity.
What does a brand image do?
Helps you to Stand out from other competitors.
A strong brand image enables consumers to make a quicker, easier buying decision that improves profits for your brand.
It creates a great impression, attracts the audience, and makes them curious to learn more about your company.
Here is how you can influence your customers with a strong brand image
Understand the mission and value of your business
It is essential for your company that you need to understand the mission of your brand. Be sure your consumers are also aware of your mission. Everything about your brand should line up with these values as consistency will only increase your brand image.
Understand and target your audience
Having a clear idea of what your target audience wants is a crucial part of online business. Have wanted to make sure that your brand image appeals to them. From promotional techniques to your customer service and website, everything should be carefully designed and carried out with your target audience as the main point to keep in your mind.
Make the image audit
For building a successful brand image, before doing anything else, try to figure out where you stand in the current branding strategy. From which angle do people see your brand? It's time to compare your brand with other famous brands. To become successful in your first marketing campaign, target the right audience. For example, if you want to target youngsters, review your logo, and design which should be vibrant to see what others are doing.
Listen to customer's feedback
Without any customer feedback- a brand does not get successful. No process is complete without a feedback mechanism. Feedback helps you to understand the problems that need attention before anything worst happens. Collecting customer feedback implies that you are responsible for your business commitment and you want to improve your business.
Customer feedback can be reached in some simple steps by a helpdesk application with analytical capabilities to derive insights from the data. Customer feedback can guide product improvements, service improvements, and many other business decisions. As a market business owner, you have to put effort into a brand image. You need to rely on the Best Brand Building Company in Kolkata.  
By customer feedback, you can point out your flaws and rectify them accordingly. Customer feedback can point out real issues that you can address to improve. It is essential to collect customer feedback and also act on the insights derived from them for progress. Collecting customer feedback is the easiest way to become a customer-centric business.
Post original and quality content and personalize the message
While making content for your business to create a brand image, you need to maintain originality and consistency. When you think of creating content, what comes to your mind? Writing a blog or creating content that people read or react to? Absolutely yes.
In the current situation, through content marketing, you can create interesting and attractive content people want to engage with. Recently, Google has updated the ranking factors to give more relevant results to its users. You have to move away from talking about your products and services and start creating meaningful content people will feel that watch, read, or listen to. Now you can't just simply stuff your content with keywords. This is not going to help you anymore going forward.
Do not be too formal with your customers
Listening to your customers and solving their problems is a crucial part of a successful brand. Delivering authentic content, and solving their queries is essential. Being a good listener helps you to understand the problems thoroughly to deliver exactly what a customer needs. Do not be too formal with your customers.
As a result, they might not message you again. A formal conversation makes a communication gap between a brand and consumers. In the world of customer support, a communication gap is almost fatal to your business.
Get help from influencers
We, most consumers interact with the visual content of a website or a business page. People decide on purchasing the product by watching reviews from famous content creators. People get curious to click on call-to-action content with amazing graphic pictures. If you want to build your brand image then you can contact Best Brand Building Company in Kolkata, they will help to do a collab with influencers to get potential leads. That's how you can improve your brand image. In the end, a good review can bring traffic to your website.