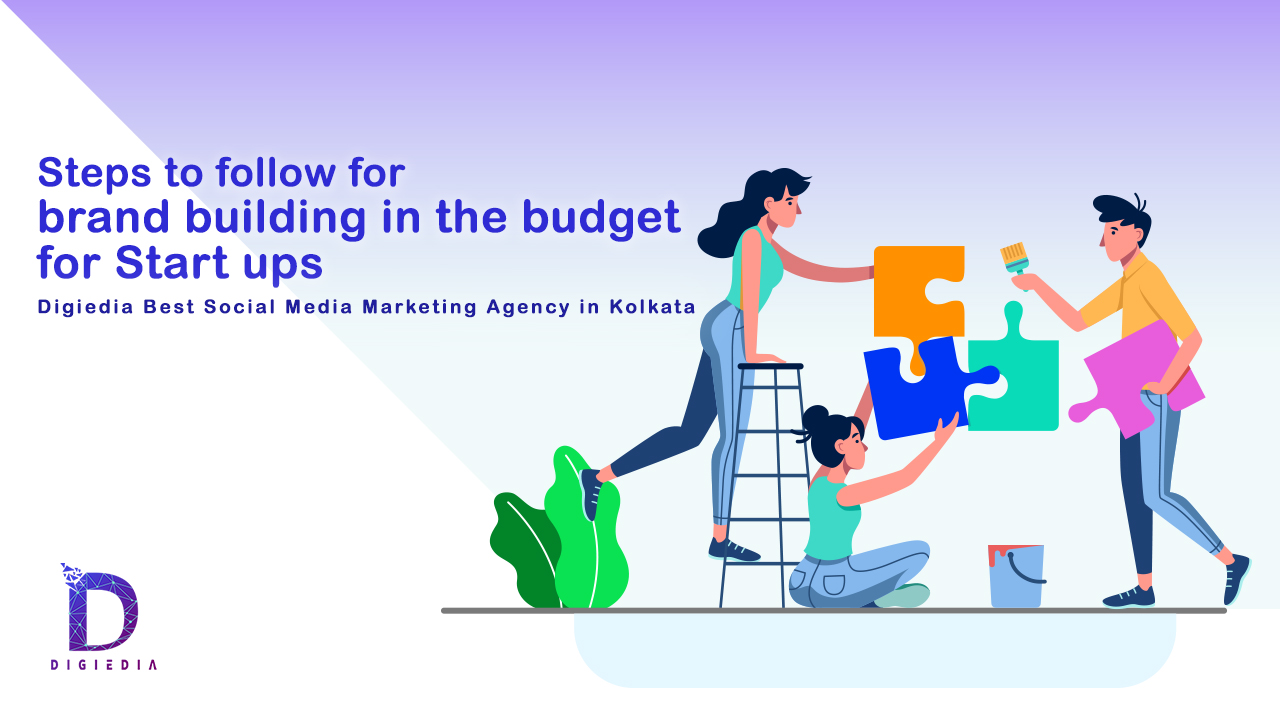 Steps to follow for brand building in the budget for Startups | Digiedia Best Social Media Marketing Agency in Kolkata
For many businesses, branding entails creating a company logo as well as a website design. The truth is that website and logo design are only a small part of a larger branding strategy, and they are implemented later in the process. A true strategy for brand building in budget influences your company's culture, tone, and language, among other things, and should eventually help your target audience recognize you.
Due to the immediate need to get things going: construct the product or service, launch your internet website, gain consumers, and start selling, it's an activity that's usually postponed or discussed later, especially for startups. Many startups, on the other hand, face problems down the road because they failed to establish the guidelines that will guide them in making the best scaling decisions: hire talent who fits the company culture, appeal to the right target audiences, and have a consistent message that conveys the trust that is required to build any customer base.
The value of increasing a company's brand recognition cannot be overstated. Making a good first impression and letting people know you're there is the first step in breaking into a new market and attracting and converting clients. Brand recognition activities receive a smaller share of marketing resources at startups because leads from lower-funnel channels like search engine marketing convert faster owing to higher intent and can be easily tracked for ROI analysis. The focus is usually on quickly and directly converting the business into much-needed cash flow.
Brand building in budget
It's crucial to think about the long-term benefits of building a brand. Startups should consider investing in brand awareness for a variety of reasons, including priming the bottom end of the marketing funnel, reduced long-term acquisition costs, higher conversion rates, and better customer loyalty. When you think of brand awareness campaigns, you might think of pricey television or billboard advertisements. You may get a lot of marketing impressions or eyeballs on your brand with a little innovation. I've utilized the following five low-cost brand building in budget with startups:
Putting Together a Group
Bringing together your potential consumers for a cause that aligns with your vision can help you establish genuine loyalty while also creating a lot of discussion about your company. Creating a Facebook or LinkedIn group, inviting customers to events, and offering advice and support groups are all examples of brand building on a budget.
Education-related information
You may portray yourself as someone who can aid your target audience in learning more about how to address their difficulties by assisting them in studying more. Provide articles with tips and hacks or host webinars that highlight trends and resources to attract new clients with a common pain issue.
Relevance and timeliness are two important criteria for grabbing the attention of a journalist. You can inform a journalist whose employment is around your target audience if you come across information that is relevant to them. Making a strong proposal can help you get your name in front of your target audience's preferred news and information sources.
Following customer-driven trends can assist you in devising new ways to participate in the news cycle. The bulk of media coverage links back to your site because these sites are well-indexed by search engines, enhancing your SEO value.
Stunt Marketing is a type of marketing that uses unconventional methods
Hire an artist to paint a one-of-a-kind marketing image in a prominent spot, for example, to draw attention to your campaign. If you use a hashtag in connection with your activation, you may earn social interaction. Encourage journalists to take a look so that if you're featured, you'll get more exposure. Remember to obey any applicable rules or laws in the area where you plan to do this, as well as any required approvals, and to alert adjacent companies.
Any marketing strategy must include brand recognition, and it pays off throughout the customer experience, not just at the start. Don't get disheartened if you don't have a lot of money to spend. It isn't always necessary to spend a lot of money to reach out to your clients and obtain more exposure while developing long-term relationships.
Transform your abstract concepts into visual messages (colors, fonts, logo, website)
What colors do you use to communicate the identity of your company? Is it a high-priced B2B product or a service brand that makes people's lives easier than you're promoting? Based on that reaction, which aspects of your brand identity do you want to emphasize the most in your visual communications? What are the connections between trust, dynamism, and social standing? What externalization (imagery, mood) best suits the viewpoints of your target audience while also being consistent with your brand? Entrepreneur's article The Psychology of Color in Marketing and Branding goes into color choice and how it affects customer behavior. Other visual elements include color, font combinations (no more than three types), images/animations, and iconography.
Conclusion
Keep in mind that branding has a big influence on how consumers make decisions (the top of mind choices when considering a purchase decision). The brand building in the budget will help you stay visible in the minds of your target audiences and generate more leads in the long run. It also helps the company maintain a consistent brand identity for its employees while also directing strategic revenue decisions. Last but not least, even if you decide to outsource the design to a media firm, it's a good idea to give the exercise a shot. To truly represent the brand, the company's core individuals must participate in this process.