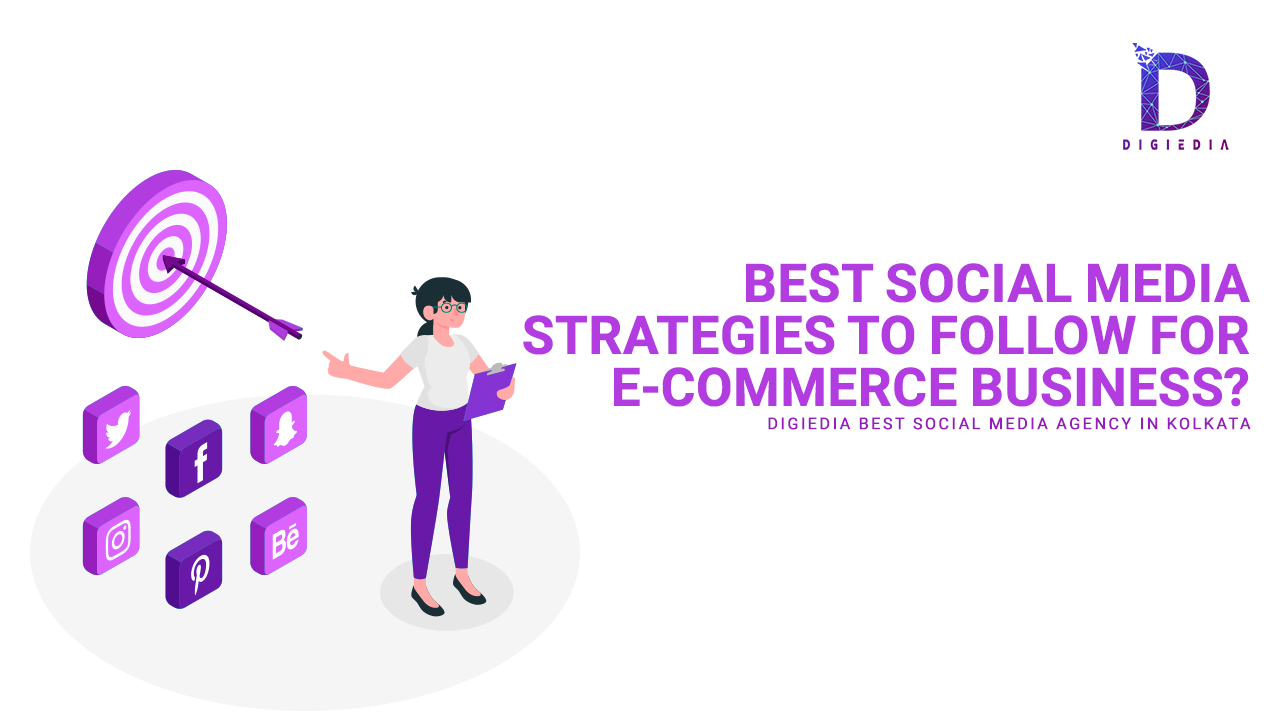 Best social media strategies to follow for e-commerce business? Digiedia Best social media Agency in Kolkata
According to a Shopify survey, 86% of Indians bought online during the pandemic, proving the increased usage of social media strategies to follow for e-commerce businesses across the board. The Future of Commerce 2021 report from Shopify combines global merchant data with several consumer surveys to forecast potentially substantial alterations in consumer shopping habits. One of the variables that have had a considerable impact on changing shopping behavior is social media. According to the poll, social media is how 55 percent of younger consumers who buy at independent retailers hear about them. 45 percent of consumers in their forties and fifties use social media to learn about and discover new items.
As a result, every eCommerce business today should have a savvy eCommerce social media strategy. In the long run, an eCommerce media strategy like this could be the most effective driver for your eCommerce company's growth. India's social commerce market would be worth $70 billion by 2030, according to a new Bain & Company analysis. Here's a rundown of some of the most effective social media strategies to follow for e-commerce businesses that, when used effectively, may help your business thrive.
Social media strategies to follow for e-commerce business
Let us now discuss the 5 most important social media strategies to follow for e-commerce business
The goal is engagement, not revenue.
This may appear to be counterintuitive advice when it comes to sales and marketing strategies. Even though the initial stages of the purchasing process begin here, it's important to remember that the major reason people use social media is not to shop. Above all, marketers must use social media to build relationships. Any social media sales activity should take precedence over sharing compelling content, building trust, and focusing on customer feedback. Consumers who spend a long time interacting with content on social media are more likely to make a purchase. To build relationships, brands must engage in several activities, including:
Having a conversation with the audience
Participating in groups
Among other things, hosting live chats
While the growing acceptability of e-commerce presents numerous opportunities, it also requires e-commerce players to rethink their strategies to develop more "relational" interactions with their clients rather than merely "transactional" ones. In actuality, there are many important lessons for all digital marketers to learn in the post-pandemic period (fingers crossed), including the need of establishing an emotional connection with audiences.
Creating connections with decision-makers
Take the following information into consideration:
74% of people use social media to assist them in making shopping decisions.
Influencer marketing material provides an 11X higher ROI than traditional digital marketing.
Influencers with a strong online following can greatly increase a brand's visibility. This is true not only when it comes to reaching a broader audience, but also when it comes to building trust. Naturally, the organization must exercise caution when hiring influencers whose content aligns with the brand's values and whose audience is relevant.
Using social media to listen to others
Simply, social listening is the process of keeping track of online conversations about your brand. To start a conversation, utilize tags, mentions, hashtags, and reviews. This method allows you to learn more about your customers and the audience's expectations for your products and services. Some of the most convincing reasons why social listening should be part of your e-commerce social media strategy are as follows:
It allows you to discover what your clients like and dislike about your business.
You determine what your clients expect from your business.
You quickly learn about your clients' concerns and how to address them.
You can acquire a competitive advantage by gaining insight into your customers' minds.
Your blog can aid in the development of trust and authority.
A blog is a digital asset that not only helps with SEO but also allows thought leadership and fascinating content to be shared across social media channels. It can also be utilized as a sales pitch for new products and services, resulting in a significant increase in visitors to your website. Integrating your blog with fascinating social media postings could make your clients' buying experience more enjoyable.
Here are a few e-commerce companies that have made good use of their blogs:
Myntra, India's leading e-commerce portal for fashion and lifestyle has positioned itself as an industry thought leader with its thought-provoking products. By strategically placing product links within their blog, they were able to increase conversion rates. Grow, an up-and-coming e-commerce fintech business has similarly built its blog around the most common investment-related issues and discussions, significantly boosting its reach.
Creating Creative Communication
Make sure the overall style and color palette of social media posts reflect the brand's core values. It may be as basic as determining brand principles and adapting your content to them to stay true to your brand's identity. High-conversion keywords can also help your product generate a lot of momentum on social media. Keywords that have been thoroughly researched have already been proved to have the power to reach beyond your immediate target. Using hashtags, on the other hand, boosts the visibility of your content on social media networks. A/B Testing post creativity or content is another effective approach to conversion optimization.
Conclusion
These are some social media strategies to follow for e-commerce business that can make product discovery easier for your customers and, as a result, enhance your conversion rate. Contact Digiedia, one of the best social media agencies in Kolkata for further queries.