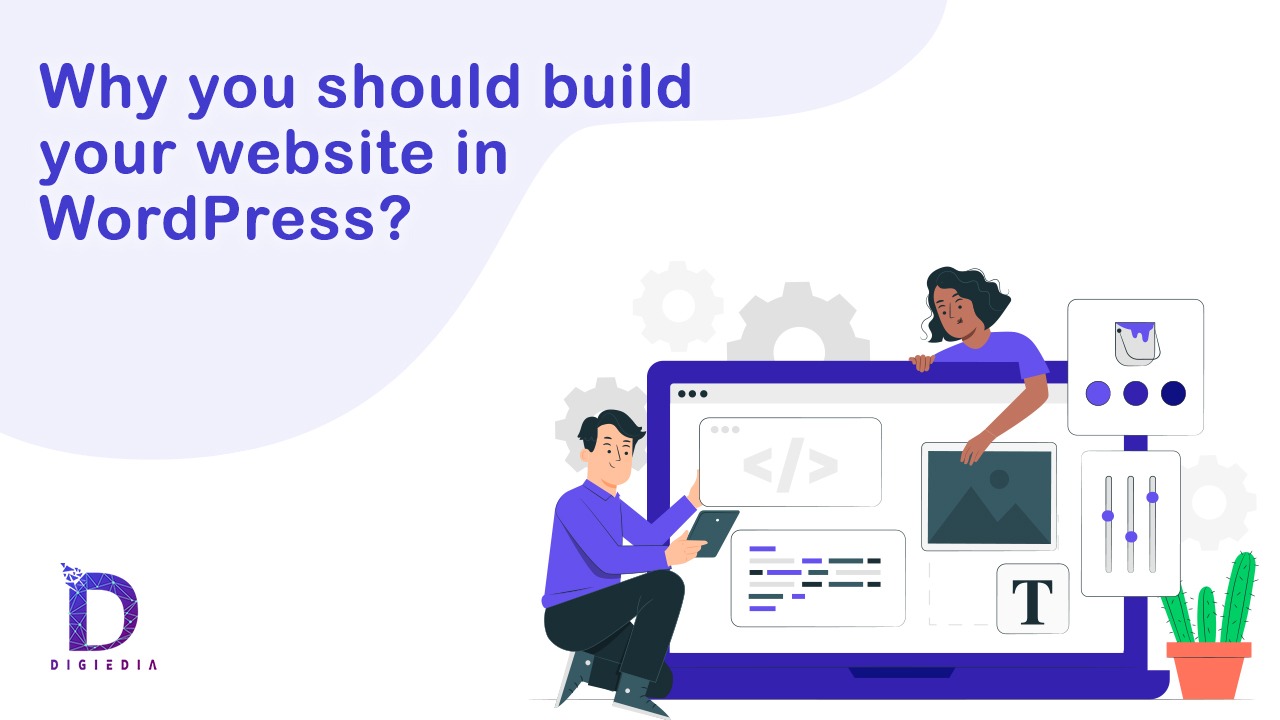 Why should you build your website on WordPress?
WordPress is a CMS, or content management system. A content management system (CMS) allows you to easily organize the design and content of your website on a user-friendly online platform. WordPress is available in two different versions:
WordPress.com and WordPress.org.
WordPress.com is a completely free web publishing platform. However, because WordPress is the host, your site's customization options are severely limited. WordPress.org is equally free to use, however it differs from WordPress.com in two ways. WordPress does not host your site when you use WordPress.org.
Top 10 reasons why build your website on WordPress
Here are the top ten reasons why WordPress outperforms all other content management systems.
Adaptability
WordPress began as a blogging platform, but because of its flexibility, it has developed into one of the world's most popular content management systems. You can choose from hundreds of pre-made themes after installing WordPress. These themes, which are available in both free and premium versions, allow you to customize your site in any way you like.
Also, there are millions more plugins available for WordPress. With only a few clicks, you may enhance the effectiveness of your site. You can use WordPress for almost anything thanks to plugins. Start a blog, an online store, or a membership site.
You will save time
You can have your site up and running in five minutes using WordPress. Plugins for WordPress may be installed in seconds and immediately add functionality to your site. Plugins can also help you maintain your website more efficiently by automating chores and saving you time.
Conserve funds
WordPress is extremely cost-effective. You may need to pay for hosting, a domain name, and possibly a theme and plugins. Aside from these one-time fees, which can range from $60 to $300, there are no ongoing fees associated with utilizing WordPress. The platform is free to use and includes free upgrades for the rest of your life. To save even more money, build your website on WordPress.
Ingenious integrations
Look no further than WordPress if you want a site that effortlessly interacts with third-party technologies. Use WordPress to create an eCommerce store with Woocommerce, for example. You can use Buddypress to establish a private or premium members-only community, or you can link with Salesforce to automatically track your sales pipeline.
It's simple to use
To utilize WordPress, you don't need to be a coding wizard. Of course, some computer and internet expertise is required, but you do not need to understand PHP to build your website on WordPress. WordPress is intended to be simple to set up and manage.
A sizable community of supporters
WordPress is used by millions of individuals. Check out their free forums if you're having problems with your site. You may either browse past discussions or get free answers to your issues from WordPress experts. If you can't find what you're looking for on the forums, contact the creator of your theme or plugin. If you're not sure where to start, there are millions of WordPress youtube tutorials.
Increased security
A secure website does not have to cost thousands of dollars. With frequent upgrades, WordPress provides Fort Knox-level security. You can use free plugins to add further layers of security. Stop spam comments with Akismet, and download iThemes to protect your site from infection.
Search engine optimization friendly
One of the most crucial tactics for making your business shine online is search engine optimization or SEO. SEO can be time-consuming and difficult, but WordPress makes it much easier to get more clients by streamlining the process.
To help your site stand out, download the free Yoast SEO plugin. You can alter meta descriptions, title tags, and keywords with this plugin. Don't worry if that looks like a good jargon. Even if you have no experience with SEO, the plugin provides recommendations and a step-by-step installation and usage tutorial.
Marketing that is a no-brainer
WordPress makes it possible to automate essential components of your marketing to attract more customers in less time. Connect to your social network accounts to have new information auto-posted without you having to do anything. Split test your web pages with software like Simple Page Tester. Connect with ConvertKit (soon to be known as Seva) or MailChimp to deliver forgotten cart emails automatically.
Quick site loading
WordPress and other CMS platforms have a stigma for being more sluggish than HTML pages, however, this is mostly dependent on what you put on your site. Choose a speedy theme with fewer bells and whistles to keep your site running quickly. Reduce the time it takes for your page to load by reducing graphics, caching, and minifying code.
Conclusion
WordPress is a popular and easy-to-use platform for building websites. This CMS is used by businesses of all sizes and sectors. WordPress.org also allows you to completely modify your website. For enterprises and brands, this is the best solution. You pay a small cost for hosting, but you have complete control over your website.
It's tempting to attempt building your website on WordPress from the ground up for a truly unique experience. But why waste your time, money, and aggravation? WordPress is the way to go if you want a cost-effective and long-term experience.