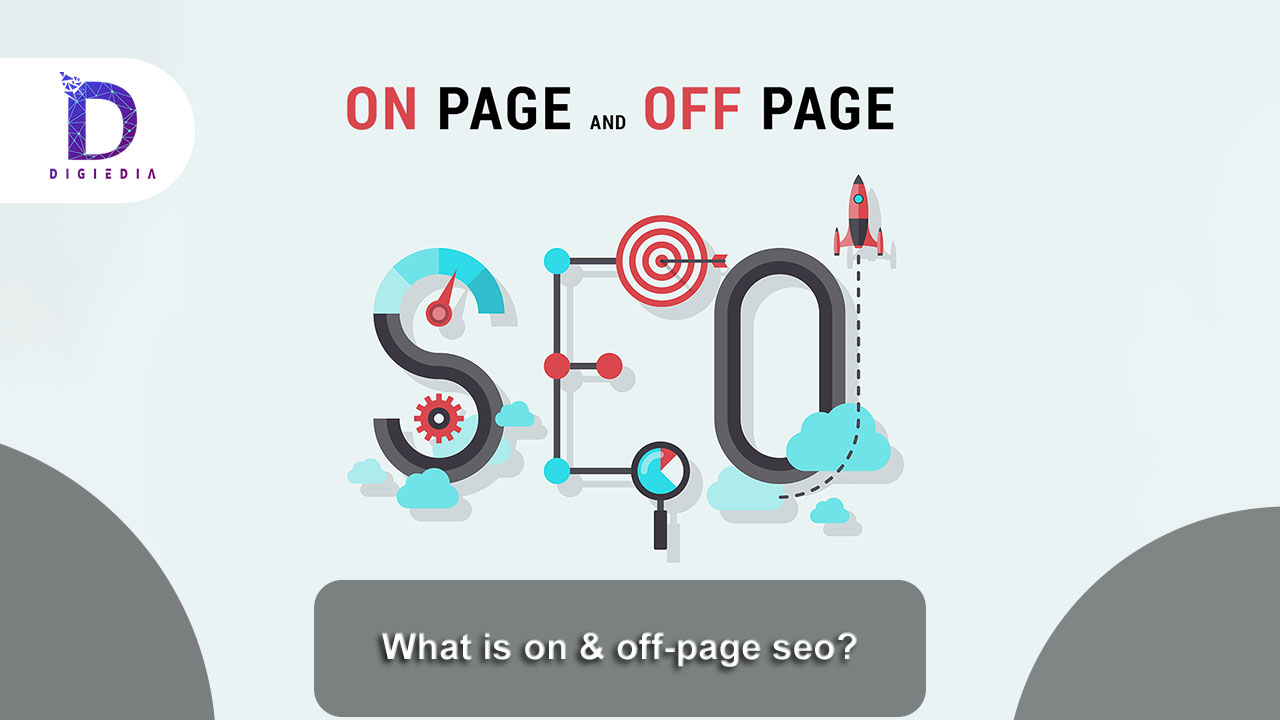 What is on & off-page SEO
Search Engine Optimization (SEO) is a dynamic, ever-changing process with constantly changing rules. Businesses must stay current with SEO developments to be competitive, and both on & off-page SEO can help.
On & off-page SEO can benefit websites in several ways, including the following:
Improves the user experience by assisting in the growth of organic traffic.
Increased conversion rates due to expanded consumer reach
Brand awareness is raised for
Provides a competitive edge by enhancing credibility and trust
The term "on-page SEO" refers to the process of optimizing the content of a website.
What is on & off-page SEO?
Let us start with the On-Page SEO.
On-page SEO, also known as On-Site SEO, is a collection of ideas and methods for improving individual web pages' search engine rankings and generating more relevant traffic. It also takes into account the content's overall quality, the page's performance, and the content structure.
On-page SEO, also known as On-Site SEO, is the process of improving the whole content of your web page, which includes HTML code, content quality, and content structure, which includes keywords, titles, headings, and meta descriptions, among other things. Search engines ensure that the material is relevant to the keywords, which is a critical component of on-page SEO.
Keywords should be optimized
Keywords are the most significant tool in On-Page SEO and play an important role. It is strongly peppered with high-performing and relevant keywords to optimize the benefits of the information and boost the website ranking.
The title contains tags.
The title tag refers to the title given to the material of a web page displayed on Search Engine Results Pages after your main on-page content. It's considered one of the most important on-page SEO factors. These tags are only a few words long and serve as a summary of the content.
The use of suitable titles to aid users in acquiring a better understanding of a webpage is known as title tag optimization. It is impossible to exaggerate the impact of title tags in influencing click-through rates.
Heading tagging
Heading Tags are also used to organize the material on a website by grouping it into sections and subsections, making it easier for the user to grasp.
Description in the meta tag
Meta descriptions are another crucial part of On-Page SEO. They're the short descriptions that appear in search results below the title tag. Their objective is to provide a rapid summary of the page's overall content for easy comprehension.
Hypertext Links Within the Site
Internal links to comparable pages on your website are another important part of on-page SEO. By properly linking your website to other pages on your site, search engines will have an easier time crawling everything. Hence, it drives more visitors to your page.
A URL's structure
The URL structure of a webpage determines its relevance for on-page SEO or on-site SEO. It should be relevant to the page's subject. Keywords can also be used to optimize URLs.
Maps of the Site
A sitemap serves as a map for search engines, helping them to find, crawl, and index all of the content on a website. They also provide important information about the hierarchy list of a website's most important pages and are usually in the form of an XML sitemap that links to other websites on the website.
To promote accessibility, it is useful for both end-users and search engines to understand a website's structure.
Alternative Text for Images
Alternative text is beneficial to search engines because it provides more information about a picture. t often helps to describe photos to those who don't have access to the internet. The substitute text should be descriptive and specific to the image. It must also contain a keyword or phrase and be no longer than 125 characters.
Responsiveness is a design characteristic that ensures that internet sites look good on all platforms, including mobile phones and desktop computers.
How does Off-Page SEO function, and what does it entail?
Off-page SEO, often called off-site SEO, refers to any SEO actions and procedures that occur outside of the website, such as backlinks, link relevancy, social signals, and so on. Off-page SEO refers to everything that comes from other web pages that helps a web page's traffic and ranking. Also, it includes a range of aspects including backlinks, or links from other sites that lead back to your site.
Backlinks In off-page SEO, the quantity and quality of backlinks on a website are the most essential elements. Backlinks improve a website's exposure, dependability, trustworthiness, and authority. It is vital to have a significant number of high-quality relevant backlinks to boost your trust and authority.
Link Building – The link building technique enhances the amount and quality of backlinks to your website. It helps in reaching out and influencing targeted audiences.
Off-Site Collaboration – Some examples of off-site engagements are as follows:
Influencer marketing can help you communicate with your audience through a variety of social media channels (Facebook, Twitter, and LinkedIn).
To preserve your webpage, use well-known bookmarking sites.
Taking part in discussion boards
Joining popular Q&A sites and answering questions regarding your field.
Conclusion
There are two types of SEOs for any website. However, on-page and off-page SEO, of which can help to increase organic traffic and enhance search engine rankings for increased reach and visibility. One should use both on & off-page SEO for improving the quality and quantity of a website. These both are equally important.
In the case of on & off-page SEO, the former helps to build brand legitimacy, and the latter is significantly more powerful at attracting new clients to the business. The basic goals of on-page SEO are to maximize speed, efficiency, and keywords to develop high-quality homepage content. Off-page SEO, focuses on promoting high-quality backlinks from authoritative sites to boost the website's rating and relevancy. Both on-page and off-page SEO are important for running a profitable firm.