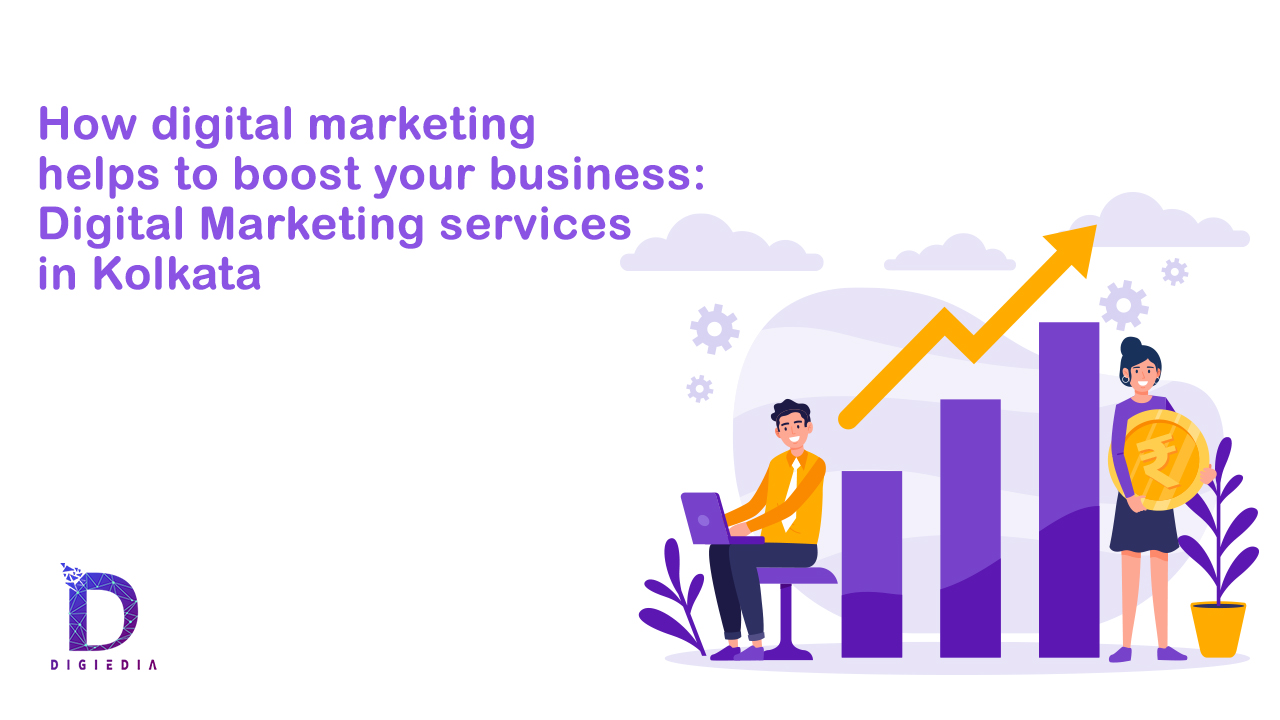 How Digital Marketing helps to Boost your Business: Digital Marketing Services in Kolkata
The method of attracting internet customers will determine whether a company is successful or not. In the realm of digital marketing, business owners will be able to compete effectively and achieve considerable growth by utilising numerous digital marketing tools and approaches. A solid web presence can benefit any expanding or prospective firm. Businesses with an internet presence have a higher chance of surviving, competing, and growing.
How digital marketing helps boost your business
Here are a few examples of how digital marketing helps your business grow:
Wider reach & geographic expansion
Using standard marketing tactics to expand your firm to a new geographical region is a time-consuming and exhausting effort. By implementing appropriate digital marketing strategies, one may simply extend their firm into other places and locales without having to overcome any physical barriers. Digital marketing initiatives can be set up quickly and easily, and they are incredibly versatile, allowing you to target the exact demographic you want.
Building a Brand Name
A company's ability to deliver on its promises to its target audiences is critical in establishing a brand reputation. This will assist in gaining end-user trust and developing better and stronger relationships with customers.
Brand awareness is one of the most important (and sometimes underestimated) aspects of a successful digital marketing strategy, according to Safari SEO Agency. Satisfied clients will undoubtedly tell others about their excellent experiences, allowing the organisation to expand into new markets and arenas.
Regardless of how big or little your company is, digital media marketing solutions may help you establish a powerful and trustworthy brand.
Cost-effective
Small and medium enterprises do not have large sums of money to spend on various marketing strategies. Advertisements on television, as well as billboards and print ads, are quite costly.
Every firm does not have unlimited dollars to spend on marketing. This is where digital ads come into play. Digital marketing plans don't require a lot of money and can reach a larger, more targeted audience at a cheaper price.
Digital Media Marketing solutions give organisations better, more cost-effective marketing channels that communicate more effectively and convert a larger number of target consumers.
Higher revenues
A successful digital marketing strategy leads to high conversion rates, which helps the company generate more money.
When compared to traditional marketing methods, digital marketing programmes help generate significantly more revenue.
Companies with a digital marketing strategy have a 2.8 times greater revenue growth expectation, according to Google. Companies that use digital marketing are 3.3 times more likely to expand their staff and revenue.
Increase the Return on Investment
As previously said, successful digital marketing programmes can help a company's brand value and profits grow. Similarly, when compared to traditional marketing, it aids in creating a higher return on investment.
Digital marketing methods are simple to track, allowing you to assess the influence on your target demographic. The key to a successful digital marketing strategy is to generate a steady stream of traffic that can be converted into leads. The faster you get a return on your investment, the more traffic you produce.
Let's take it to the next level
Businesses that have a well-defined and well-executed digital marketing strategy can reach millions of smartphone and tablet users. Anyone who utilises the Internet in any way is a potential client for your company. According to published data, about 75% of Google Chrome users currently have Internet connectivity on their mobile devices.
Your company is missing out on this fantastic potential if you aren't using digital marketing. According to SEO specialists, the mobile Internet industry will continue to grow gradually shortly, and there's no need to wait to reach this or that sector with a digital marketing strategy.
You can sell to your consumers wherever they are if you have an online store with international shipping.
People's Trust in Digital Marketing is Earned
Digital marketing capitalises on the current online trend of putting a greater emphasis on social media signals emerging from direct and more personalised interactions between a brand or organisation and its target audiences. 90 per cent of respondents in the Nielsen Global Online Consumer Survey, which included 25 thousand consumers from at least 50 countries, said they would believe information about a particular brand, product, or service if it came from individuals they know.
Social media signals, social proof, and testimonials from genuine customers who have previously purchased joined, or used a product or service advertised by a particular brand or business are all used in digital marketing.
People are more likely to take favourable action when they are exposed to digital marketing.
While social signals and testimonials aid in gaining trust from targeted audiences, Digital Marketing employs efficient techniques to persuade people to take the desired action that your brand or organisation want. The website visitor still initiates and controls the conversion to leads or sales.
Calls-To-Action defines what your website visitors should do next – whether it's to join up, like, download something, call, or buy – and are specific steps that will tempt them to do a beneficial action. Copy, colour scheme, visuals, and even page positioning on innovative forms, buttons, and texts are optimised to create the best outcomes in terms of producing favourable action.
Because digital marketing guarantees a company's online survival
Visitors entering a store, scanning through and checking things, then leaving without purchasing anything is a common event for brick-and-mortar businesses.
Many different types of customers pass by, but only a select few will make a purchase and, if satisfied, return for more at a later date. If you get fewer of the latter and more of the few, your brick-and-mortar company will go out of business sooner or later.
This is a good analogy for your company. Even if you have a large number of website visitors, if none of them converts, your business will fail.