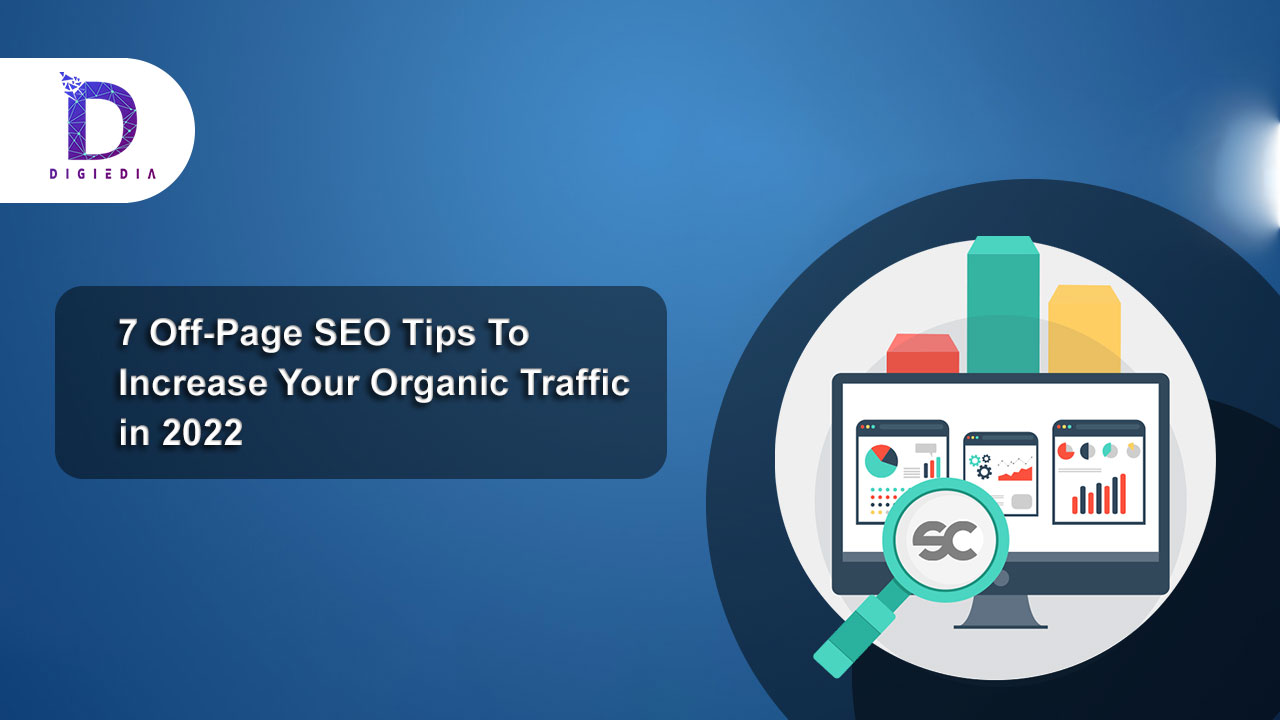 7 Off-Page SEO Tips to Increase Your Organic Traffic in 2022
If you run a business website, make sure you're doing everything you can to boost organic traffic. After all, more organic traffic means more leads and clients for your business. There's also extra cash in the bank! The success of any company's website is primarily reliant on organic traffic. The majority of businesses hire the top SEO service to help them generate high-quality organic traffic. Here are seven Off-Page SEO Tips that can help you boost your organic traffic.
If you want to build real brand awareness and drive a lot of organic traffic to your website, you'll need some incredibly effective off-page SEO methods. In a major way. From an off-site SEO standpoint, there isn't much clear-cut and effective advice on the Internet about where digital marketers should focus the majority of their resources, knowledge, and time to improve organic traffic to their site. The idea for a comprehensive list of off-page SEO strategies developed from there. I hope it proves useful to you in your digital marketing endeavors.
7 Off-Page SEO Tips
Complete your homework
You must first perform research to establish which keywords you should target before you begin optimizing your website. Use keyword research tools like Google AdWords Keyword Planner and semrush.com to find the ideal keywords for your business. Then, to help your website rank higher on search engine results pages, optimize it for these keywords (SERPs).
Make sure your website's content is relevant to your target keywords, and that you use them in titles, headings, and meta descriptions throughout the site. If you're using WordPress, several plugins can help you with on-page SEO.
Create engaging content
One of the most effective ways to increase organic traffic is to create intriguing content that people want to read. Publishing high-quality, interesting blog posts and articles might help you attract more visitors to your website. And the more visitors you have, the more likely you are to turn them into leads and customers. As a result, make sure you're investing time and effort into creating high-quality content that will help you stand out.
Furthermore, as the number of people using mobile devices to access the internet grows, it's more important than ever to make sure your website is mobile-friendly. One way to do this is to use responsive design, which ensures that your website looks good and functions effectively on any mobile device.
Publish high-quality guest posts on prominent industry websites
One of the best ways to improve your SEO ranking is to publish high-quality guest posts on popular industry websites. Not only will this help you attract more visitors, but it will also help you rank higher on search engine results pages (SERPs). As a result, ensure that you invest in high-quality content that will engage and educate your target audience.
You'll find a profusion of high-quality guest post opportunities on sites like guestblogging.com and problogger.net. You'll need to choose relevant guest blogging websites based on your industry and target keywords.
Optimize your website for search engines
Another important method for increasing organic traffic is to optimize your website for search engines. This includes optimizing your website's images and videos, as well as including the right keywords in your titles, meta descriptions, and body copy. Concentrate on on-page SEO to increase your website's position in search engine results pages.
Furthermore, you must continue to evaluate the Off-Page SEO Tips of your website to ensure that you are not overlooking any opportunities. To perform website audits on each page of your website, use semrush.com or ScreamingFrog SEO Spider. You can do a website audit once a month or three times a year and address any issues that arise.
Use social media to promote your content
Social media is an important strategy when it comes to Off-Page SEO Tips. It helps in promoting your content and increasing organic traffic. Use hashtags on social networking sites like Facebook, Twitter, and LinkedIn to help your material reach a bigger audience. Also, make sure you're interacting with your audience via social media. Answer questions and comments, and provide interesting information to your followers.
Build backlinks to your website
Building backlinks to your website is one of the most effective techniques to improve your SEO ranking. This entails obtaining links from other websites to yours. You can achieve this by submitting articles to web directories, guest blogging, and participating in online debates, among other things.
It's vital to remember that quality is over the number when it comes to backlinks, so make sure you're focusing on gaining connections from high-quality sites.
Monitor your website's performance
Finally, keep an eye on your website's performance and discover areas where you can improve it. Use web analytics tools like Google Analytics to track your website's traffic and see where you need to make changes.
Increasing organic traffic is important to the success of any business website. Following these seven Off-Page, SEO Tips can help you improve your SERP ranking and drive visitors to your website. You can get an SEO bundle at the same price.
We're nearly done!
SEO is critical for business websites since it can help them become more profitable. Increased organic traffic translates to more leads and customers for the business, as well as higher profits. You can boost your organic traffic by conducting research, optimizing your website for mobile visitors, producing high-quality content, and advertising your content on social media. You should also keep an eye on the performance of your website and make improvements as needed. Following these Off-Page SEO Tips will help you improve your SEO ranking and organic visitors.
For further help with your website, you can always contact us.