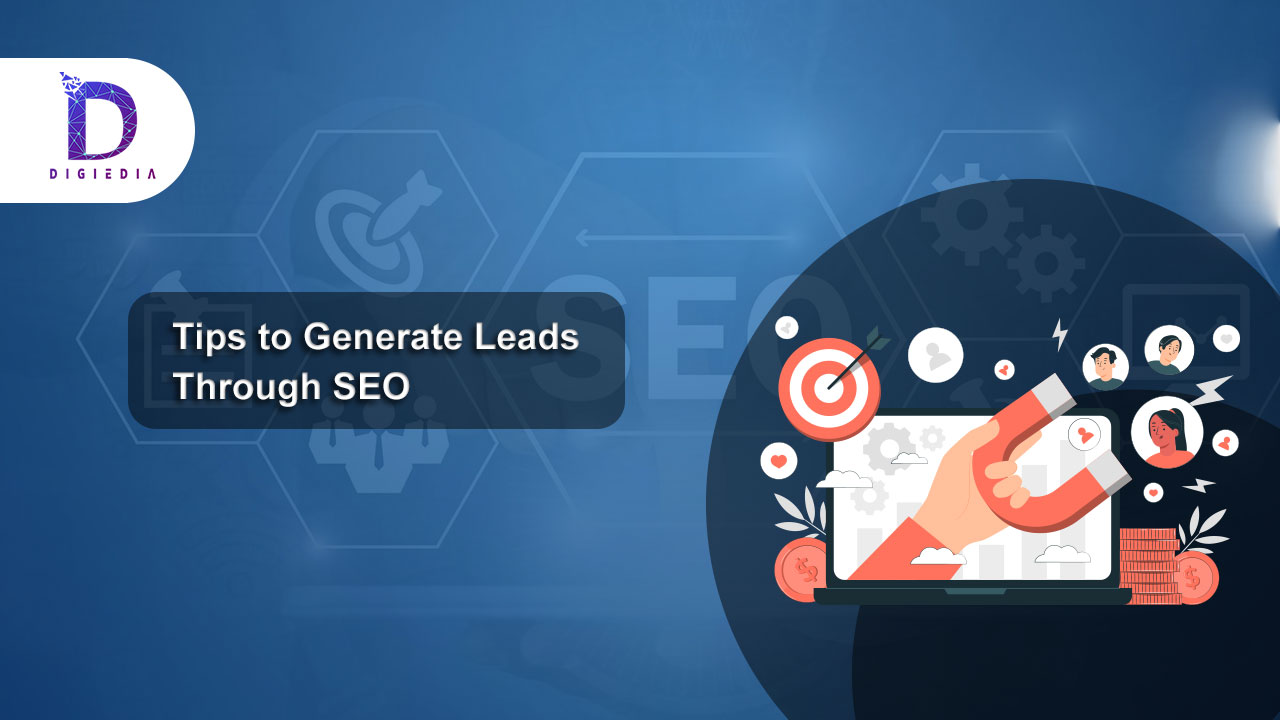 TIPS TO GENERATE LEADS THROUGH SEO
Many business owners think about this when evaluating whether or not SEO is worth their time and money, or if they should explore another digital marketing strategy. Whatever strategy you use, you'll want a constant stream of qualified leads at the lowest possible price. The potential of Search Engine Optimization (SEO) to generate company leads using a variety of seemingly sophisticated techniques is regularly complimented. And we know this because our SEO experts with the help of these tips to generate leads through SEO have helped countless organizations reach the top of Google's first page of results by employing a well-crafted SEO strategy.
It's a slower process than some of the other online lead generation methods, but the rewards are well worth the wait. So, if you're thinking about employing SEO marketing services to generate leads for your business, you should understand the stages involved in getting your website to rank well on Google. In this lesson, we'll walk you through the 5 tips to generate leads through SEO
5 TIPS to generate leads through SEO
Regardless of your target markets, if you own a small business, you've certainly considered implementing an SEO strategy to generate more leads. The planning and implementation process, of course, is not easy. It's one of those situations where hiring a reputable digital marketing business with a focus on SEO and lead creation is a great idea.
If you want to do it yourself, here are five tips to generate leads through SEO:
Prioritize keywords with conversion intent
Your conversion rate will be influenced by the keywords you choose for your SEO campaign. To get the most out of your SEO efforts, concentrate on high-volume, long-tail keywords that are more relevant to your organization.
Because you're trying to generate leads, prioritize keywords with a higher conversion intent; target visitors who are more likely to convert into leads (by focusing on the queries they use); and optimize your content with these keywords.
Increase the speed of the loading procedure
Website speed is one of the most critical factors determining SEO results, and it must load quickly in order for users to be satisfied and convert into leads. This is why Google's Page Speed Insights feature has such a big influence on website rankings in search engines, which has a big influence on business leads. So, run a speed test on your website. Raise it if it isn't already a good number.
Make a list of all of your online reviews
When ranking local businesses, Google takes into account consumer feedback. They're considered a ranking signal because they help users verify your firm's credibility while also enlightening them about your company and its products/services. Good reviews of your products or services can assist you to earn new or first-time visitors' trust and urge them to give you their contact information. So, carefully manage your online reviews and use them to boost your website's trust worth.
Conduct a thorough content audit
An SEO content audit may help you figure out which pieces of content are most effective, which topics your audience is most interested in, and where your content strategy is lacking. The audit will help you figure out what kind of content your ideal lead prefers. Audits can also help you get rid of any outdated or irrelevant content that isn't relevant to your business or audience, so you can focus on creating more successful content in the future.
Have a website that is well-organized
One of the most important aspects of SEO is the structure of a website. Why?
First and foremost, it facilitates the indexing and ranking of your sites by search engines such as Google and Bing. When search engines crawl your site, they may determine the principal theme of each page and group them accordingly. It's also crucial for customers and prospects in terms of user experience. Make sure your website has a logical and easy-to-navigate style if you want to be found online.
Furthermore, SEO can create more conversions than Pay-Per-Click advertising that appears above organic search results, contrary to popular opinion. According to statistics, between 70% and 80% of people ignore sponsored results in favor of organic results. Despite the fact that SEO does not allow you to retarget website visitors who did not convert, ranking well in organic searches can fast lead to more leads and conversions than PPC retargeting. As a response to rising customer privacy concerns, companies like Apple and Google have taken significant changes, including blocking third-party cookies.
This complicates the implementation of systems that track and follow site visitors who leave without converting. SEO's huge potential as a lead generation approach is being recognized by an increasing number of businesses.
Final words
You can see how all of the elements of SEO work together to drive organic search traffic to your website. The more people that visit your website, the more likely you are to get leads. Following a search engine optimization strategy that incorporates all of those variables might be a long-term strategy for obtaining inbound leads without overspending on each one. Every search engine optimization investment you make will help you incrementally advance your website.
Overall, SEO can be a very powerful lead generation strategy. It all depends on the audience you're attempting to attract and the type of material you're producing. You'll be well on your way to producing more leads in no time if you follow these suggestions when establishing and implementing your SEO strategy.
Apart from the tips to generate leads through SEO mentioned above, there are many more steps to creating a flawless SEO strategy that captures more leads; many more processes to creating a perfect SEO strategy that catches more leads. So, if you need help, reach out to one of Kolkata's top SEO firms, such as Digiedia, and make use of their expertise to increase your lead generation efforts.