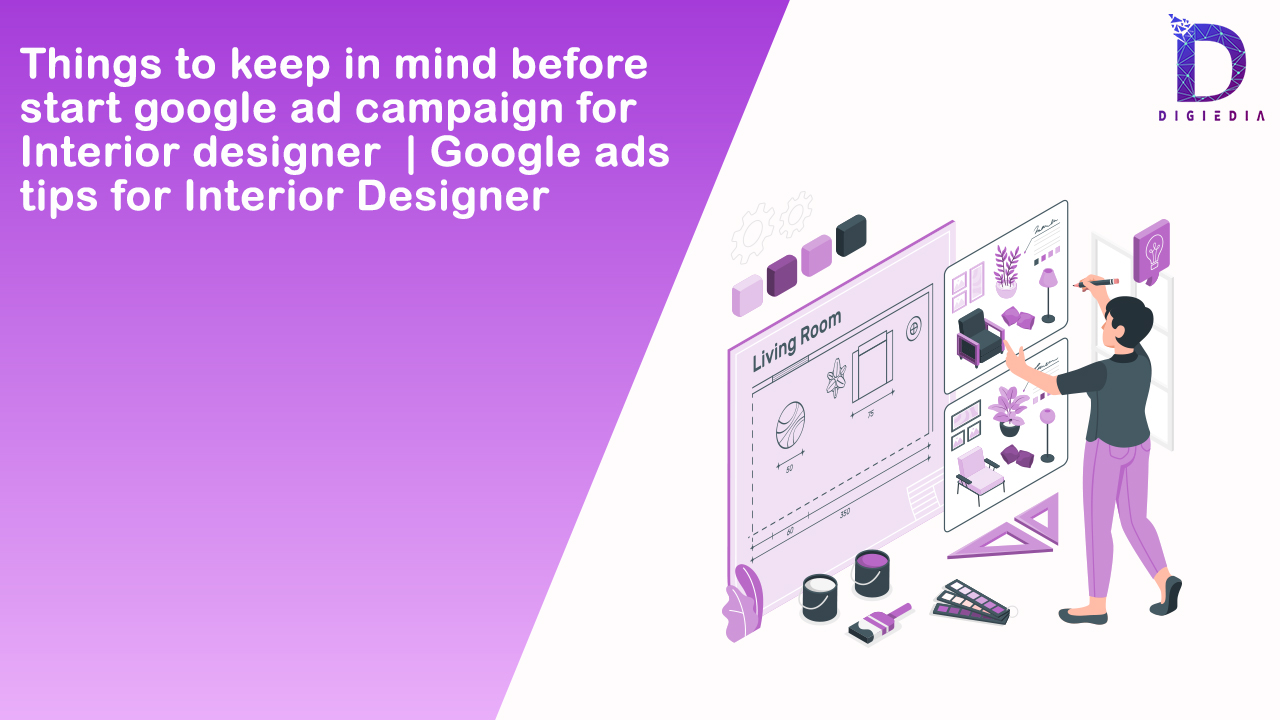 Things to keep in mind before start a google ad campaign for Interior designers | Google ads tips for Interior designers
DIGIEDIA

09 November 2022
There are certain tips you need to follow in order to start a google campaign for an interior design company. People will attract to your business based on your reputation, online. So creating pre-planned google ads is a vital step towards your success on the interior designing business. In this blog, We are going to share some important Google ads tips for Interior designer.
Define your goal –
 Each campaign begins by choosing a goal. There are certain fundamental points on which you have to determine the goal of your ad. This is one of the best Google ads tips for Interior designer. If you are looking for website traffic, want brand awareness, or looking for local store visits and promotions, then you need to choose the option according to your needs. This goal focuses your campaign on delivering a specific outcome. For example- if your goal is to increase website traffic, you'll likely want to select a type of bidding like Maximize clicks, to put your money towards getting people to click your ad.
After that, sign in to your account. Choose conversion in the tools and settings option. There you will see different types of conversion tracking options like 
As Any good Google Ads campaign will have solid goals, and the best way to generate the goals in your ad is via a Google Analytics import.
Choosing campaign type –
This is the next crucial part of setting up a google ads campaign. After selecting your goal, you need to choose what kind of campaign you want to create for your interior business. After selecting a goal, you'll notice a list of recommended campaign types to reach it. Your campaign type determines where your ads will show and what they'll look like. The goals will help you to identify the success and effectiveness of the ad you will run. Setting goals up properly and discussing what success means to the client ahead of time is invaluable. Knowing the desired ROI at the start will help you engineer the conversions to show effectiveness.
do not mislead your customers-
the ads you are going to publish should be entirely accurate for the landing page advertised. Your major targeted keywords should be used in the content included on that landing page and in the text of the ad. try not to mislead your potential customers. make sure each ad group is properly relevant for the landing page you are promoting and that is only being displayed for relevant queries. This is another important Google ads tips for Interior designer.
apart from that, You need to make sure your landing page is relevant to the ad that led to it, and that customers find it easy to navigate through the page. Google rewards highly relevant landing pages, and this is based on different factors. for example- ease of navigation and the presence of your keywords on the page.
Get a proper call to action button –
 one of the best tips for setting an effective google ad is to meet your client's final goal. Put the call to action on your website. End goals are basically what are customers looking for. You can stand out from your competitors who are also using dynamic keywords by formulating captions, and headlines that give a final solution that the customers are looking for. the call to action button attracts more people to your website.
implement conversion tracking –
in the online business, setting up conversion tracking is crucial. For your business, a conversion may be a purchase, a sign-up, or a lead. this is the action or actions that you want your visitors to take on the website.
without proper tracking, you can not promote the successful keyword. however, conversion tracking allows ongoing optimization based on your data. This is another important Google ads tips for Interior designer.
understand audience targeting –
while setting up the campaign for your interior design company, you can either choose for your ads to target all the audience or choose for them to appear only to specific audiences. also, you can choose from existing segments or create custom segments. by using remarking lists, you can create segments based on how people interact with your ads and your business. the segments are based on specific interests, custom segments, demographics, or intent.
different types of google ad campaigns –
display campaign – this is a specific type of campaign on the Display Network, you will show banners with attractive offers to people on Google's Network of 3rd party websites. Display campaigns are an excellent way to expand your reach and stay top of mind with an audience beyond just Google Search.
search campaign – the search campaign is one of the popular campaigns available on google. the search ads can appear as types of ads on the search networks how to include or remove the search partners to create search campaigns where the search ads can appear on your ads with google search results. on other search sites, they will appear when your keyword is relevant to a user's search.
shopping campaign – the shopping campaign is product listings that are ideal if you're a retailer looking to sell your product inventory. Shopping campaign ads appear on search results and the Google Shopping tab. apart from that, the Store owners can also use local inventory ads to promote products available at their physical locations.
apart from that, there are other campaigns like app campaigns, video campaigns, local campaigns, etc.
benefits of having a successful google ad campaign –
google ads allows you to  target your advertisement to anyone in the whole world. It helps you to show your ads  to the right people, in the right place.  You can measure your success. By seeing which ads get clicks and which ones don't, you will also quickly see where to invest in your campaign. By that, you can control the costs. Also, you can manage your account. You can also manage your Google Ads account offline with Google Ads Editor, which is the free downloadable desktop app . it allows you to quickly and conveniently make changes to your account.