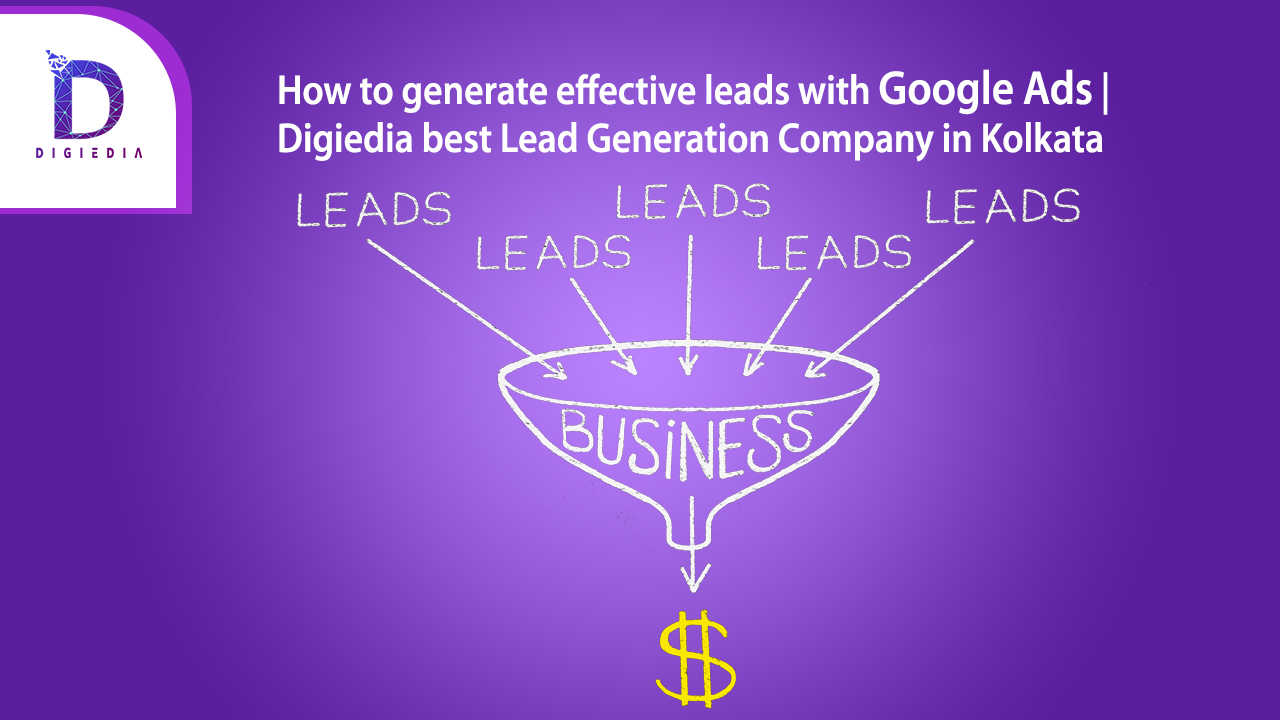 How to Generate Effective Leads with Google Ads | Digiedia: Best Lead Generation Company in Kolkata
Customers are currently showing an increasing amount of interest in businesses that allow them to fulfill their demands from home and are more inclined to switch to those that do. It's a struggle, especially if you're dealing with changes to your regular operations or bandwidth limits that may have slowed you down, to use COVID-19 to digitally reach out to new consumers. In situations like these, having an online presence may be crucial to the survival of your company, and Lead generation with google ads meets all of your requirements.
We'll talk about how Google Ads can aid in your company's online growth in this article. What more can it do to help you? It provides basic tools that make the most of the power of intent, ad formats that can help you find qualified leads, and measurement choices that maximize lead value.
Lead generation with google ads
Let's begin to better understand this. Don't forget the fundamentals.
KEYWORD MATCH TYPE
The first thing to take into account when trying to improve the quality of leads from your Google Ads is the keyword match type you choose. The first step in a user's Google search journey is typing a search query. Depending on the language of that query and the match type selected for your linked keyword, Google will determine whether to display your ad to the user.
Let's examine the five types of keyword matches and how they work in Lead generation with google ads
Broad Keywords: Using this function, your ads can appear for searches that include typos, synonyms, similar queries, and helpful variations. This kind of phrase can save you time when creating a keyword list, will boost landing page impressions, and will increase clicks, but it can also attract a lot of irrelevant visitors and lower the Ad Quality Score for your advertising.
Modified broad keywords provide you a better chance to increase qualifying conversions than plain broad matches by allowing your advertising to appear only for search queries that contain the terms specified with a plus sign ("+") or close variations of them. With the use of phrase match keywords, your adverts can show up on search results that include a phrase or closely comparable variations of it, with additional words before or after. Your advertisement won't show up, though, if a word is added in the middle of the sentence or if the words are changed in any way.
Exact Match Keywords: This match type is the most precise and is most likely to provide the fewest impressions of all the match types. Because the ads and keywords target the precise terms that people are looking for, they are more targeted and often have a higher click-through rate (CTR). As a result, it might draw more visitors who are more likely to become clients after visiting your website. Negative keywords help you keep unwanted and irrelevant people off your website or landing page. Negative keywords prevent your ads from showing up for searches that include specific terms that you define. You can stop squandering money on irrelevant clicks thanks to it.
AWARENESS AD COPY
Make commercials that communicate your value to people who are considering new companies. Your opening language should contain a strong call to action, a variety of ad extensions, and your unique user benefit. Ad language is also essential for generating more quality leads. You can more successfully match your advertisement to relevant users' search queries if you employ particular keywords in your ad copy. This increases the quality score of your ad, which benefits your entire campaign by lowering the cost per click (CPC) and improving ad rank. This helps to raise the quality score of your ad while also enhancing CTR.
LANDING PAGE SAMPLE
The content on your page needs to be engaging and relevant to the search query, regardless of whether you are directing customers to your landing page or website. If the landing page doesn't adequately describe your product or service, users may become perplexed and convert even though they're looking for a different type of service or product than what is offered. Your landing page language should unambiguously state what you are selling to prevent user misunderstanding and unqualified leads.
Identify Quality Leads
People desire to communicate with businesses in several methods, especially as they become accustomed to COVID-19. to connect with more prospective customers. Using Lead generation with google ads is a better strategy for producing high-quality leads across Search, Video, and Display ads. Any phone-making device can display lead forms, which encourage people to call you for further information. Additionally, by including the optional "Visit Website" link with your advertisements, you make it easier for customers to learn more about your business before contacting you. As a result, you might get better calls and more qualified leads.
generating leads more efficiently Because handling lead form extensions can be challenging, particularly when utilizing them with different campaign kinds.  Choose from the more than fifty questions that are now available to customize lead forms to your business's requirements.
Get leads automatically
 It's imperative to follow up as soon as a potential client contacts your business for more information to seal the transaction. By configuring a webhook integration, you may automatically deliver leads from lead form extensions to your customer relationship management (CRM) system.
Better your Leads
Instead of just generating leads, your ultimate goal should be to turn those leads into sales. If you want Lead generation with google ads, you must connect your converted leads to your online activities. If your point of conversion is a form, there are a few form fields you can use to improve the quality of your leads. Most website visitors loathe disclosing a lot of contact information, especially those who are shopping about. By adding extra fields to your form, you can collect more data from your leads and weed out those who aren't serious about purchasing your products or services.
Put quality of leads before quantity!
To produce more qualified leads, the traffic you are generating needs to be relevant to both the user's search query and your product or service. If your Google Ads campaigns aren't producing the right leads, try these helpful tips, or contact Digiedia for advice on Lead generation with google ads.