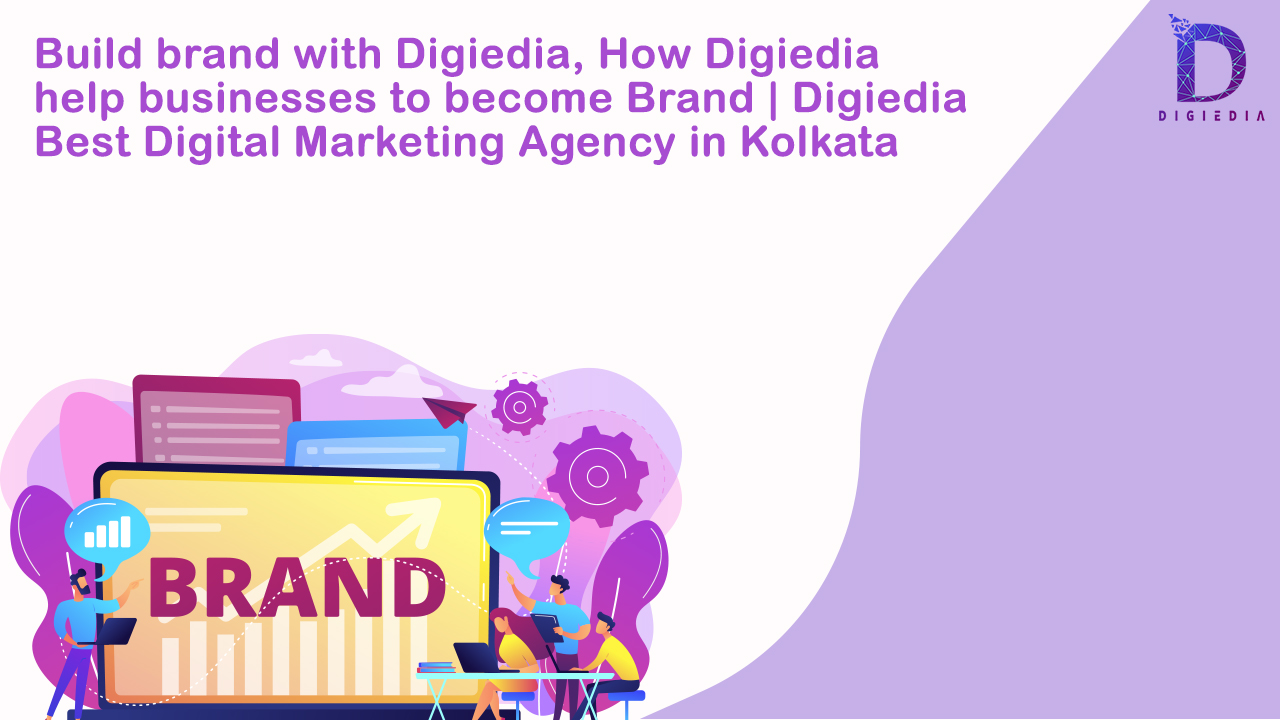 Build Brand with Digiedia, How Digiedia Helps Businesses to Become Brand | Digiedia Best Digital Marketing Agency in Kolkata
Digital marketing agencies are similar to design and construction companies. They spend years researching trends, employ the most modern building methods, and are a little picky about who they work with. These three brand-building strategies are utilized by the majority of marketing firms, even though every one of them will have a unique strategy, voice, and focus. Brand building with digiedia would be one of the best decisions you can make for your brand or a company.
Like any other relationship, your connection with your digital marketing agency involves dedication, understanding, and honest communication. Natural chemistry is always advantageous. Therefore, before creating your brand—which has the potential to succeed or fail—be sure to consult with the appropriate digital marketing companies and ask them the following questions:
How well have brands treated you?
Have you got figures and success stories?
How do you start the process of developing a brand?
Do you have any niche markets in particular?
How long do you spend on the strategic and creative processes?
Brand building with digiedia
Positioning your brand to succeed
Building a house and laying the foundation for your brand are similar. They'll make sure the rest of the house is sturdy enough to weather any storm even if the majority of the materials utilized here won't be visible to everyone. Without a doubt, positioning is the most important brand-building tactic used by digital marketing companies. A successful brand's foundation is made up of brand positioning, naming and identity, and social media positioning, all of which are covered in the positioning toolkit.
Placement of a brand
A deliberate strategy for introducing your brand to customers and building a relationship with them is known as brand positioning. One with a strong brand positioning is "perceived as favorable, different, and credible in consumers' thoughts." The following are given special attention by digital marketing companies during the positioning process:
Discovery: In this phase, your marketing firm will select the opportunities with the most promise. They will conduct interviews, market research, and focus groups to pinpoint your strengths, ascertain where your brand is right now, and plug any gaps in your current strategy.
Positioning: Through in-depth discussions and a specialized study, marketing firms identify your brand's personality and qualities. This phase includes market analysis, competitor and consumer profiling, trend analysis, and market analysis.
Naming and identifying
A name is worth what? It's crucial to a brand. More than 500,000 brands compete for consumers' attention and want to remember them on a global scale.
Your brand's name should reflect both the science and the art of your company, and it should be chosen carefully. Digital marketing organizations start the naming process with market research, insights, and analysis. Next, review the early positioning work and come up with a catchy and clever name. This process typically involves developing a visual brand identity, such as a logo, symbols, or even a full brand book, to go along with the new brand name.
Insertion in social media
The next phase of brand development is social media positioning. Once you have the other piece of the puzzle precisely put together, this next step will convert your brand tone, positioning, and goals onto the ephemeral (and frequently competitive) arena of social media. Competitor analysis, messaging and tone mapping, ideas, strategy goals, and KPIs are common elements of a social media positioning plan.
Giving your story life
The second technique focuses on brand storytelling. Again using the example of the home, your brand's foundation and story are robust. The time has come to add accent pieces and colorful splotches, though, as the walls are empty. Or, to put it another way, the content that brings your brand's story to life.
To effectively express your story across all touchpoints, from the product to the customer service interaction, this stage is what digital marketing companies strive to do. The essential elements of this approach are as follows:
Copywriting and copy optimization
From the fine print on your product packaging to the content above the fold on your homepage, words count. Your agency won't be able to just slap some words together and call it finished. Instead, they will develop a keyword strategy, investigate their competitors, and implement the messaging and tone techniques that
But don't confuse being strategic with being sterile.
All company communications, from your Instagram bio to your product descriptions, should include storytelling. It needs to be interesting, important, and meaningful. The tone should be acceptable for the material and represent your brand voice. After all, you get to establish the ground rules for your brand through copywriting.
Development and design
Your visual language contributes to making your tale come to life. These design elements include the colors, iconography, logo, typography, and artwork that represent your brand. In this step, digital marketing companies will create an approachable website, brand design book, and logo using the brand objectives from your positioning and strategic storytelling. That "great design builds an instant relationship to your products and produces a consistent visual language" is the essential takeaway from this example.
Content marketing
You must work hard over time to make your story come to life. Instead, it's a constant process that, through content marketing, keeps your messaging in line with your brand objectives. The following are the steps in our three-step content marketing technique at Savy:
Produce: Brand content keeps readers interested, increases traffic, and facilitates the generation of inbound leads. Our writers deliver high-quality content that is suitable for any brand to our diverse customers. The procedure doesn't begin until you click "Publish." Our staff promote it through earned, paid, and organic channels once it is online. The omnichannel strategy offers a thorough customer experience.
Convert: In the end, we create interactive images that tell the story that your brand was meant to tell.
Enhancing brand awareness
When your home is ready, don't you want to show off your beautiful work to every one of your friends and family? It's akin to increasing brand recognition. After your brand is complete, after you have a sound strategy in place and a great narrative, you want to spread the word. In addition to increasing conversions and cultivating ardent brand advocates, this step keeps your brand relevant. Digital marketing firms employ the following strategies to achieve this:
The Google Ads
With Google Ads, strategy (technique one) and creativity come together (technique two). Utilizing relevant keywords, you may use them to promote your brand and increase leads and sales. Marketing companies employ these as a part of ongoing strategies to raise brand recognition. They commonly mix adverts for commerce, search, display, and video.
Companies with a focus on Brand building with digiedia.
A brand can be built similarly to a home. You need a strong foundation before you dress it up and invite your family around. Similar to brand architects, builders, and designers, Brand building with digiedia collaborates with artists to create durable works of art (yes, we said all trades).