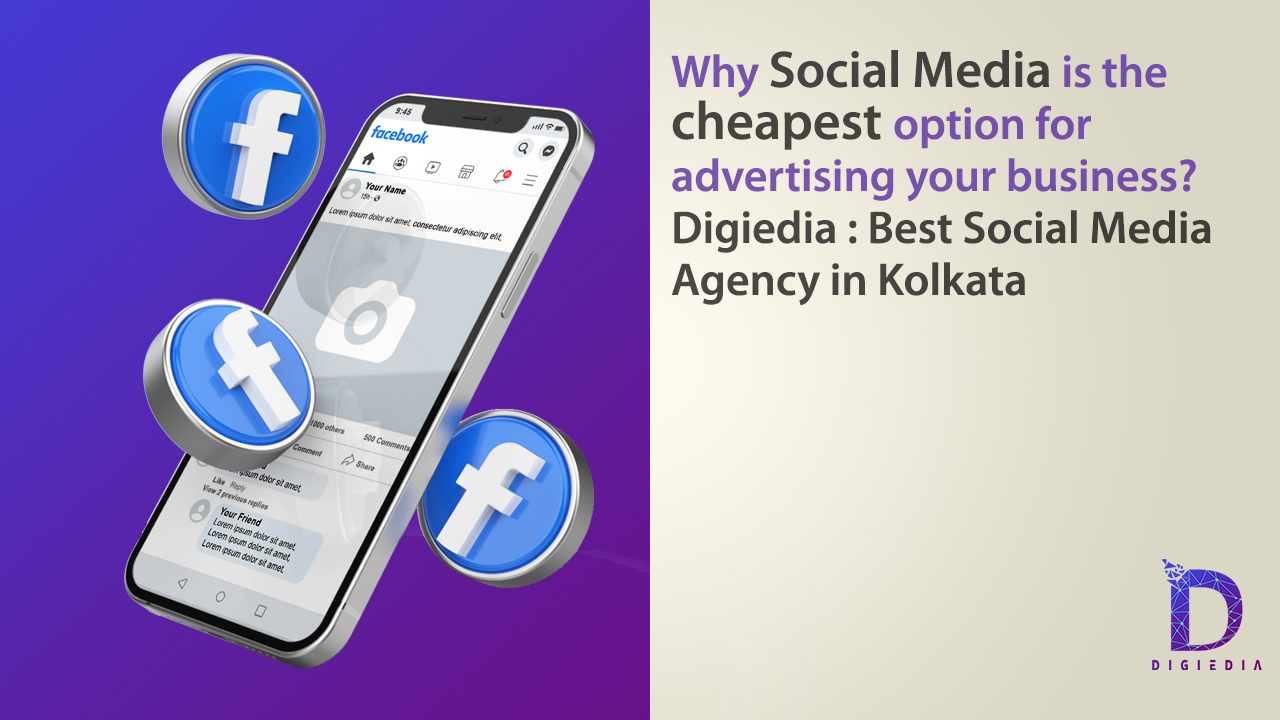 Why Social Media is the Cheapest Option for Advertising Your Business? | Digiedia : Best Social Media Agency in Kolkata
Have you ever tried to weigh the benefits of utilizing social media in your day-to-day life? Consider the following example. Consider a world without social media. What would take place? Undoubtedly, such a world would be boring. Social media is the cheapest option for advertising since it connects us to the rest of the world. The advantages of using social media are innumerable. Social media is helpful for almost everything, from running large organizations to promoting well-known brands and managing our daily lives.
Why Social media is the cheapest option for advertising
But what benefits specifically come with using social media for business? Have you ever questioned whether social media is really necessary for businesses?
However, each of these questions will receive a prompt response. Read this article to the end to learn why people should and do use social media for business.
Social media makes communication easier.
You should be acquainted with social media marketing. Of course, you have if you run an internet business. Even if you don't, you still need to understand it because it's important for the business. What is it that you most want for your brand? Naturally, you want people to know about your business. Social media marketing can help you in this circumstance. They spread the word about your business to get people's attention, which is how you genuinely succeed in business.
You may target the customers who are most likely to make a purchase from you using social media for business because you have access to possibilities for result-driven targeting. From targeting to lead generation to conversions, Social media is the cheapest option for advertising.
A lot of people utilize social media.
Social media users can be found anywhere. Everyone enjoys it. Nowadays, whether they are kids or older adults, practically everyone uses social media. So wouldn't it be great if you could use social media to advertise your business? Without a question, it would do it more successfully and with a wider audience.
Free Use Of Social Media Platforms
Has Facebook or YouTube ever asked you for a certain amount of money in return for your posts? I suppose not, correct? That is among social media's best features.
Due to the low costs associated with these websites, social media is often one of the more economical marketing techniques when compared to others. Feel free to say whatever you want about your firm since posting will not cost you any money. As a result, creating social media accounts for a company is one of the greatest methods and offers infinite opportunities for businesses. The reach and sales potential of a firm can be increased by using the distinctive qualities of social media platforms like Facebook, Twitter, and LinkedIn.
The use of social media is open to all demographics and ages.
When it comes to social media, there is no age restriction. As we've already mentioned, social networking sites are frequently used by both adults and kids. As a result, it is not an understatement to say that social media makes it possible to communicate with people of all ages. Both adults and kids will be able to see the brands you own.
Doesn't that seem like a fantastic thing?
Additionally, you have the choice to demographically target potential customers on social media who are a good fit for your company, its goods, or its services.
Users of the internet are active Users frequently log in to well-known websites like Facebook, Instagram, LinkedIn, and YouTube. Therefore, there is a chance that if you promote your business on social media, it will be viewed by an increasing number of people. It will surely be great news for the business because more people will be drawn to your brand when you post. To allow your readers to notice and respond to your postings, you can employ a variety of strategies.
Knowing when to post on different platforms is one of the most clever applications of social media for business. Making use of live videos on social media sites like Facebook will make it simple for your audiences to discover your video and raise page engagement.
You may also use social media users to drive more traffic to your website.
Social Media Encourages Two-Way Communication
How can you entice clients to explore your brand and engage them? Of course, communication would be essential. Where do you think the best place to communicate is? Social media sites are obviously to a fault. To keep your customers and followers interested in your business, you can converse with them on social media.
Customer Support on Social Media is Ideal
One of the most important aspects of using social media for business has to be customer service. You must take precautions to guarantee that the customers are happy with your products and services.
The greatest way to win over customers is to provide excellent services on social media networks. These social media networks will allow customers to post their inquiries and grievances, which you may then attempt to answer. Social listening and social monitoring are two wonderful ways that businesses may guarantee improved and conversion-focused customer service.
Information Exchange is Facilitated by Social Media
Where would you go to distribute information about your business? There are undoubtedly other ways to market your business, but social networking sites will be the most successful.
You can rapidly upload content online, allowing viewers to swiftly learn a lot about your business.
Don't you believe that will unquestionably guarantee the success of your business? Social networking networks allow for the creation of events as well. You may run a contest to give away free passes or discounts. Posting teasers for special events to promote your brand, goods, or services is another effective approach to agreeing on Social media is the cheapest option for advertising.