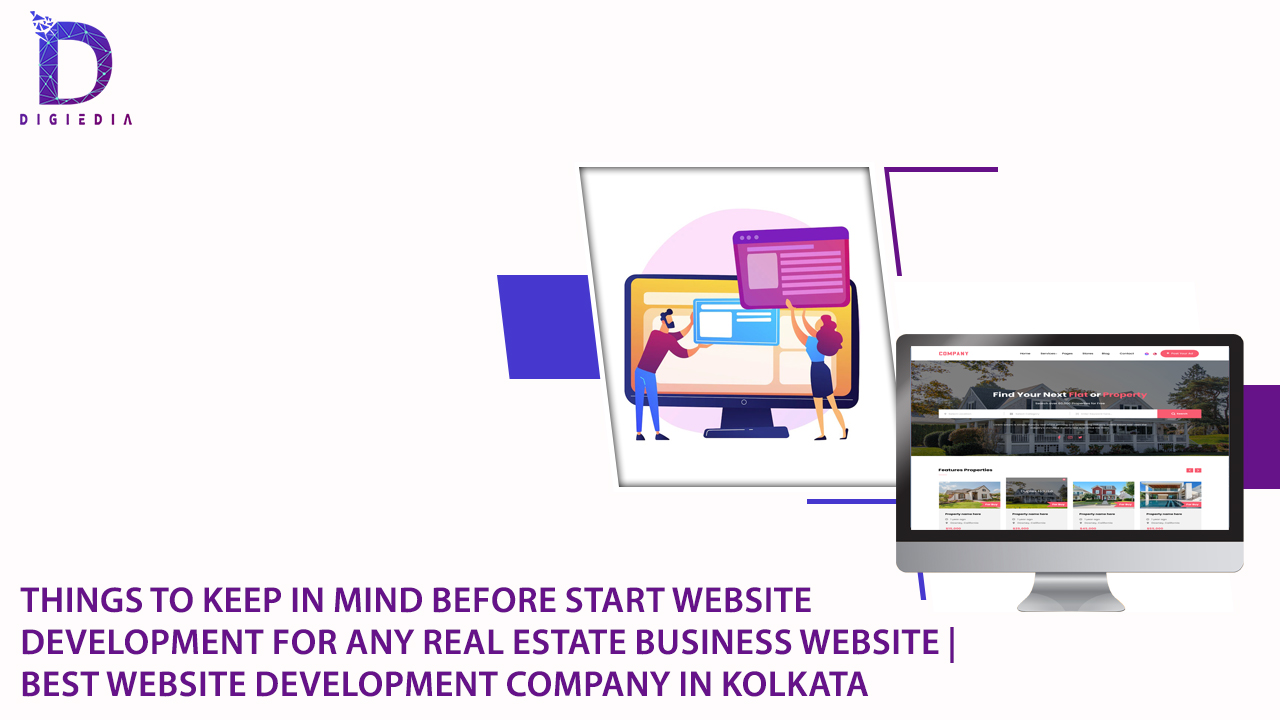 Things to keep in mind before starting Website Development for Real Estate Business Website | Best Website Development Company In Kolkata
Here are some important points to keep in mind before starting Website Development for Real Estate Business Website
Choose a relevant domain Name
A relevant domain name says so much about your business. In addition to becoming remarkable, a domain name needs to accurately reflect your real estate's voice and be nearly impossible to misspell. While hosting, you need to remember the nature of your website and business.  Apart from that, keep in mind how much traffic your website will receive. Does your hosting company offer scalable solutions? What backup security and additional benefits are offered?  Always keep in mind these points before creating Website Development for Real Estate Business.
Clean and attractive design
If you notice carefully, then you may see that every professional website follows a particular colour for their website. The development of a simple, attractive design is among the most crucial considerations for website development. Different hues have the power to evoke different emotions, such as calm, joy, or annoyance. It's important to take your company's niche, target market, branding, and the principles of colour theory into account when choosing colours for your website design. A good design has simple navigation, is appealing to the eye, and is easy to read. The value of your brand and content are highlighted for viewers by a clean design, not by distracting visuals or a lot of text.
Security for your website
Websites must guard against security breaches on both the front end and the back end, from malware and viruses to harmful applications and the danger of hackers. Your website contains lots of information about your company.so it is your duty to secure your website. During developing a website, it is important to review the security features including your site's framework and designs. Businesses like real estate business need to conduct regular security checks or work with a provider who offers the service to secure their website. So try to keep in mind these points before creating a website Development for  Real Estate businesses.
Niche market
Going online with your real estate business will definitely eliminate extra costs but it would also add other costs. The most basic of them is the e-commerce website development cost. You need to understand your niche market. You need to understand whether you need to go online you must have consistency in your demand for your online site to generate revenue.
SEO
for your real estate website to take off and then garner some attention, you definitely need to accommodate SEO in your website content. SEO generally helps to attract traffic in your website and with a proper SEO strategy you can see an immediate result in the incoming traffic, which will also help to increase your sales.
Choose a good website hosting platform
There are thousands of website hosting platforms are available. Web hosting is what makes your website run online. It enables your website to be found on the world wide web. That's why it is necessary for you to find a good website hosting website. All of your business's data get stored on this server.
There are various types of Web hosting tools available according to the type of website you are going to run. There are 4 types of web hosting available. Examples- VP hosting, dedicated web hosting, shared web hosting and cloud hosting. For your real estate business, you need to select them very carefully. Apart from that, some of the top web hosting providers are SiteGround, Bluehost, Godaddy, Hostgator, etc.
Logo
A professional logo talks so much about a company. The logo acts as an identity of your brand. It is what makes your business look professional. People will recognize you and your brand through your logo. You know brands like merlin, PS group, TATA and many other companies by their logo. That's why creating a logo that will define your brand is a must for success and better results. The logo and the colour of your logo should fit into the theme of your website.
Call to action button
A call to action of your real estate website encourages all customers to contact your business. A friendly reminder- contact us for further information or call us today- says that your business wants to develop a relationship with your customers. It is important to use the call to action button properly for a visitor's level of engagement with your company. If they are already a genuine customer, they will enjoy participating in your brand's loyalty reward programme. Apart from that, if they are discovering your website, with a call to action button, you can invite them to subscribe to your newsletter. So this is one of the important Things to keep in mind before starting Website Development for a Real Estate Business Website.
Fast-loading website 
Once your website is launched, regularly assess how long it takes for it to load in order to enhance user experience and customer retention. Customers can get the information they need when they need it thanks to faster loading speeds. If your website is unable to provide, a rival's website will. So to make a stand from this crowd, create fast loading and user-friendly website for your company. By testing your website ahead of time will help you pinpoint any loading time issues and these can be fixed before your website's official release.
Active and relevant blogs
A website's blog keeps visitors up to date on the newest things, business happenings, and market news. Including a blog on your website is an excellent method to engage users, especially if your posts invite engagement with your company. Keep in mind this point before starting website Development for  Real Estate Business. Customers may learn more about your brand's beliefs and willingness to encourage dialogue by visiting your blog frequently. By consistently offering readers new, insightful, and interesting information, your brand establishes itself as a reliable source and a leader in the field.
Final conclusion
These are some of the most important points to keep in mind before starting your online website for your real estate business. If you keep these things in your mind, and do exactly as we have discussed here then you will definitely get an edge over others.