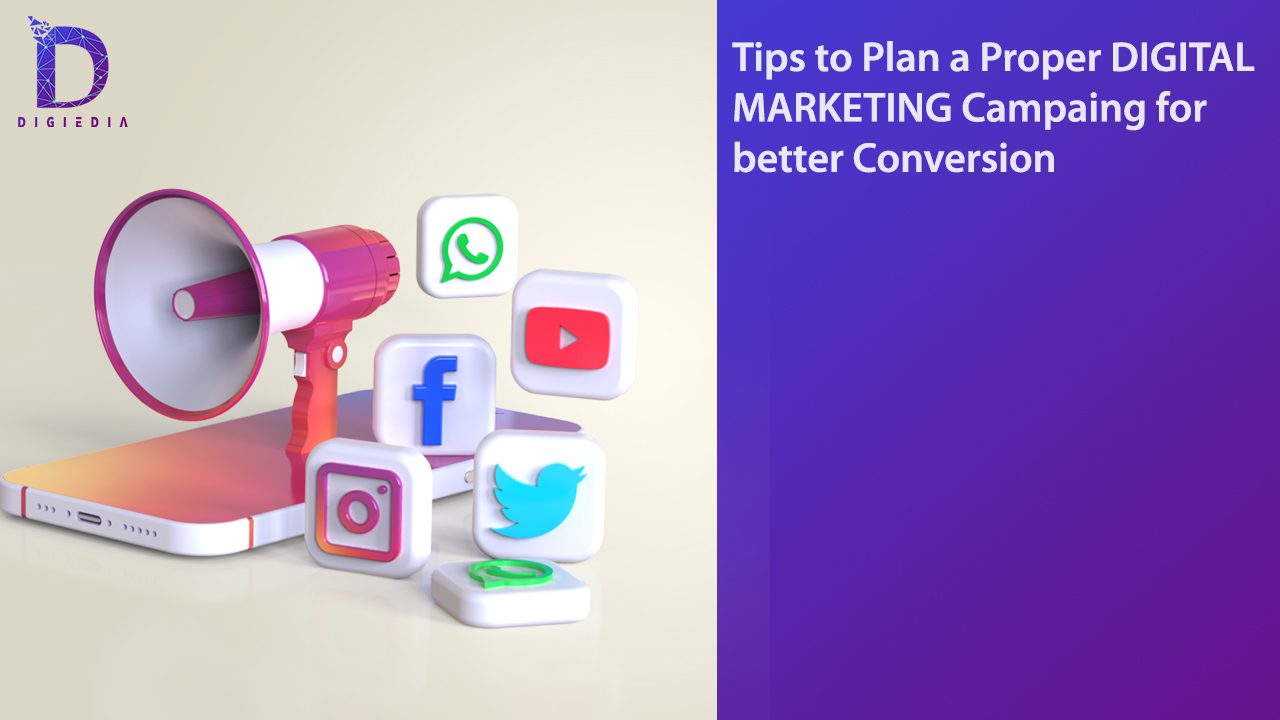 Tips to Plan a Proper DIGITAL MARKETING Campaign for Better Conversion
DIGIEDIA

02 February 2023
With the use of the remarkable medium known as Digital marketing, businesses can now talk to millions of people at once. This was unheard of a few decades ago when marketing strategies, especially for smaller enterprises, were confined to newspaper, radio, or television advertisements, and even then, only if you had the money to pay for them. Businesses now have their own websites, and the wider reach of digital marketing has given them some unique options. Digital marketing is the way to use the internet to boost your online business and reach your potential customers. This is an entirely new way of bridging the gap between brand and customer. To get successful in this sector, you need to have strong analytical skills and methodical knowledge to attract your customers. In this blog, we are going to discuss some Digital Marketing Campaign Tips for better conversion
Make a fast-loading website for your business
In this era, it is important to have the fastest-loading website. 
Google may penalize your website for being slower by lowering its ranking in search results if it has poor loading speeds, which is a bad ranking indication. You should also think about your visitors' acceptance and attention span here, as 47% of people expect sites to load in 2 seconds or less and the same percentage will abandon a website if it takes more than 3 seconds.
Focus on your audience
You may increase the success of your marketing strategy by knowing who your target market is. By focusing your marketing efforts more carefully, it could also save you money as well. The reason for this is that once you know who your target audience is, you can figure out what kind of digital material they'd want to see and where they'd like to view it. For instance, you could discover that the blog material your audience enjoys is the type that is simple for them to search for and share on social media. Given this, concentrating your efforts on social media marketing and blog authoring may be in your best interest. This is one of the best Digital Marketing Campaign Tips for better conversion.
User-friendly design
A user-friendly website helps to increase conversion rate on your website. Clients must enjoy the top – notch shopping experience when choosing to purchase from you. You must keep things straightforward, omit pointless details, and allow customers to make purchases with a minimum number of clicks. The appeals to action must be compelling. For instance, a statement like "Add this product to your basket or cart" is crystal obvious and effective!
Apply heat maps
Heat maps help you in understanding every aspect of your user's behavior as they go around your page. It may be quite helpful to know things like what they focus on the most, where they grow bored, and what they consistently ignore.
Concentrate on creating powerful calls to action (CTAs)
As they go straight to the bottom of the conversion funnel, they are some of the most crucial on-site conversion marketing components and offer a wonderful "shortcut" to raise conversion rates. This is another one of the best Digital Marketing Campaign Tips for better conversion. Users may be persuaded to take this shortcut by a CTA that is visually appealing and has strong language.
Pay attention to your online visibility
Social media has a lot of influence. You may really benefit from using its influence to increase your conversion rate. Your communication must smoothly include social media.
Establish a sense of urgency
Even while "accelerators" are a tried-and-true technique for Digital marketing, it's critical to incorporate them responsibly. Users are given the extra push they require to convert right away by offers that include "Last opportunity" or "Limited availability."
Earn the trust of clients
Customers in today's market are well-informed and skeptical. To increase your credibility and gain their trust, you will need to put in some more work. Simple features, like a website with clear and comprehensive contact information, are incredibly important.
Focus on the social media strategy
The most effective social media profiles are those that are easily incorporated into the business strategy, voice, and communication of your brand. Consider long-form content and engagement as the key proponents of your social media strategy. The best marketing strategy helps Digital Marketing Campaign Tips for better conversion. Only 2% of users actually purchase on their first visit. On Facebook, you can utilize retargeting advertisements to find the other 98% of users and convert them into paying customers.
Nowadays, it's necessary to have a social media presence. The strategic channel selection and organic, as well as sponsored strategies you use, will determine your social media success, though. For instance, 71% of 18–24-year-olds in the US use Instagram, making it the ideal medium for businesses aiming to reach this age group.
Measure the digital campaign's outcome
To evaluate the effectiveness of your campaign, you must employ a credible approach. The best outcomes come from each channel having its own structure that makes it possible to gauge effectiveness. You may then determine if the campaign is on track or whether corrective action is necessary to guarantee that your goals are accomplished. Establish backup strategies to assure the campaign's success if you don't reach your goals. Learning from other successful marketing strategies employed by other businesses can help you gauge development more accurately.
Every online marketing company is well aware of the difficulties involved in generating new leads, let alone turning them into paying clients. Whether you're utilizing print or digital advertisements as part of your traditional marketing strategy, you already know how difficult it can be to get consistent results. That's why you should always keep in mind these strategies and create strong Digital Marketing Campaign Tips for better conversion. This enables you to convert a lead into a paying customer, which is the ultimate aim of conversion marketing methods and to do it more consistently and dependably.