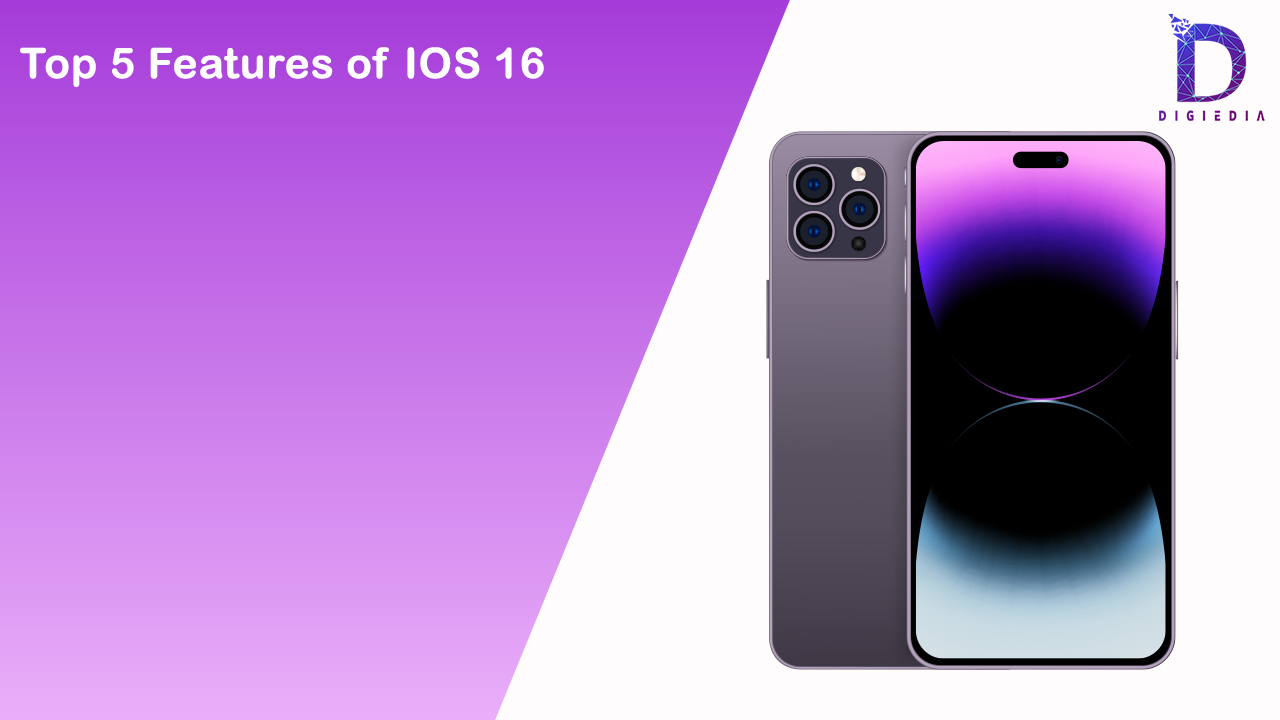 Apple has upgraded to iOS 16 and the new and advanced features are all the tech world is talking about. Here are the Top 5 Features of IOS 16  available to you.
Security
The first among the top 5 features of iOS 16 has to be its safety features. We all exchange account information and subscriptions with family and friends, but this may prove to be a security concern if and when the relationship terminates or turns bitter for any reason. Far too frequently, vulnerable people are put in danger by a domestic or intimate relationship. Safety Check allows you to sign out of iCloud on all of your devices, censure and reset access granted to others, and limits messages to the device in your hand. It also prevents broadcasting your whereabouts if you are in a dangerous position and don't want an abusive partner to discover you. In today's world where our lives can be tracked with few clicks, iOS 16's Safety Check feature is of critical importance, and of utmost priority among the top 5 features of iOS 16 listed.
Personalized Lock Screen
We are suckers for everything visually appealing, and hence, the revamped Lock Screen is the most hyped feature in iOS 16 among the top 5 features of iOS 16 being widely discussed. It includes a few additional customization options that allow you to customize the Lock Screen nearly completely. You may quickly alter the layout, color, and text of the objects on your Lock Screen by tapping them. A multilayered picture effect dynamically shows the topic in front of the clock to make the subject of the shot stand out. Furthermore, iOS 16 adds the option to add widgets to the Lock Screen for the first time, including both third-party and Apple-created widgets. Using the built-in picture filters, which automatically modify the typefaces as you swipe through, is a simple way to give your phone a more distinct design. The Focus feature is now integrated with the Lock screen, allowing you to configure several lock screens based on whether you're at home, on the road, or at work.
Live text feature to video
Live Text was already outstanding in iOS 15. You may extract information from a photo by selecting the text that is included in it, such as a phone number or address. You may now conduct actions like copying and pasting, lookup, and translating the text in stopped movie frames since it is now fully interactive with Live Text in videos. Furthermore, Live Text with iOS 16 now supports text in Ukrainian, Japanese, and Korean. Last but not least, data contained in images and videos may be accessed by just touching them. Convert currencies, translate other languages, track shipments or flights, and do a variety of other things.
Apple Pay Later
We all like shopping, but do not always have enough cash, do we? To that end, Apple brings you iOS 16's Apple Pay Later feature. When using Apple Pay, you can choose to pay later, which divides the purchase price into four equal installments spaced out over six weeks. Even better, there are no interest or fees to pay. Furthermore, Apple Pay Order Tracking sends complete receipt and order-tracking information straight to your Wallet. This makes the shopping experience hassle-free and ranks among the top 5 features of iOS 16. The wallet also notifies you when it is time to pay and allows you to pay the sum in full at any moment.
Better messaging experience
In iOS 16, iMessage receives substantial improvements. Post its availability to all users, you will have 15 minutes to make edits and 2 minutes to unsend any messages. This is very useful when a word is misspelled or an erroneous message is conveyed to the wrong person. While editing a message, Apple will now display the history of the edited message, and the user will have up to five attempts to update the text. Unread, on the other hand, is useful for keeping track of messages to which you want to answer later.
Other useful features –
There are some amazing features of iOS 16 apart from the top 5 features of iOS 16 mentioned.
Parental control
Limiting what your children may do on their iOS devices and for how long becomes easier with iOS 16. Assigning user profiles to each kid and enabling age-appropriate limitations can now be done across devices and from a single location, with fine-grained control over what ebooks, movies, TV series, and applications they may access. If you set screen time limitations but your kids genuinely need extra time you may extend the timeframe using the Messages app. A family Checklist can serve as a reminder to examine what parental controls are in place and assist you with deactivating or raising limitations as your children get older.
Continuity camera
Apple's new Continuity Camera feature will allow you to utilize your iPhone running iOS 16 as a webcam with your Mac running the next macOS Ventura update. It is intended to wirelessly and automatically connect your iPhone to your Mac when it is closed, without the need for you to unlock your iPhone. Continuity Camera is supported by any iPhone running iOS 16, including the iPhone 8 and later.
Carplay
When CarPlay was first introduced, most automakers employed horizontal infotainment screens; however, vertical layouts are now more common, and digital dashboards have essentially replaced traditional instrument clusters. Apple plans to accommodate all display shapes. CarPlay will eventually be able to replace the instrument cluster, providing important data such as speed, engine rpm, fuel reserves, and oil temperature (if you're driving a gas-powered car) or range forecasts (if you're driving an electric vehicle) in addition to navigation. CarPlay may also be expanded to fit whatever infotainment screen your vehicle has.