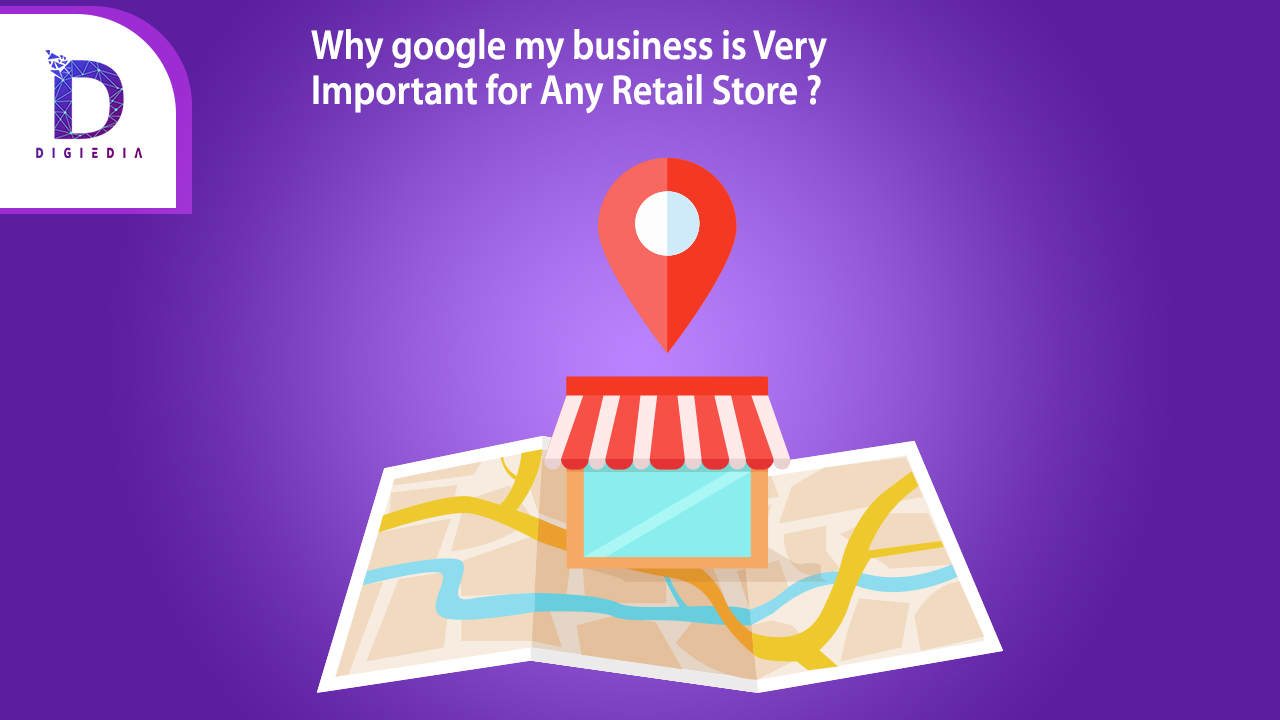 Why google my business is very important for any retail store?
DIGIEDIA

01 November 2022
The Importance of google my business for retail store is essential to know, but before that, a digital marketer must also have basic knowledge about it. Google My Business, abbreviated as GMB, is a web platform that is offered free of charge to assist local companies in achieving greater exposure on Google Search for relevant local queries. Local business owners can better manage and optimize their presence on Google Search by using Google's "My Business" platform. By optimizing your listing and page, you may make your company stand out from other businesses operating in the same geographic region as you do. Your clients will have more possibilities to see and interact with your company if you take up a larger portion of the available real estate on the internet, particularly on Google Search. Most clients begin their customer journeys with a Google search, especially when seeking local businesses that may supply services. It is critical to find appropriate search terms for such services. Using Google My Business may help you improve the performance of other online marketing channels as well as your return on investment. GMB must be integrated into your overall marketing strategy, which should also include your website and any other advertising platforms you employ. For example, by utilizing Google My Business, a company's many locations may notice a rise in the number of people visiting them in person. The importance of Google My Business for retail stores lies in the fact that it is specifically focused on local businesses.
Boosting your local search results
Awareness of your business in the locality you are working in is important for the retail stores, and the importance of Google My Business for retail stores lies in this very necessity. Google My Business appears frequently in the results of local search inquiries. For appropriate search keywords, you may be able to obtain higher search ranking positions (SERP) in the local region where your firm operates. Smaller companies may compete successfully in their geographic location with larger enterprises that have a greater online presence thanks to local search engine optimization. If you want to stand out and make your services more available to clients in your region, you must optimize your Google My Business profile. For retail stores, local search is extremely effective. Local search, also known as local SEO and optimization, is the process of optimizing your website for search engines and utilizing Google My Business to increase your local reach on Google Search. It makes it simpler for clients to discover you and your services at the precise moment they are seeking them when they are browsing for related firms and services in the region.
Building an online reputation
Before visiting any store people, today, check ratings and reviews online. BrightLocal reports that 88% of customers trust online reviews to assess the quality of a local business. Before making a purchase, more and more customers choose to check internet evaluations This is why the importance of Google My Business for retail stores is non-negotiable. GMB is used to check and manage customer reviews and is critical for understanding and monitoring how satisfied your consumers are with your shop. Customers may rate your company out of five stars on Google My Business. They may also submit a written review. After all, Google is the most popular for managing retail customer reviews.
Option of visual display
Another very essential point of importance for Google My Business for retail stores is that they can add a visual reference of their product for credibility. Do not skip this step if you want to get the greatest results from the most recommended Google My Business practices. For numerous reasons, it is critical to post photographs to your Business Profile via the dashboard of your Google My Business account. The first is to guarantee quality. Because anybody may contribute photographs to your Business Profile, the quality of the photos you receive will be quite variable. You may ensure that your profile looks its best by posting some of your stunning photographs. The regularity with which you post photographs communicates to Google that you are actively managing your profile and keeping it up to date, which has a positive impact on your ranking. Google's image recognition technology is growing, and the search engine is now including images in local results. This is just another incentive to use photos. Last but not least, to enhance account engagement. A report by Google shows consumers are 42% more likely to seek driving directions to a firm if its Company Profile has photographs, and they are 35% more likely to click through to the business's website if the Business Profile includes photos.
Customer interaction
Local businesses and retail stores demand a very good customer communication approach. This approach helps you draw customers towards your service. The importance of Google My Business for retail stores is that it gives you a platform for customer interaction. A healthy and successful interaction can be accomplished through your Q&A section. One of the many amazing features of Google My Business is the ability for customers to ask questions about your organization. In exchange, your organization must be diligent in checking your page for new inquiries and replying to them as soon as feasible. Customers will be able to interact with your organization and obtain accurate information if you manage the questions and answers section of your website, which is a highly effective practice.
Attracting the crowd by adding posts
To add a post, simply login to your GMB account and write a new post. You will be able to add an image, write up to 300 words of text, or create an event title that includes the start and finish dates. There is then the opportunity to include a call-to-action with a range of button options such as 'Learn more,' 'Reserve,' 'Sign up,' 'Buy,' and 'Get an offer.' The post option allows you to promote events, share your material, and advertise your products or services, emphasizing special discounts when available. The post will be valid for 7 days until you must replace it with a new one. Google will send you an email reminding you to do so.
A Google My Business profile is intended for businesses that have a physical, in-store presence, hence such importance of Google My Business for retail stores. This free web directory allows local customers to easily identify and visit your shopfront, from hospitality establishments to pharmacists to retail businesses. Online firms, on the other hand, can create a GMB profile as long as they have a real office space to drive consumers and clients. This Google listing may be an excellent free resource to supplement your other social media and digital marketing activities and assist people in your service region to become acquainted with your brand.