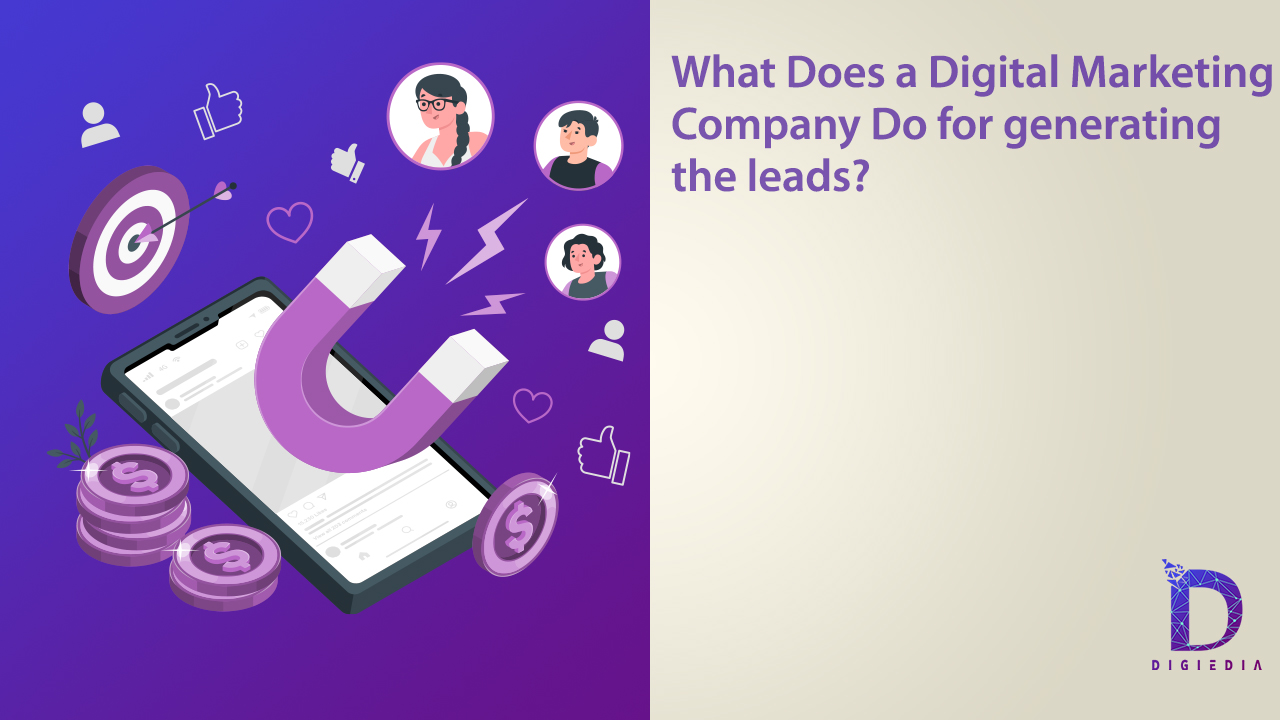 What Does a Digital Marketing Company Do to generate leads?
DIGIEDIA

15 September 2022
digital marketing companies for generating leads use the technique of lead generation ad campaigns. The digital world has transformed the way we conduct business now, and digital marketing companies for generating leads must be up-to-date with their prospects' needs by developing an efficient lead generation system. What is lead generation? Lead generation is the process of discovering, engaging, and converting internet users into prospects for a firm in digital marketing. The strategy employs online channels, methods, and strategies such as email marketing, paid social media advertisements, and even the provision of downloaded information via a landing page.
 Lead generation is a major concern for marketers and firms that want to develop since loyal clients are the lifeline of every successful business. Lead generation techniques often entail the use of content in various formats to improve brand recognition and interest in products or services. Using the sales funnel to nurture prospects who are interested in the company, digital marketing companies urge them to take action. Experienced B2B marketers prioritize the quality of the leads they generate. They accomplish this by attempting to comprehend their consumer profile and ensuring that their content connects well with their target customer. Digital marketing companies for generating leads try different techniques. They use content marketing to establish thought leadership, they go for leverage paid social, optimize their site for local SEO and opt for segment email marketing.
Use of advertising platforms
The companies that have the budget and want faster growth run advertising campaigns on Google or Social Media platforms such as – Facebook.
Optimization of site
Organic search is often regarded as one of the most effective long-term lead generation methods. However, Google has an exorbitant number of criteria based on which it ranks your website in SERPs (search engine results pages). An effective way that a digital marketing company does lead generation is to optimize local SEO. Local SEO will enable your company to reach out to the nearby community and assist people to find you when you're most needed. As mobile continues to thrive, local SEO helps drive more clients to your company website. 
Creating gated content
Creating gated content is another approach taken up by digital marketing companies to ensure that your brand gets quality leads. Gated content is a useful material that is tied to your prospect's business goals. This material may be anything- white papers, ebooks, case studies- but it should have a clear and appealing title that informs a prospect exactly what they will get if they download your information. Prospects who want access must fill out the lead capture form since the material is locked. The usage of gated material is beneficial because it creates a favorable impression on prospects who download it and establishes the validity of your brand in their minds. It also gives you high-quality leads that are interested in your product or service.
Using Social Media as a promoting platform
It is needless to say how important the role of social media platforms is in today's world. Everything happens through Social Media – buying, selling, campaigning, etc. Social media marketing is an excellent means for businesses of all sizes to communicate with prospects and clients, and digital marketing companies for generating leads exploit this very aspect. It is foolish to not do that and pass on opportunities to connect with your client base if you're not utilizing social networking sites like Facebook, Instagram, and LinkedIn. By creating a customer base that devotedly admires your brand, leads, and even purchases, effective social media marketing may help any company reach amazing success.
Use of email marketing
Although it is an older approach, many digital marketing companies for generating leads swear by email marketing. It can be a very effective tool for reaching out to prospects or upselling existing clients. It is critical to customize a company's email marketing approaches to target certain parts of your client database. Marketing automation is now a prominent way for assisting marketers in automatically sending highly targeted emails to leads. Leads may be placed into a workflow as they fill out a website form and are fed with material that fits their individual interests if they are synced with your brand's CRM, i.e., Customer Relationship Management. The inclusion of follow-up emails with outstanding content and a CTA (call to action) to subscribe to your company's website can also be effective.
Use of tools and software for lead generation
A digital marketing company for generating leads also takes the aid of lead generation tools. Lead-generating software and solutions make it simple to collect contact information from people who are interested in your company's product or service. These leads often originate from your website or other internet sources. The major benefit of lead-generating software is that leads are collected without your involvement, which makes a company's work easier. Essentially, these technologies automate the process, allowing you to concentrate on other aspects of your organization. Typically, this is accomplished by providing something cost-free, such as a voucher, downloaded file, or other appealing objects in return for an email address. Lead generating software then captures the email address so the company can follow up with their leads and start the conversion process. Digital marketing companies use various types of lead generation tools or software. They include – on-page lead generation, e-mail marketing, email address finders, prospecting and outreach, CRM tools, sales tools, communication tools, and advertising tools.
Website maintenance
Lastly, this might sound redundant, but digital marketing companies are very thorough with their routine website checks and maintenance. Websites are examined and updated regularly since they are changing to preserve security, mistakes are avoided, and they make sure that SEO is properly optimized. If the website is only examined for bugs when something malfunctions or you have numerous complaints, your company will most likely lose consumers faster than you gain them. Without your knowing, this relaxed attitude slowly slows down the website and deters potential clients. 404 error pages or broken links that never load can easily drive people away. A weekly website check is, therefore, required to confirm that the system is operating correctly and to make any necessary tweaks and user interface enhancements.