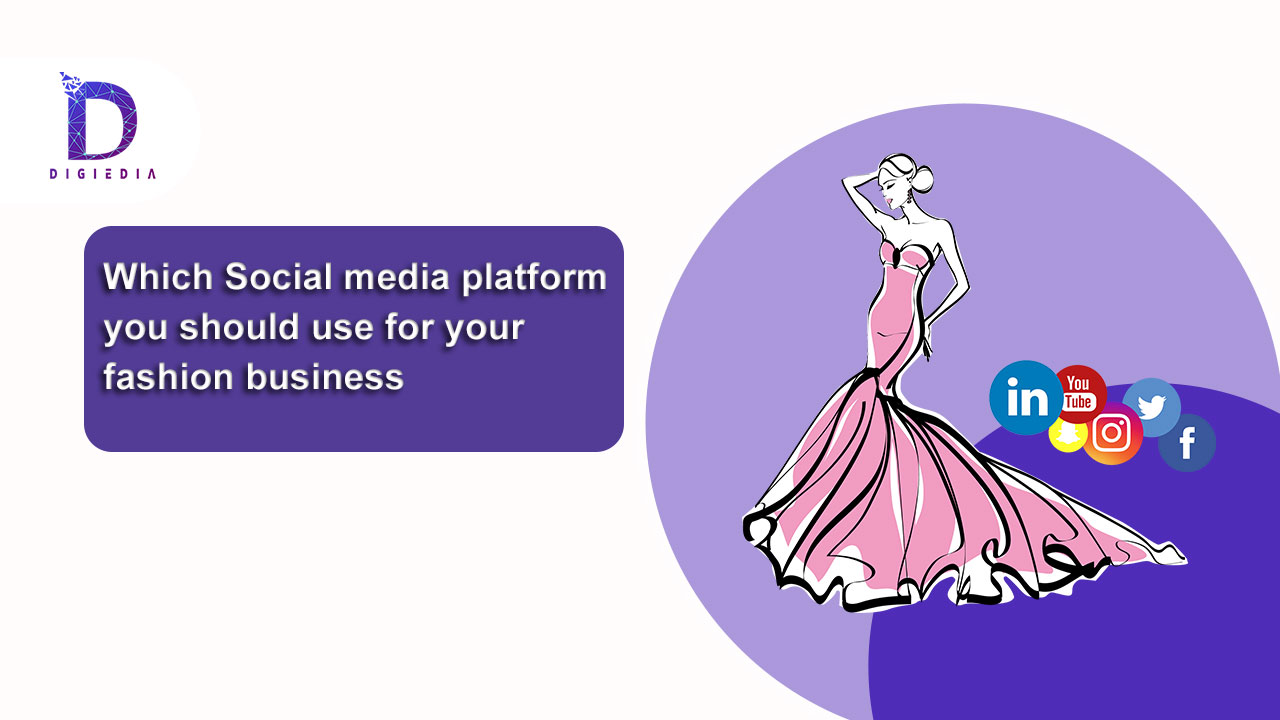 Which Social media platform you should use for your fashion business?
When it comes to marketing strategies, fashion brands were always aggressive. And if you want to start a fashion business, you'll need a deadly social media marketing strategy.One of the most appealing businesses operates in some of the most competitive markets. Despite the fact that technology is advancing and forcing brands to maintain their top positions, there are ways of improving social media marketing for fashion brands.
A fashion brand's most valuable asset is its visual appearance. You must be visually represented in order to connect with your audience. Based on that, you can begin developing your social media marketing strategy, and the following tips will help you gain a competitive advantage. Let us understand which social media platform you should use for your fashion business.
Use Instagram's Power to Dominate the Hashtags
Instagram, the most obvious yet vital medium, should be your first choice. To be successful in the fashion industry, you must develop an effective Instagram marketing strategy. Instagram fashion is akin to the Ring for Gollum. It is the ultimate synergy. Instagramming fashion may be one of the most popular types of social media content. The traditional hashtag #fashion is the fourth most popular. In addition, #selfie and #style are ranked 14th and 23rd in the top 25 most popular hashtags, respectively.
Always use relevant hashtags and avoid adding irrelevant ones for the sake of it. Consider the location, as well as all of the information from the post. Find people who have tagged your designs and repost them. Follow trending Instagram hashtags to discover top content and gain inspiration. Instagram has a lot of cool features that a fashion brand can use to keep users interested and hooked into the funnel. Using the right hashtags can help you increase your social media reach and reach a larger audience. You can comprehend Instagram if you use all of the available features. Create Instagram stories that show behind-the-scenes videos and photos, then create highlights where you can add stories to your profile.
Use Facebook to promote your brand.
You don't want to be without Facebook. You can begin by creating Facebook Ads and delivering niched content to potential clients, people who have visited your website or have an interest in fashion, and your competitors. Consider novel approaches to achieving the desired results with your Facebook marketing strategy. You can also display your newest collection and build a social community. It is one of the most effective strategies you can use. Create targeted messages to connect with your target audience. Consider your buyer persona, their likes, and their favorite activities. For example, in the clothing industry, consider how someone feels when they have their favorite piece in their wardrobe, and then create lookbooks. Consider creative ways to dress in simple clothing.
Your Facebook page should include all of the necessary information (website, contact information, and a description), as well as links to your other social media accounts, shop items, a subscription form, a contest, and so on. Create a Facebook group with distinct deals club members, brand recognition discounts, discuss, and deliver unique and exclusive material only to group participants if you want to establish a strong community. The only limit is your imagination. You can also display an exclusive preview of your latest launches, discount codes, and other information. If you do create a Facebook Group, make sure you have time to post there on a daily basis to keep it active.
Collaborate with Fashion Bloggers and Social Media Influencers.
Influencer marketing will be around for a long time. And it is a must in the fashion industry. It is the most effective method. The majority of fashion bloggers and influencers use Instagram. They don't exist if they aren't on Instagram. The same is true for your brand. You have to be there if you're on Fashion, but that's not all. You must post on social media four times per day, reply to comments, create stories, like and comment on others' posts, and so on. As previously stated, hashtags are the foundation, so you can search for trending topics and find a plethora of influencer marketing and fashion marketers. Scroll through their profile to see who they have previously collaborated with, determine if their style is a good fit for your brand, and begin sending a private message to collaborate with them. You can look at those who have a lot of likes and, as a result, a lot of Instagram followers.
Because video is one of the most popular types of content, the fashion industry and influencers began doing video lookbooks: the set includes a mirror, a stander with the clothing the individuals combine to create multiple looks (it must include a pair of pants, a gown, skirt, blouses, hat, a few belts, bags, and a few pair of shoes), and the catch technique (somebody throws the items to you).
Master the Art of Customer Service
As you make a name for yourself, you'll need to develop a customer service policy and hire dedicated employees who understand how to make clients happy while also resolving sensitive situations and uncomfortable issues. It is critical to understand how to recognize and deal with customer experiences in critical situations. No matter how good your product is, you will have to deal with negative people, mean people, and online bullies. You'll be able to fix them all if you have guidance and a quick response time. People will talk about your brand across the internet, not just on your social media accounts or customer service platforms.
Following this social media presence for fashion brands can lead you down new paths and roads. Furthermore, social media can benefit not only your content marketing efforts but also your SEO efforts. You must investigate and find the best one. There is no one-size-fits-all solution. Create a personalized digital marketing strategy for your target audience. Even if they all like your products, people may respond differently to different messages.