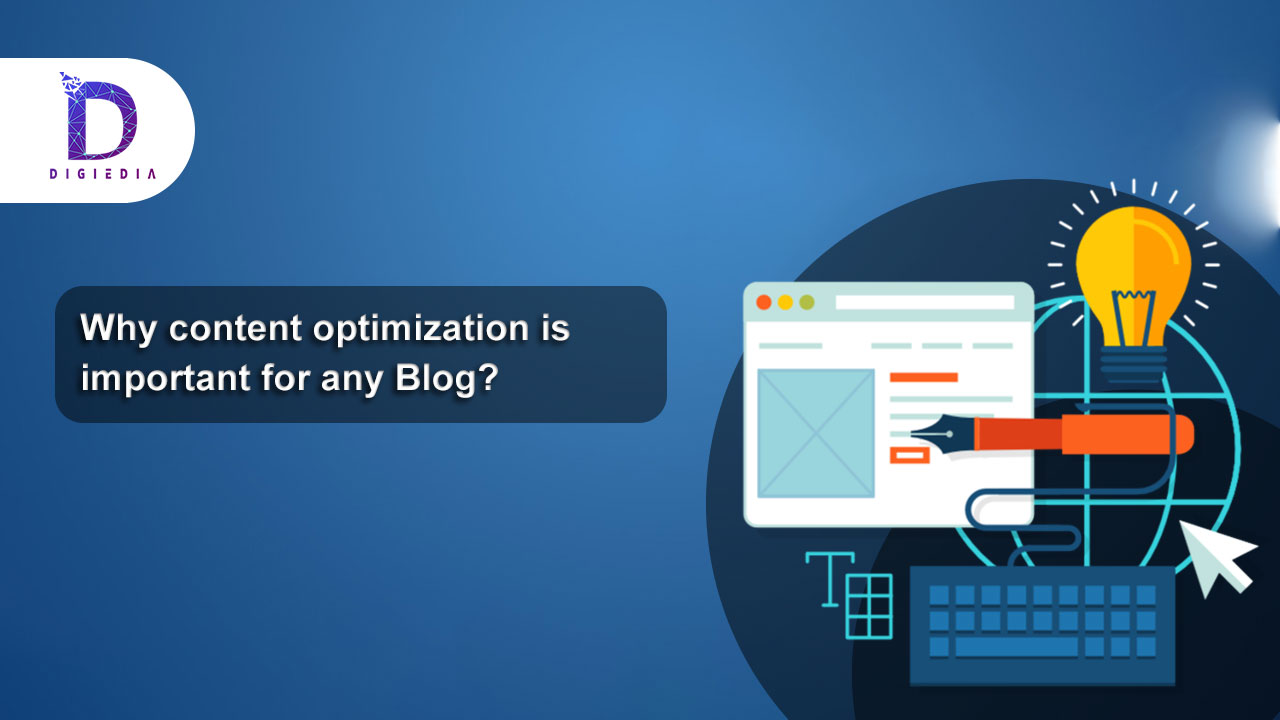 Why content optimization is important for any blog?
You've done everything you can to optimize your site to the best of your ability and knowledge. Despite this, it appears that it still can rank higher in search engine results (SERP). It's conceivable that you're not optimizing your website properly if it's not running adequately. This is when content optimization comes into play. On the other hand, many business owners who construct their websites do not use content optimization. It's not only about having the right number of keywords and backlinks. Let us know why content optimization is important?
Content optimization is important – Why?
Let us know about the basics and the reason behind its importance.
The practice of converting low-quality content into high-quality content is known as content optimization. The goal of content optimization is to improve the user experience by optimizing on-page material. To put it another way, you ensure that whatever you post on your website is pleasurable for your viewers. Content optimization is referred to as on-page SEO or on-page optimization. After all, content optimization is a part of search engine optimization or SEO. Many successful websites use content optimization as part of their SEO strategy.
What distinguishes content optimization from SEO is the goal of each. Both off-page and on-page content are important in SEO. Content optimization ensures that your work is comprehensive in its coverage of the subject. The term "search engine optimization" refers to a broader sort of web page optimization. Content optimization establishes you as a subject authority through on-page content. Both aim for the same thing: to get your website to the top of search engine results pages (SERPs).
Content optimization is important – Relevance?
You now have a clear picture of what content optimization comprises. What does it do? It ensures that your website is found first among all other websites on the same topic, as previously specified. In actuality, content optimization entails a lot more. Content optimization helps your website's appearance as well. What good is a page with great content but no style to entice visitors to visit it?
A well-designed website achieves a balance between appealing to the eye and providing relevant information. Furthermore, optimizing your content marketing puts you ahead of the game. If they come across your website first, there's a better chance they'll convert. You may feel even more secure if your visitors enjoy what they read, see, and do on your website.
What Are the Different Types of Key Content Optimization?
On-page SEO comes in a variety of forms. Text, photographs, videos, and news are just a few examples of what can be optimized. These are the most common ways of attracting visitors employed by many websites.
Enhancement of Text
First, let's look at the text. On a website, every written text, especially landing pages, should be optimized. On landing pages, it's vital to incorporate information regarding other content items. The meta-description, title tag, and meta-keywords must all be valid. For the audience and search engines to find them useful, they must contain the proper keywords. It will also help if you use URLs that contain the necessary keywords.
Enhancement of the visual
Then there's the matter of optimizing the images. Humans are visual animals by nature. This is most likely why 65 percent of the population are visual learners. Make use of human nature when it comes to optimizing the contents of your website. It's a good idea to include photographs in your blog articles or other content-heavy websites. It'll be even smarter if you optimize these images as well.
Let's move on to the next form of visual: videos, while we're on the subject of visuals. As a marketing strategy, video marketing is becoming increasingly popular. More business website owners are creating other helpful videos for clients. Congratulations if you've created your vlogs or SEO-related video tutorials. However, there are still ways to make them better. Later, we'll discuss how to optimize your website's content, including videos.
Content optimization
Regarding the last type on this list, we have some good news. Some websites have a separate page dedicated to industry news, while others have a blog with news posts. You should put each article you publish on its page on your website. These are only a few examples of important content that people use on their websites. It's crucial to keep in mind that moderation is the key. If you want to discover how to optimize this type of material, keep reading.
Advice on Content Optimization
Allow us to elaborate that why content optimization is important and approaches for your websites.
First and foremost, remember that you're creating content that will either educate or benefit your target audience. When users realize they wasted their time on a website that did not respond or assist them, they have a terrible experience.
If you're unclear on how to improve your material, seek advice from experts. It's important to remember that asking for help is perfectly acceptable. Consider visiting a site dedicated to site optimization. Make sure you have a good topic model in mind before you start writing. As a result, you can begin planning and optimizing content right away. It may be easier to optimize content that has already been developed than it is to optimize content that has yet to be created.
It's also a good idea to change the file sizes of your images. Your visitors will be less likely to experience page loading troubles as a result of this. Image-heavy content must load quickly without sacrificing quality.
When developing headlines for news stories, good hooks should be employed. That is, they are engaging and should capture the interest of your readers. That level of interest should be maintained by the news material.
Conclusion
Our exploration of content optimization and why it matters in search engine rankings comes to a close here. We hope you enjoyed this guide and learned a lot from it. Content optimization, like SEO, is critical to your website's success. What's the point of coming to a halt right now? We've got a couple of additional ideas to help you stay on track. If you're looking for more useful information, take a look at our other postings.