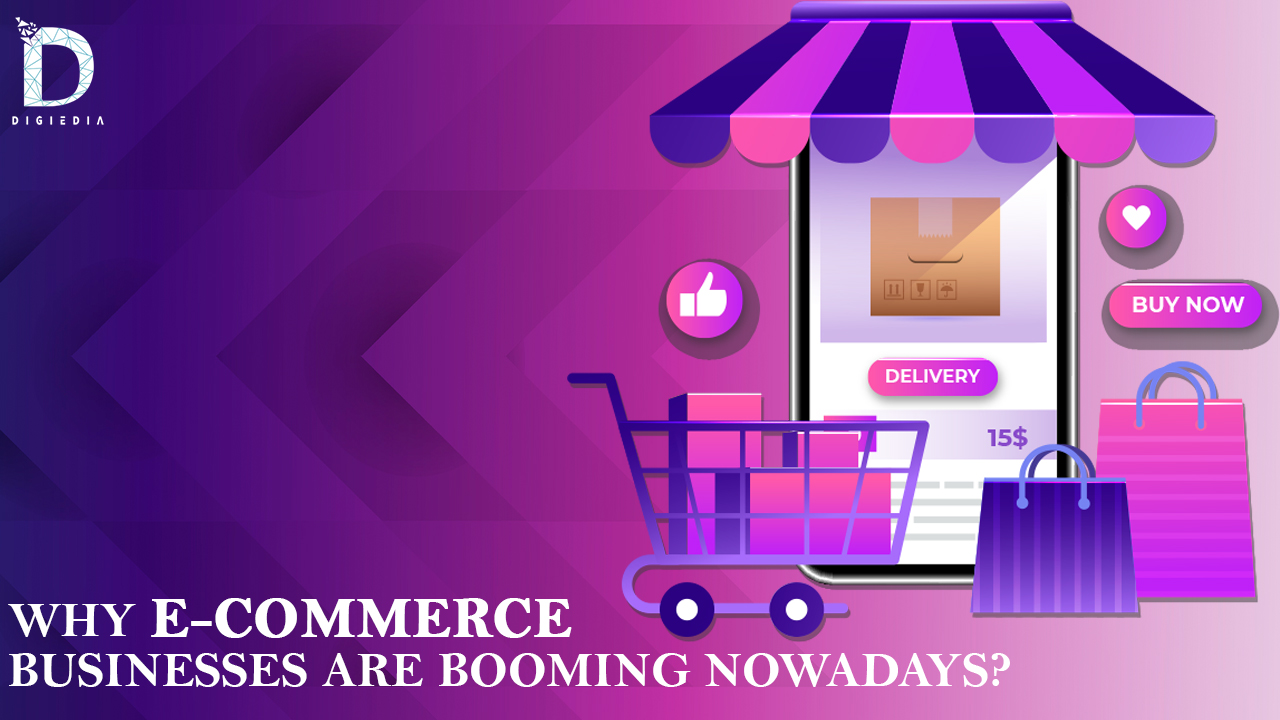 Why E-commerce businesses are booming nowadays?
Post Covid-19 pandemic, the e-commerce industry has seen a huge boost as during the pandemic outbreak everyone was sitting on their couches and doing window shopping. All the offline shops were closed due to the precautionary norms which led to everyone look for various e-commerce websites online. E-Commerce is not only restricted to a particular age group or gender, everyone these days is scrolling on Amazon, Flipkart, eBay, etc. and looking for their perfect fit be it in terms of clothing, electronic gadgets, shoes, etc.
Let us take an example of a situation in the real world. Suppose, if you set up a shop at a particular place, your target crowd will only be the people from the nearby location to your shop which would really limit the leads you generate and the customers you may get. But with the introduction of the virtual internet world, there are no such barriers.
But why is E-commerce turning out to become the new and only market which netizens trust these days? Is it just the comfort that drives customers to buy online or is it something else? Here are some points which might give an explanation as to why is e-commerce business seeing next-level growth.
There are many reasons why every individual is loving e-commerce and has kind of replaced it with the offline market. Some of the potential reasons are mentioned below:- 
1:- The Growth of the Internet:-
Internet and its growth have played a very important in the booming e-commerce are seeing in recent times. Almost everyone, be it a kid or an adult has a smartphone with an active internet connection these days and most of their time goes into scrolling on the Internet and Social Media sites. The E-Commerce industry was very intelligent to see this opportunity as they made full use of it. The vast potential of the Internet has made it quite easier for e-commerce organizations to reach out to a larger pool of people and generate organic traffic and leads over a very short period of time.
E-commerce was over the internet for a long time but the acceleration it has seen in recent times is unmatchable.
2:- Literally Unlimited Products:-
With the introduction to the online market, customers can avail literally unlimited products as the online markets link their customers to numerous offline vendors which leads them to shop for unlimited products and even if the product is out of stock on a particular website, a customer always have that option of switching to the other website which would help them shop from some other vendor.
Not only vendors, if we talk about brands and their outlets as well, but the e-commerce websites also help their customers to connect with various brand outlets in a single place which is their own website making it easy for everyone to shop. Now, The same situation of not getting a particular apparel applies with the brands as well, if someone is looking for something in particular (be it for a particular size, or a particular colour they want) and is not able to find it on a particular website, they would always have that option to choose from a different website which would help the customers connect to a different outlet of the same brand.
Therefore, when you shop on e-commerce websites, you get access to almost unlimited products to choose from which makes it a very prominent reason for the e-commerce culture to boom.
3:- Two-way Convenience:-
When we mention two-way convenience we are mentioning the ease of both, the e-commerce website owners and the customers. Starting with the convenience of the customers, all they have to do is clicks to get their favourite items delivered to their doorsteps. Shopping for netizens have never been so easy like it is in these times. Many things have played an important role in this turnover of offline shopping to online shopping but convenience for both parties plays a very major part in it. With the leverage in the time, individuals spend on the internet, e-commerce businesses have become a great place of marketing as well which in turn generates employment. In comparison to offline shopping, the customers are being given the easiest and premium experience with the help of e-commerce businesses.
On the other hand, if we talk about website owners, the convenience of the owners have also increased. All they have to take care of now is that the product is getting delivered to the right location with the right precautions being taken as the rest of the things is done by the website like choosing of the items any customer wants to buy, choosing the vendor from where the customers want to buy, etc. Another difference which can be seen for the owners is that in the case of offline shops, one had to manage and pay numerous bills that included, land tax, electricity bill, water tax, etc. but now, all they have to do is pay the charge of the domain they buy for their websites and done, no other charges are applied while running an e-commerce store.
4:- Custom Experience:-
How many times is it that you go to an offline shop and get to choose the clothes or appliances with a very wide variety of clothes and appliances to choose from? But when it comes to online shopping, you get to choose between numerous products giving you a very custom experience that adds up to the fruitful experience of an individual. While shopping online, the website owners do their best to give every customer a very tailored experience that attracts the audiences more.
Here were some of the reasons why E-Commerce businesses are booming in the recent times. Yes, this has reduced the craze of people going to offline shops but has also leveraged the lifestyle of individuals where they can sit on their couches and shop for any items they wish for at any time of the day.