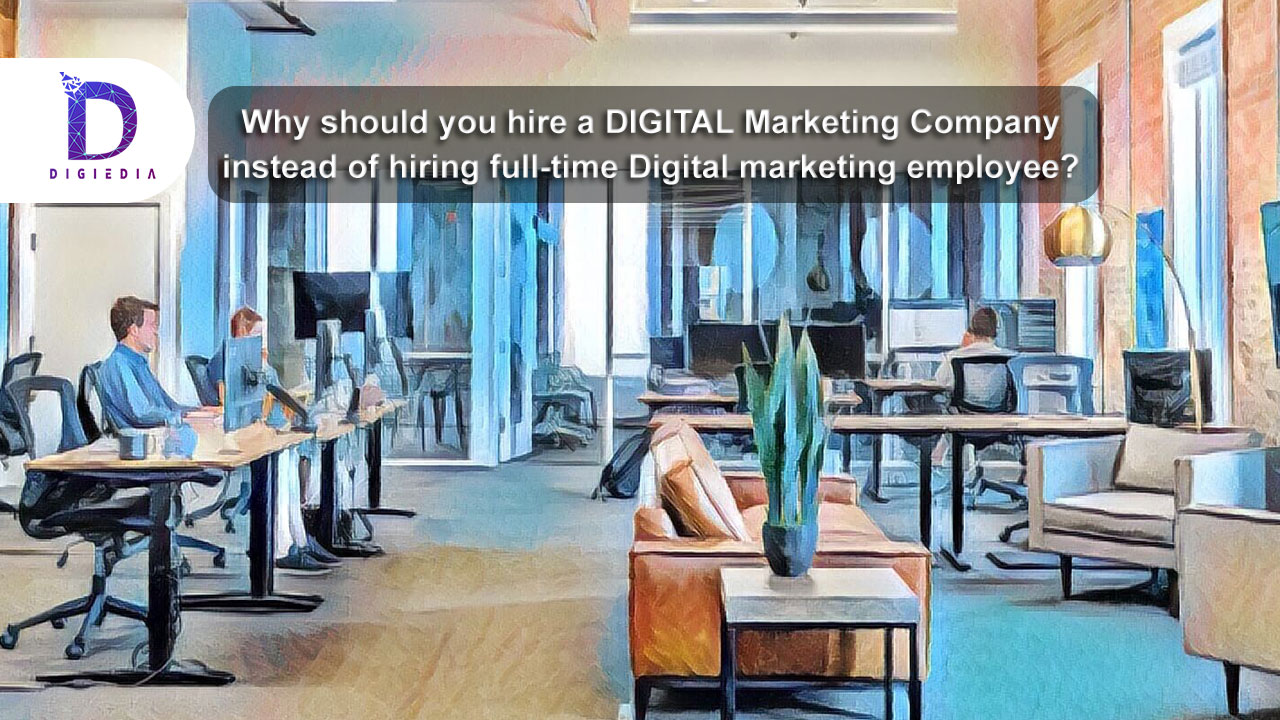 WHY SHOULD YOU HIRE A DIGITAL MARKETING COMPANY INSTEAD OF HIRING A FULL-TIME DIGITAL MARKETING EMPLOYEE?
DIGIEDIA

24 February 2022
Is it better to hire a digital marketing company or hire in-house? When it comes to online marketing, this is a critical decision to make. As the founder of an online advertising agency, we'll admit that we have some thoughts on the matter. However, having worked in-house and hired numerous agencies throughout our careers, we've learned a lot about the benefits and drawbacks of each option. With that in mind, we'll give you a quick breakdown of the differences between recruiting in-house versus using an agency.
REASONS FOR CHOOSING A DIGITAL MARKETING COMPANY
There are 3 reasons why companies typically pick a digital marketing company over hiring in-house.
SKILLS DIVERSIFICATION
Online marketers, as a group, have extremely distinct skill sets. You've got paid search gurus, social media gurus, content marketing gurus, conversion rate gurus, and so on… The list might go on forever.
Web marketing, on the other hand, is just too complex for one person to be an expert in all areas. As a result, you may expect a paid search specialist to perform wonderfully if you hire one in-house. What if paid search isn't successful? What if your competitors are making good use of content marketing?
So, what are your options now?
Obviously, you could hire a content marketer, but that may not be feasible or you may not be sold on the concept yet. So, what options do you have?
IMPROVING YOUR MARKETING DIVERSITY
When a corporation hires in-house, diversifying its internet marketing efforts can be tough. After all, investing in a new marketing channel is a risk. You've simply put yourself in a poor position if you hire someone and it doesn't work out.
As a result, these companies are often confined to a single marketing channel. And in a lot of cases, that channel isn't even operational.
AGENCY VS IN-HOUSE
When it comes to talent diversification, should you use a digital marketing company or hire in-house? It's simply an issue of resources when it comes down to it. Larger companies may find it useful to hire someone in-house to help them expand their marketing activities. After all, if your marketing needs are significant enough to warrant hiring a dedicated expert, paying someone to focus on a channel full-time may produce the best results.
Agencies, on the other hand, are a fantastic method to diversify for most businesses. Because most companies don't need (or can't yet afford) to hire a full staff of experienced marketers, working with an agency can be a great way to extend your marketing net without drastically increasing your overhead.
PREDICTABILITY
Great web marketers are highly resourceful, but they despise monotony as well. Imagine being expected to do daily miracles by staring at the same set of keywords every day. It is possible, but it can be tiresome.
As a result, many entry- and mid-level marketers switch jobs every two to three years. This may keep the marketers sane, but it's bad for the businesses they're abandoning. After all, it takes time and effort to educate a new marketer and fine-tune your web marketing. You may run into a "glass ceiling" in marketing if you have to teach someone new every time one of your in-house marketers wants to try something new.
Digital marketers who work for an agency, on the other hand, have the opportunity to work with a diverse range of businesses. Employee retention is aided by keeping them challenged and their creative juices flowing.
Even a digital marketing company, on the other hand, cannot guarantee 100% personnel retention. If you work with a good agency, though, your account should be handled by a team of people.
As a result, if your primary point of contact departs, gets sick, or goes on leave for whatever reason, you won't have to wait for the agency to get someone up to speed on your organization. They already have employees who are familiar with your digital marketing company and know how to keep things going.
AGENCY VS. IN-HOUSE
In general, if staff turnover is a concern, using an agency is a good idea (or a prospective problem).
This is particularly true for small businesses. Smaller businesses have fewer alternatives in terms of diversity and compensation, as well as a higher rate of turnover. Larger organizations, on the other hand, can provide a lot more to their employees, so they can often retain their marketers on staff for longer if they keep them focused and happy.
In either case, hiring in-house is like putting all your eggs in one basket. If you're convinced that none of the eggs will roll out, you're generally in good shape. Hiring an agency might be a good choice if losing one or two eggs will jeopardize your marketing efforts.
PARTNERS' BENEFITS
AGENCY VS. IN-HOUSE
Unless you work for a mega-corporation like Wal-Mart or Amazon, getting the attention that ad agencies get from ad platforms is challenging. That's not to say you won't succeed without it; you will, but it will be much more difficult. It all boils down to the importance of these incentives to your company's competitive advantage. If you're in a tight race, working with an agency can just give you the edge you need to get ahead of the competition.
CONCLUSION
People prefer to work with an agency or keep things in-house for a variety of reasons. Both of these methods are viable for growing your business. Agencies, on the other hand, offer a great deal in terms of skill diversification, predictability, and partner benefits, which is why many businesses find that partnering with an agency is the best way to grow their business.