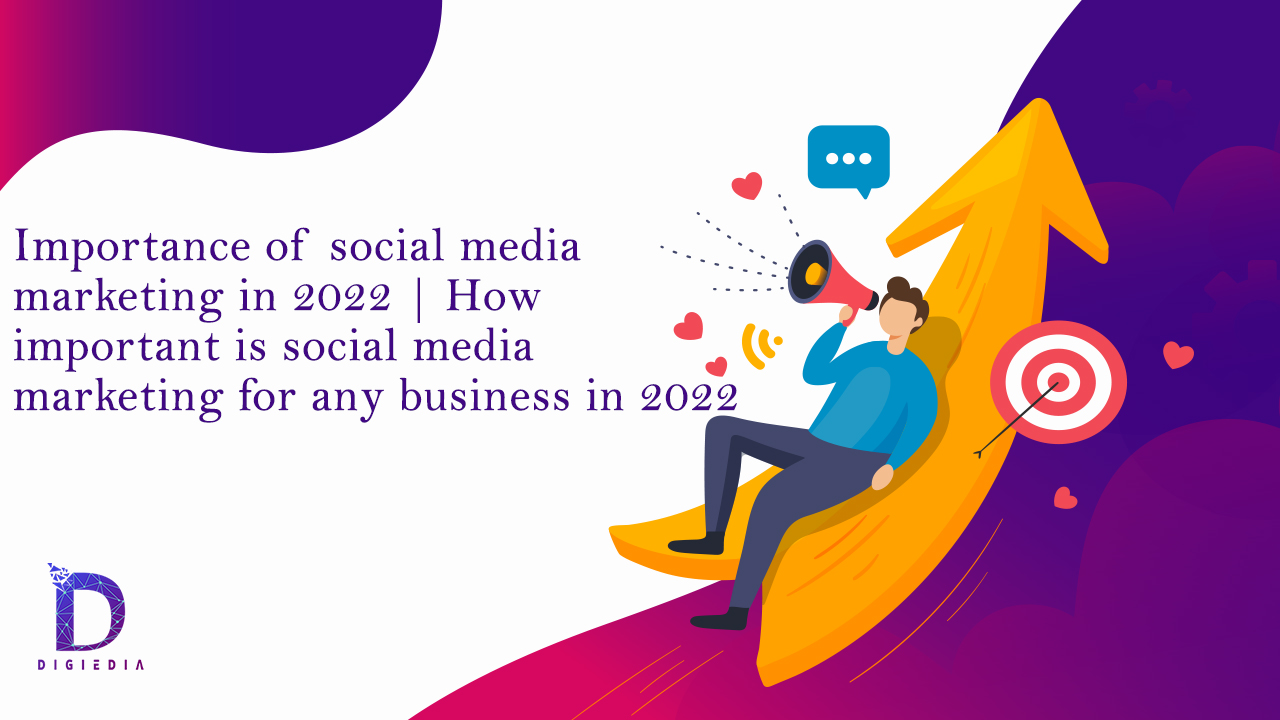 Importance of social media marketing in 2022 – How important is social media marketing for any business in 2022
DIGIEDIA

25 February 2022
Social media has evolved into the most prominent and vital virtual arena, where the platform is utilized not only for social networking but also as a powerful tool for digitally promoting your business and products. The Importance of social media marketing in 2022 has been increasing rapidly.
The power of social media is undeniable, as you can reach a big number of people between seconds of publishing an ad, lowering your costs and ensuring that your adverts reach your target demographic with these social media commercials. Let's look into the growing Importance of social media marketing in 2022.
Cost-effective
Almost all social media platforms provide free business accounts. It's simple to sign up for a client relationship. They have procedures in place for promoting your business and communicating with prospective clients and readers. You can, on the other hand, boost your advertising budget for bought advertisements as much as you like. In comparison to traditional print media, television advertising, or any other means, it is still one of the most cost-effective options. Small business owners, entrepreneurs, service providers, and others might start with a little marketing budget. In order to be heard and reach the most people, your content is critical.
Getting New Clients
Unlike print or television commercials, social media updates reach out to your potential customers on a daily basis and keep them engaged. To capture the public's attention and cut and through the noise and to depict the Importance of social media marketing in 2022, use intriguing and high-quality content. Using your story in a video commercial or testimonials video, for example, will entice visitors to learn more about your goods and/or services.
Keep yourself one step ahead of the competition.
The pursuit of what your opponents are up to, in order to stay in the game, is a critical component of any digital marketing plan. Because everyone has access to every business profile on every social networking site, it's a high possibility for you to get to know your opponent by studying the techniques they're using to entice their followers. It will allow you to see what is functioning and what isn't. If you're new to social media marketing and want to learn more, you might lose out on some great ideas. Monitoring your competitor's social media presence in this case will teach you a lot and help you level up your game so you can stand out without duplicating. This is a salient aspect to depict the Importance of social media marketing in 2022.
Determine your ideal client's purchasing habits.
Because social media networks are open to everyone, you can discover what your potential customer's interests are. It enables marketers and enterprises to keep track of their target audiences' activity. So, you can better understand their likes and dislikes in order to improve your marketing plan. Knowing these patterns allows you to avoid overlooking any viewpoints that could be significant while producing content for the page. As a result, you can develop content that your viewers can relate to, which will increase interaction on your social media platform and pave the way for you to improve your digital marketing methods in order to entice the right clients and suit their needs.
Establish and sustain contact with your target market.
And over half of the world's population is online, giving it an irresistible opportunity for brands to promote and reach the largest possible audience. We are all aware of the importance of communication in every part of our lives. Its importance is considerably greater in the corporate world. Communication is among the most effective methods for not only getting to know your customers but also keeping in touch with them. Allowing customers to post concerns, recommendations, testimonials, and questions on a platform that allows them to be heard makes them feel good. That's why, through their social media material, many companies and entrepreneurs aim to establish a pleasant relationship with their fans.
Enhances brand recognition
Creating content that is incredibly original, creative, and visually pleasing is the key to increasing brand recognition and capturing everyone's attention in order to educate them about your brand's existence. Before you begin selling and attempting to attract a large customer base, you must first establish brand recognition. People will begin to notice and relate to your brand and items once you have established an image for it. You'll have a higher chance of growing engagement on their social media channels and converting potential customers into buyers. Your content will help people connect with your business, become acquainted with your goods and services, and earn their trust.
Increases the number of visitors to a website and its SEO ranking.
Given that everything is now done online, Social Media Advertising is the simplest, most effective, and quickest way to increase your prospective database. Businesses can create leads for their profile pages on Facebook, Instagram, Tumblr, LinkedIn, and other social media platforms. For increased conversions, a mix of organic and bought followers can be used. Paid ad campaigns, incentives, video marketing, join and share, and free downloads are just a few of the most popular methods for bringing prospects into your sales funnel. Maintaining audience engagement improves visibility and conversion. Campaigns and unique content will motivate audiences to become devoted consumers, increasing your website traffic and SEO ranking.
In your own words, tell your story.
Social media provides you with a platform to communicate with your audience while also assisting you in better understanding them. Your stories let your customers get to know & relate to the brand on a much more personal level through your articles. People will learn how and why you shaped your business and raised brand awareness through your story. Also, how diligently you or your team sought to make their goal a reality, giving the brand more meaning. It becomes inspirational, piquing people's curiosity in learning more about your failed and successful initiatives. This, in turn, influences their decisions and converts potential clients into committed customers.
Keep track of your progress.
One of the unique benefits of social media marketing is the ability to track and analyze your success as well as the reach of your items. Every social media post's reach and engagement may be tracked. Providing you with the ability to view various demographics of visitors to your business profile. This will also show us the types of material that were more popular and increased the reach of your profile. As a result, you can improve your online marketing skills and produce more engaging content.