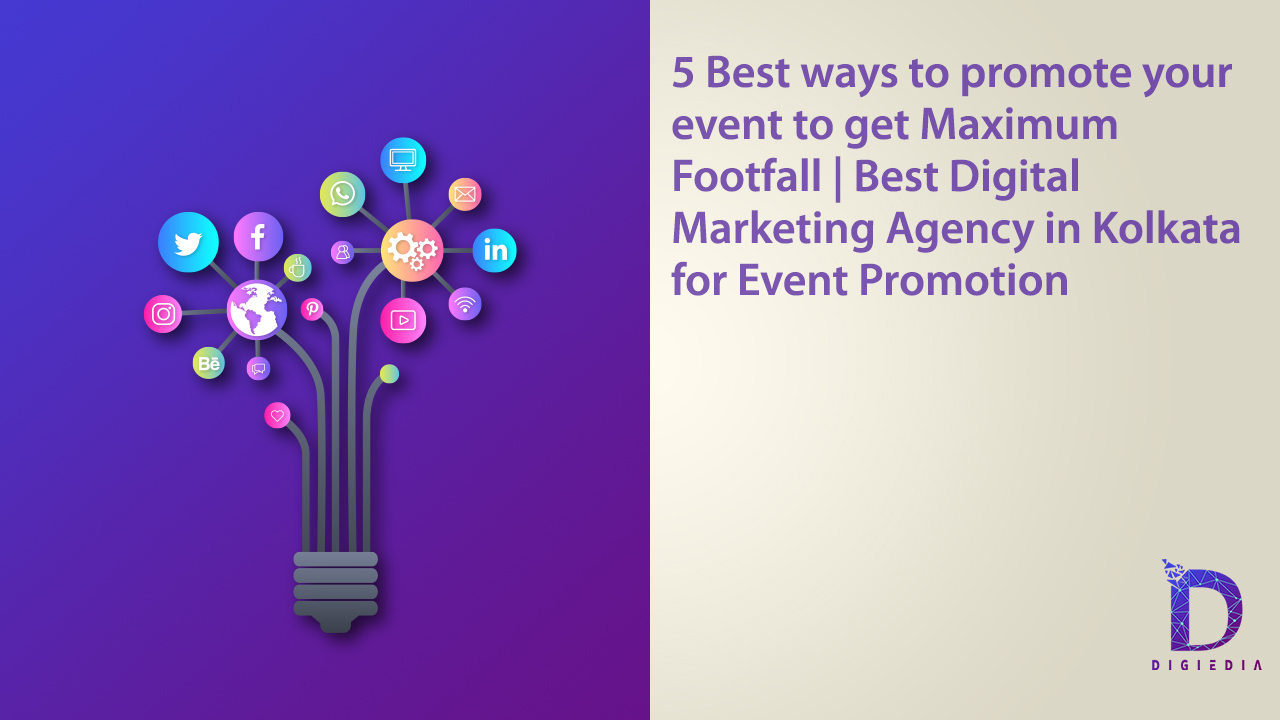 5 BEST WAYS TO PROMOTE YOUR EVENT FOR MAXIMUM FOOTFALL
DIGIEDIA

07 September 2022
What is the most important step of an event? The promotion. The success of an event depends on its footfall, and the footfall of any event depends on its promotion. Just promoting an event is not enough; we need to aim for an impactful promotion that would create engagement. To create a buzz for your event the technique and ways you adopt for your event promotion are very important.  In the age of the internet, where hundreds of events are taking place every day, both online and offline, mere planning and organizing an event does not suffice. Here are the 5 best ways to promote event.
USE OF SOCIAL MEDIA
Today, this is the most convenient and effective way one can promote an event. Social media has taken up so much space in our everyday lives. Among the five ways of event promotion, this is the easiest and most effective. People build careers through social media. it has a lot of influence on people. The cheapest way to reach a large audience is to promote your event through social media.
Use the features on social media platforms for promotion. Come on Facebook and Instagram live to talk about your event, and let people know about your agenda, aim, and what you offer to give to your audience in detail. This form of communication builds a source of connection and trust between you, the event organizers, and the audience on the other side of the screen.
Share eye-catchy posters of your event on social media stories to reach more people. You can also create an event on Facebook and promote it from different pages. Making short teaser or trailer-like videos and posting them on social media can also bring in a lot of engagement. Investments in Facebook Ads can also be another useful way to promote your event. Facebook advertising can be tailored to a certain demographic, ensuring that you reach your intended audience and, as a result, have a greater conversion rate.
Posting interesting event-related photos and content via Instagram reels using trending songs, hashtags, and filters can get you thousands of views in a blink. And guess what the best part is? It is free of cost.
You can also look for social media influencers to talk about your event online. Social media influencers and their opinions have a wide reach as well as credibility among the audience.
Media attention
A press release is an excellent approach to gain the attention of people who can assist you further your event aims. A professional press release invites local media to your event. You can also attract the attention of influencers, new supporters, and brand advocates. This is especially useful if the purpose of your event is to raise awareness and invite influential people.  If your event is aimed to support a social cause, promote it through media. This can be one of the best ways to promote your event.
Creating pop-ups and landing pages
Creating pop-ups is another fruitful way of promoting your event. Create pop-up forms on your event website to drive potential attendees to a dedicated event page. Pop-ups might be obnoxious and drive us crazy, but their efficacy cannot be underestimated. The material you provide on the landing page and in the pop-up is an important aspect in determining whether or not users will be drawn in. So, the content you use to promote should be very carefully curated.
Faith of a good time
Yes, that's right! Growing a sense of faith in your potential audience can be a great way to promote your event. This might sound wrong, so let me add – give your audience faith of a good time and keep up to that promise. Use a variety of platforms and channels to show your targeted folks how much fun they will have at your event. Promotional videos, photos, user-generated content, and other content that will quickly pique your audience's interest are all excellent ways to catch their attention. Create that excitement of a movie before its release!  A sneak peek-visual or text will demonstrate that you have gone to great lengths to make this a memorable, exciting, and rewarding event for all of your attendees -an incentive you offer in exchange for their attendance. You can also use testimonials from prior guests to demonstrate the value of your event and acquire their trust. This promotional path is being opted by many organizations to promote their events.
The early bird registration technique
This is another of the five best ways of event promotion mentioned that is an age-old way of creating a demand for seats. Offering an early bird registration is a terrific strategy to advertise your events. This will encourage your audience to register for your event as soon as possible. This will also offer you an idea and an insight into your promotion strategies, and whether they are effective and engaging. This will further give you an idea of how you should proceed with your event promotions – should you change or stick to them. The illusion of demand will provide you with a clear picture of the reactions of your target audience. Understanding their needs and expectations will allow you a chance to fulfill their requirements. 
If possible keep an offer of discount. For example – you can give a discount of 30% on the actual price for the first 100 ticket buyers. This will encourages individuals to get tickets as soon as possible in order to take advantage of the discount. Who doesn't love discounts? Another thing that will happen through this medium of promotion is a sense of FOMO – Fear Of Missing Out- among people. They might fear that they are missing out on a one-time opportunity, which will result in more footfall at your event.
The five best ways to promote your event mentioned are not just textbook theories, but tested and recommended by various organizations. These ways of promotion, if done correctly, are surely going to optimize your promotion resulting in a successfully large footfall at your event. So, are you ready to do some event promotion now?