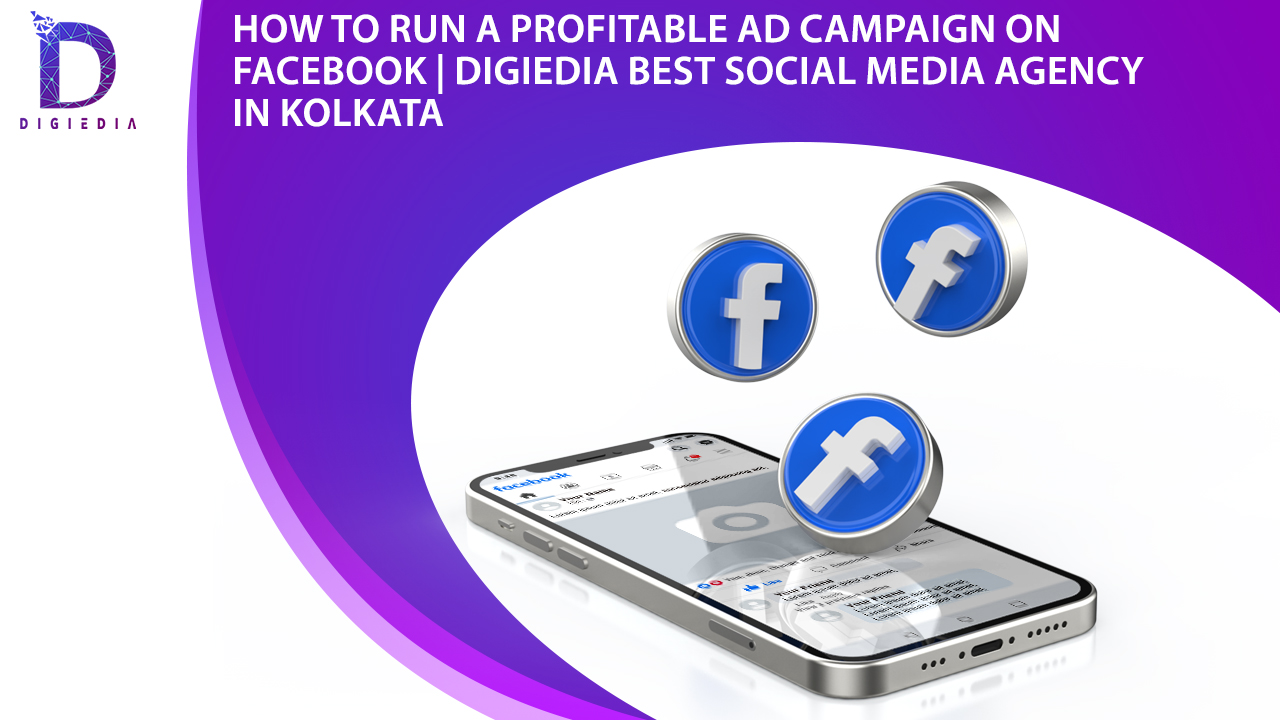 How to run a profitable ad campaign on Facebook | Digiedia Best Social Media Agency in Kolkata
DIGIEDIA

06 September 2022
Facebook advertising might be confusing. Facebook provides a dizzying array of targeting options, advertising best practices, and ad types, from behavioral targeting to pixel monitoring. You will discover the five components of effective Facebook advertising in this article. I'll lead you through each step. Here are some of the most effective methods for advising you on How to run a profitable ad campaign on facebook
Create a CTA with a single, straightforward action.
The ideal Facebook advertisement is crystal clear in what it wants the prospect to do.
Every campaign or ad format in existence can be divided into two categories: those intended to grab your prospect's attention and those intended to prompt a specific action, such as a purchase, app download, or lead.
In an ideal scenario, your campaign accomplishes both. However, you'll typically only get one or the other. Brand recognition is important. It's a wise move that will help your company grow over time. However, too many advertising strategies attempt to combine direct response with brand knowledge. It rarely works unless you're a marketing genius.
Therefore, CTAs connected to content consumption, such as requesting email subscriptions or encouraging followers to follow your Facebook page, are more suited for innovative brand awareness campaigns. Additionally, expressing typical skepticism about purchases is more effective for direct response advertising than attempting to engage or amuse viewers.
Select a single, easy action you want people to perform. Focusing your advertisement on a single stage of the sales process is the simplest strategy. Select one from the social media marketing funnel offered by Hootsuite:
Stick to CTAs like increasing followers, reading other posts, or subscribing to your email for awareness, affinity, and consumption.
Conversation: Pay attention to engagement metrics like rising shares, comments, and tags, or creating favorable mentions.
The goal is to encourage content downloads or other next-step CTAs like "learn more."
Focus on conversions, which include actions like adding items to a shopping cart, requesting a sales demo, downloading an app, or subscribing to a service. This is an important strategy to run a profitable ad campaign on Facebook
Utilize an approach to audience targeting that will assist you in improving over time.
Another essential digital strategy that runs a profitable ad campaign on Facebook is to target the audience with the right approach to gain a better result. A Facebook advertisement done right doesn't mix audience targeting at random. Targeting accuracy is improved over time through testing.
Numerous audience targeting options are available on Facebook. Being perplexed is simple. Even easier is to just give up, creating arbitrary interest and behavior categories in the hopes that Facebook would magically connect you with clients.
By carefully choosing your audience, you may cut costs and save a tonne of time.
Gaining better insight into what works over time is the key to audience targeting.
An easy starting point is provided here.
Start by addressing a similar audience.
Lookalike audiences are effective because they allow you to target prospects on Facebook who are similar to existing customers (such as those who made purchases from your website). Your audience targeting may now be tested and improved on a firm foundation.
How can you build a Facebook audience that looks similar to you? Follow these instructions with your preferred Facebook ad tool.
Enter your advertising manager and go to the Audience tab.
Press the Create a Lookalike Audience button.
After selecting the customer file, select create a custom audience.
Then, you can include a client Excel file, such as a list of your email subscribers or PayPal customers.
Pick the nation where you hope to locate a group of people who share your interests.
Using the slider, select the audience size you want.
Then select Create Audience.
Instead of aiming for 10% of a country's population, you should construct lookalike audiences targeting 1% to 2% of that nation's population to reach the greatest number of prospective lead prospects. Don't forget to exclude custom audiences of those who have already converted for the best results.
Create a headline that is clear and conversational.
With dull advantages or wordy sales pitches, the ideal Facebook advertisement doesn't irritate viewers. Talk casually and let the sales tactics slide.
We've discovered at Digiedia that conversational, unambiguous headlines perform the best. Through this, individuals won't be as bothered by obvious advertising in their feeds.
A creative phrase can occasionally make an excellent headline. Sometimes it's just a plain product benefit. Writing headlines cannot be truly hacked. Even the outdated rule that headlines must promote benefits rather than features is, as the British would say, utter nonsense.
Follow businesses that have proven to be adept at navigating Facebook's and Instagram's social and aesthetic norms. My personal top three choices are Chewy.com, MVMT, and. The headlines for these brands, as opposed to more conventional benefit-focused language, tend to be considerably more conversational.
In Facebook ads, the "text" field—not the "title" field—usually serves as the headline. We agree on a lot of things, Zuck and I. But it is evident that engineers, not copywriters, created Facebook ads.
The "title" of the ad is displayed under the image in the third place, as you may have observed in Facebook's ad builder. In this case, the title wouldn't even count as the first thing you read in the advertisement.
Treat the copy you submit in the "text" field as your headline. Since it's the first thing your prospects will see, the "title" actually serves more as a subhead for extra details.
Put the title and an image in creative tension.
An artful or imaginative conflict exists between the copy and the art in the ideal Facebook advertisement.
Facebook amateur advertisers frequently commit this error. No creative conflict exists between the headline and the image. For instance, if the headline reads "earn money in your sleep," you'll see a stock photo of a man or woman in pajamas holding large amounts of cash. The social media manager will be dressed as a Jedi if the headline reads, "Become a Social Media Jedi."
For better art direction, consider the following rule. Be fun with the image if the copy is literal. Ensure that the copy is literal if the image is humorous. As a result, there is contrast and interaction between the copy and the art.
Use AdEspresso's free ad tool if you need some graphic inspiration. It enables you to monitor rivals and look for Facebook ad success stories. The more creative you are the more chances you have to run a successful ad campaign on Facebook.
Make your CTA more frictionless by using the description area.
The ideal Facebook advertisement is aware that compelling individuals to do an action always makes potential customers anxious.
Writing the CTA's description is the last step. This is the description of the News Feed link. Use this area to prepare for typical sales objections.
For instance, if your call to action is to "Download your report," a typical criticism can come from a group of people who doubt the report's usefulness.
This guide should help you understand how to manage a successful Facebook advertising campaign.