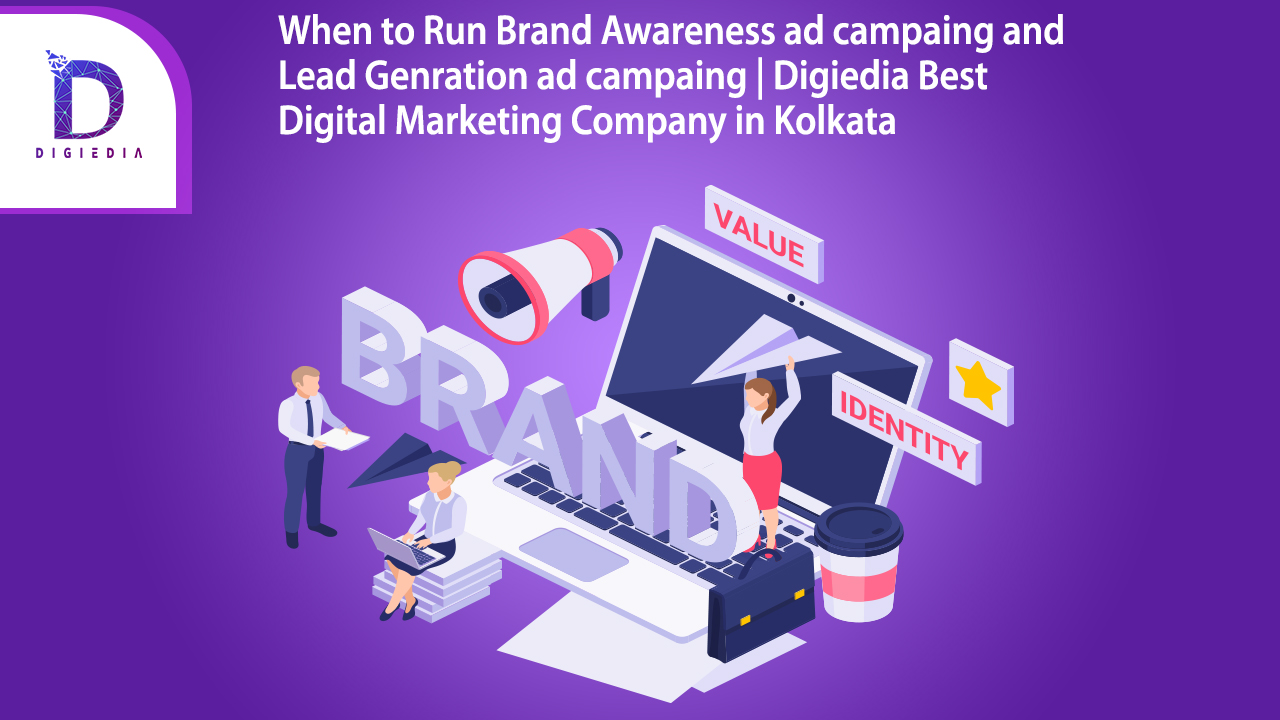 When to run a brand awareness ad campaign and lead generation ad campaign?
DIGIEDIA

08 September 2022
The choice between brand awareness and lead generation is a tough choice for marketers. Often, there is a conflict between brand awareness vs. lead generation ad campaigns and brand marketing. But to understand the appropriate usage of brand awareness and lead generation ad campaigns, it is essential to first know about both these marketing techniques, and the difference between them.
Brand awareness refers to the degree of popularity of the brand among customers. Brand awareness measures how well your target audience recognizes and is familiar with your brand. Creating brand recognition is beneficial for marketing and promoting your company and products, especially in the early phases of a firm. A brand awareness campaign aims to acquaint the general public with a new or revised product while distinguishing it from its competitors in the market. In recent times, social media platforms have proven to be an essential tool in brand awareness marketing. Products and services with a high level of brand recognition are more likely to generate sales. In the market where there are thousands of brands, customers tend to buy products that are well known and reputed. With brand awareness comes a certain positive reputation and reliability among customers.
What is a lead? A lead is someone who takes interest in your company. Leads have to submit their personal information for any company offer, trial, or subscription to get information about a brand. An online survey is a great example of a lead generation ad campaign. There are different kinds of leads –
Marketing Qualified Lead (MQL) – these leads are generally the contacts who have engaged with your marketing initiative but do not receive a sales call from the company.
Product Qualified Lead (PQL) – these are contacts that have shown sufficient interest to be your brand's customer. PQLs are common in companies that provide product trials, to engage the customer to become a potential paid user of the product.
Sales Qualified Lead (SQL) – these are contacts who have shown interest in becoming potential customers.
Service Qualified Lead – these are customers that have shown an interest in becoming potential clients to your service staff. A client who notifies their customer service agent that they want to increase their product subscription is an example of a service qualified lead; at this point, the customer service professional would up-level this consumer to the appropriate sales team or representative.
Lead generation is, therefore, the marketing technique of attracting prospects to your brand and encouraging them to become a customer. Job applications, blog posts, coupons, live events, and online content are some ways to create a lead generation ad campaign. The shift from stranger to a customer is much more organic when a stranger establishes a relationship with your company by displaying a voluntary interest in your business. The second level of the inbound marketing process is lead generation. It happens when you've gathered attention and are ready to turn them into leads for your sales staff. These are referred to as sales-qualified leads.
Use of Brand awareness vs. Lead Generation ad campaign
The different levels of the inbound technique include brand awareness and lead generation. The implementation of brand awareness vs. lead generation ad campaigns lies in their different end goals. The purpose of increasing brand awareness is to attract strangers and convert them into website visitors, whereas the goal of lead generation is to attract visitors and convert them into leads. For a business to be successful, both of these marketing strategies are necessary. But one has to know the appropriate timing and necessity of brand awareness vs. lead generation ad campaign.
Brand Awareness AD Campaign
A brand awareness strategy is all about getting people to identify your brand and earning their trust. It has certain aims with a broad marketing campaign, but it differs in that it does not have a defined purpose, such as selling the company's product or gathering contact information. Brand awareness can be increased with a catchphrase. For example – "Taste the Thunder" is a popular catchphrase of Thums Up.
Reliable relationship with the customers
Building confidence through content marketing might encourage customers to select your brand over competitors. Even if you're focused on increasing brand recognition, you should keep your customer profiles in mind. You may accomplish this by producing high-quality content that speaks directly to your characters. This can also help you promote your organization as an industry authority and the first resource consumers turn to. Maintain consistency in tone and messaging across all of your platforms, including your website, blog articles, and social media. Brand recognition, when done well, leads to trust, which leads to more loyal consumers. And that is the ultimate goal: returning consumers who inform their friends. More than anything, people look for a certain sense of promise that your product is reliable to use. However, the aim is to establish global recognition, which is why putting brand awareness Vs. lead generation is unusual because they both benefit one other.
Starting a brand new business
The key concern at the beginning of a new venture should be brand awareness. If your brand awareness campaign is successful, your products will sell. When you start out, you are unknown to people, and the bulk of your marketing budget should be spent on brand recognition if you are in a niche where lead generation is not viable immediately. Through brand awareness ad campaigns inform people about your brand, your story, and what you stand for.
Establishing an identity
Amidst thousands of brands, you have to stand out. And to stand out you have to have a unique brand awareness campaign. Your brand awareness campaign will allow you to stand out in this crowded market.
Lead generation
After capturing your customers' attention through brand awareness, your brand has to now provide them with something of value, and here comes the essence of lead generation.
To get referral sales
An excellent method of lead generation is to use your existing client base as a source of recommendations. This is especially useful for local companies that might benefit from referrals from friends and family in the target region of your company.
Operating in a target market
Given the limited consumer base, lead generation is an essential technique for niche businesses. Lead generation strategies such as adding newsletter sign-up choices to your social media campaign or employing targeted Google advertisements are some effective marketing plans. Lead generation initiative makes the buyer's path to your landing page much smoother, and enhancing brand recognition enhances your marketing efforts.
Hence, instead of creating a situation of brand awareness vs. lead generation ad campaign, implement them together for a successful marketing strategy. Both brand awareness and lead generation ad initiatives have the same goal of motivating people to take action. As a result, rather than being mutually exclusive, the two should be viewed as complementary to achieve this purpose.