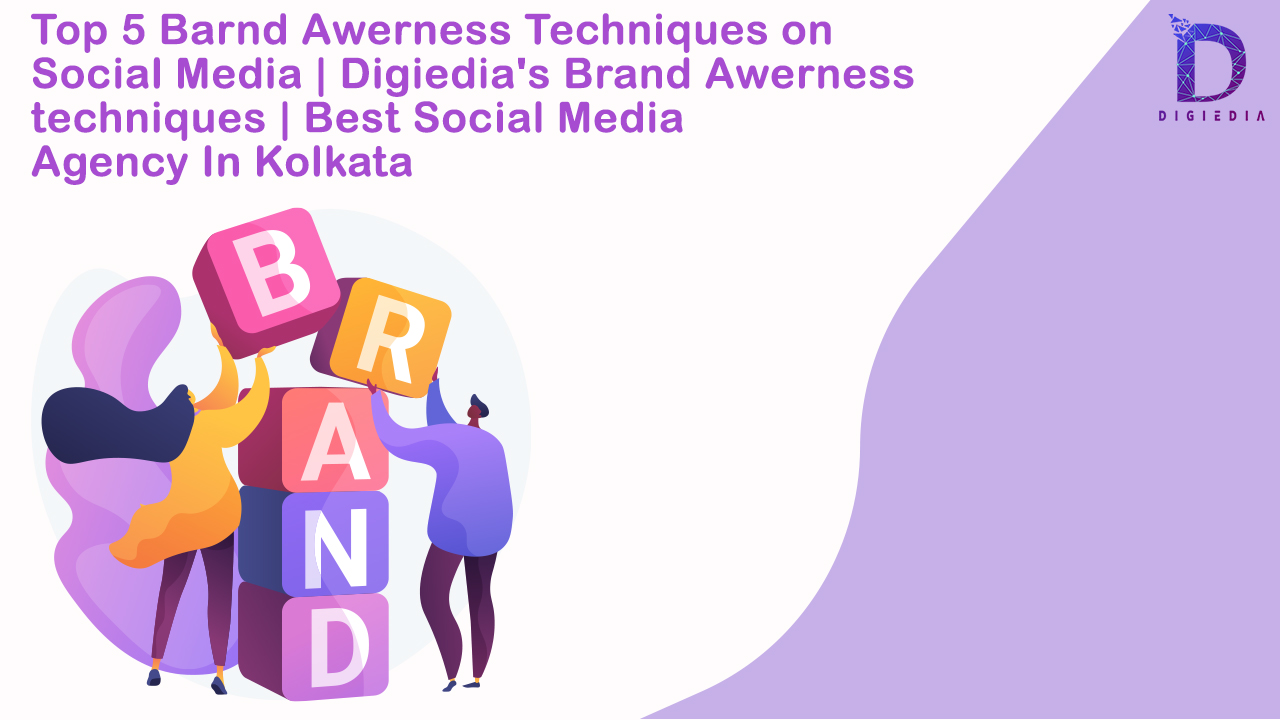 Top 5 Brand awareness techniques on Social Media | Digiedia's Brand Awareness techniques | Best Social Media Agency In Kolkata
DIGIEDIA

12 September 2022
Consumers notice and remember your company based on brand awareness. The more your brand recognition, the more people will recognize your logo, messaging, and products. Brand awareness is vital since it assists audiences in understanding, recalling, and being familiar with your branding and goods. If you can increase brand recognition within your target audience, you can help your brand reach top-of-mind when these customers are ready to study and buy. If the customers already recognize your brand, it is more likely that they will purchase the products or services that you have to offer. Because social media plays a very important role in your brand awareness initiative, here are the five most effective brand awareness techniques on social media.
Choosing Social Media platforms
This is the easiest and most efficient approach to creating brand awareness today. Social media has taken up so much of our time in our daily lives. Social networking helps people advance their professions. It has a large impact on individuals. Promoting your brand on social media is the cheapest approach to reaching a huge audience. Different social media platforms have different features, reach, and audiences. Therefore, choosing the social media platforms appropriate for your brand is the first essential brand awareness technique on social media. Many companies find it difficult to keep up with all of the social media platforms. Because the purpose of social media marketing is to locate your consumers and potential audience and concentrate on where they spend the most time. Your brand awareness efforts are not only limited to choosing the perfect social media platform, optimum use of each of its features is also an essential brand awareness technique on social media.
Intriguing content
Use the features on social media sites to promote your brand. Come on Facebook and Instagram live to discuss your brand and let people know about your agenda, goal, and what you have to offer to your audience in detail. This method of communication fosters a bond and trust between you, the seller, and the audience on the other side of the screen. Sharing intriguing content is the key brand awareness technique on social media. To reach more people, share attractive posters about your brand on social media stories. Making short videos about your brand and publishing them on social media may also generate a lot of interest. Investing in Facebook Ads is another effective approach to creating brand awareness. Facebook advertising may be customized to a certain demographic, guaranteeing that you reach your target audience and, as a consequence, have a higher conversion rate.
Using current tunes, hashtags, and filters to post engaging brand-related photographs and material on Instagram reels may earn you thousands of views in a flash. Abstain from sharing or reposting the same old content time and again. Your brand will become redundant to the audience.
Collaboration with influencers
Social Media influencers are in vogue. They influence the lives of all social media users, intentionally or unintentionally. Collaborating with Social Media influencers to promote your brand is another brand awareness technique on social media. Through this, your brand is not only being known to the audience but earning a certain amount of credibility as well. Joint ventures are an option for brand awareness too. This may include exchanging content, packaging bundled giveaway offerings, and developing an affiliate fee structure.
Relationship with customers
An amicable customer relationship is essential to growing your brand awareness and boosting sales. When you engage with your customers on social media, you create an opportunity for their network to learn about your brand. Other followers or visitors can also learn more about your company and your professionalism by reading your responses to questions. If these responses are a good reflection of your company, they'll help you build trust with your future customers. Interact with customers through the comment section, or via messages and DMs. Remember, constructive criticisms from your customer should always be entertained. This will help you make your business better and make your customers feel important.
Tracking progress
Track everything possible with your brand awareness efforts, as with any effective digital marketing strategy. Pay attention to engagement numbers on your social networks to monitor how much reach and interaction your posts, adverts, and other material are generating. Keep track of whether the visibility of your posts is increasing or decreasing, and experiment until you find your sweet spot. By tracking your posts you can also understand your target audience and what is the type of content you need to create for their engagement. By tracking, you will understand whether your brand awareness techniques on social media are working. Based on that, you might stick to your strategy or change it. You can use software for your benefit. Platforms like – Ahrefs and HubSpot give you in-depth social media analytics. Platforms like Ahrefs help you observe what your competitors are doing well and learn how you can improve. Social mention tools can help you track any mentions of your brand on various social sites to see how much buzz you're generating.
By following these brand awareness techniques on social media you can build your business and increase audience engagement. Successful brands have used some of these effective brand awareness techniques to build their businesses.