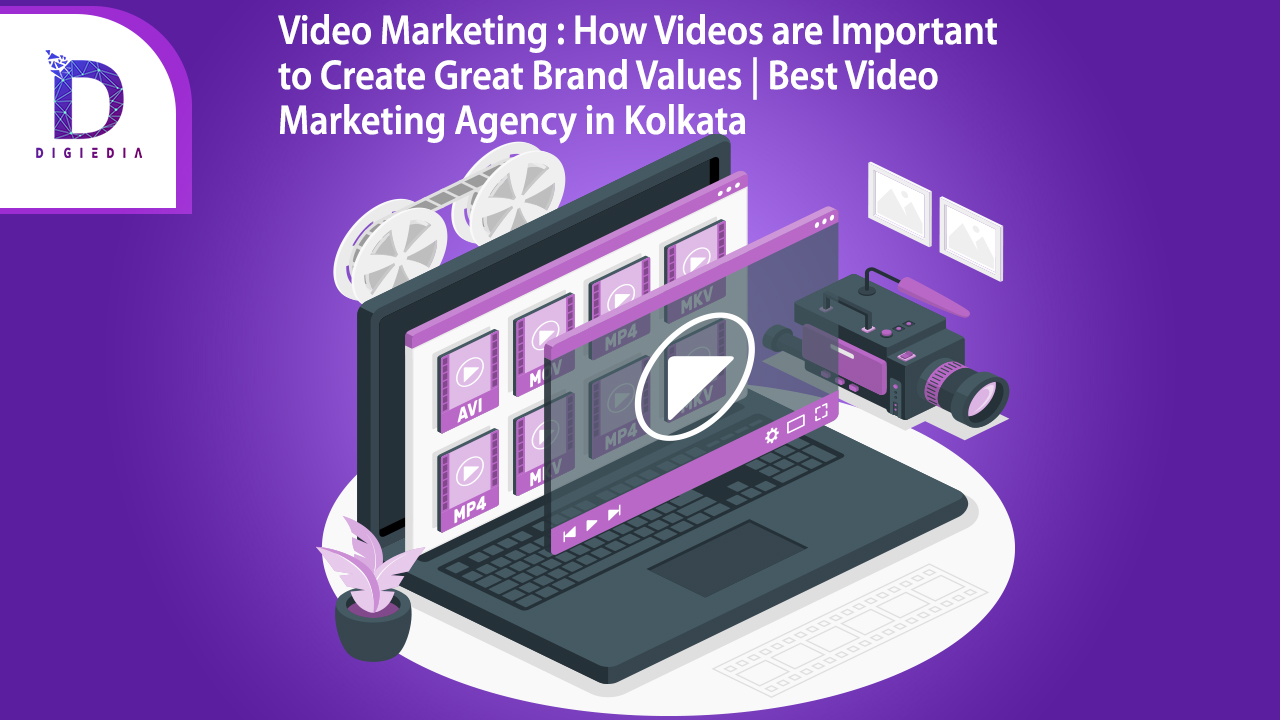 Video Marketing: How videos are important to create great brand values
DIGIEDIA

13 September 2022
Video footage is a useful resource for teaching potential clients about a product. According to WYZOwl, 94% of marketers say that using video content has boosted client knowledge of a product or service. You may utilize a well-made product marketing video to boost customer engagement, raise enthusiasm for forthcoming releases and new features, and even use it for proactive support and onboarding. You will understand how videos are important to create great brand values after including video marketing in your product marketing strategy. Customers will only buy your product when they understand what it does and how it will profit them. How videos are important to create great brand awareness depends on the visual content of your video which should allow brands to explain how things work more clearly. There are now videos promoting new features. The use of a product marketing video script template to set out each new feature announcement can boost the ROI of your product marketing films. This framework simplifies content development and ensures that high-quality, consistent video is always created.
Investing in video marketing
According to marketing experts, videos deliver the best rate of return on investment, resulting in 66% more qualified leads. It may increase conversions across social media, websites, and email, as well as increase your social media following. The quality of your videos, as well as the planned execution of your content strategy, will influence the return on investment you receive from your movies. Good quality and strategic content are important to create great brand values. Video production may be believed to be time- and money-consuming. However, there is a variety of technology available that allows for the speedy and low-cost creation of a high-quality video. The majority of us have high-definition video recorders in the form of smartphones, and software programs like VideoScribe and Doodly to make the tedious task simple. They help to create engaging explanatory videos at a low cost.
Videos attract the audience
Why and how videos are important to create brand value is largely based on the fact that people are attracted to visual content. Video allows you to connect with your audience more effectively. Today, a substantial percentage of a company's marketing efforts are aimed at promoting trust. Customers can go behind the scenes and get to know your company better via video, which acts as a bridge between what you advertise and what your brand stands for. Technology has made it simple for businesses to shoot video, and it has also made it quite handy for people to watch video material. Research shows – Over a billion hours of YouTube content are reportedly watched daily, according to the official YouTube site. Twitter reported earlier this year that its platform receives 2 billion daily video views. Tweets containing video also receive 10 times more interaction than those without. According to Digiday, Facebook receives over 8 billion daily video views. It's interesting to note that 85% of these are silent.
Different ways to create video content
There are different ways in which video works to create brand value. Most social networking sites, including Snapchat, Facebook, Instagram, and YouTube, allow you to publish stories that disappear after a certain amount of time (24 hours). These are an effective way since they appeal directly to your target group and can be made fast and cheaply. For your stories to be successful, you must already have or be actively cultivating a social media following. Facebook, YouTube, and Twitch all provide options for businesses to stream live content, live video has been more popular in recent years. Live video streaming has its perks. Webinars are a fantastic method to use video to communicate with potential customers in-person. They can be used to address specific concerns buyers might have about your goods or to educate the audience about your sector and position you as an authority. Quick messages can also be recorded innovatively and sent by marketers to follow up on orders or queries. The client experience may be enhanced by this.
SEO boost
Uploading YouTube videos that target popular search phrases is a smart way to get your firm on Google's first page. Because of this, Google puts YouTube videos at the top of the screen for numerous search queries. Here's an example of it in action. For the query "How to edit videos on iPhone," Google presents three videos above the usual search results, below the highlighted snippet, and below the "People also ask" area. In this situation, one of the three results is for the video editing software Filmora. Anyone who clicks on this link will learn how to utilize the Filmora app on their iPhone to edit videos. Videos will surface in YouTube searches as well as in Google searches. This is critical since Moz and Jumpshot revealed in 2017 that, behind Google.com and Google Images, YouTube had the third-largest share of the US search market.
When done effectively, video can be a powerful method for a company to deliver its message to a big audience in an easily accessible format. It is compatible with both B2C and B2B content strategies. The most essential quality of video content marketing is that it is becoming increasingly simple to implement. Because of the variety of possibilities available to marketers, there is truly something for every business, even those without traditional video recording or editing expertise.