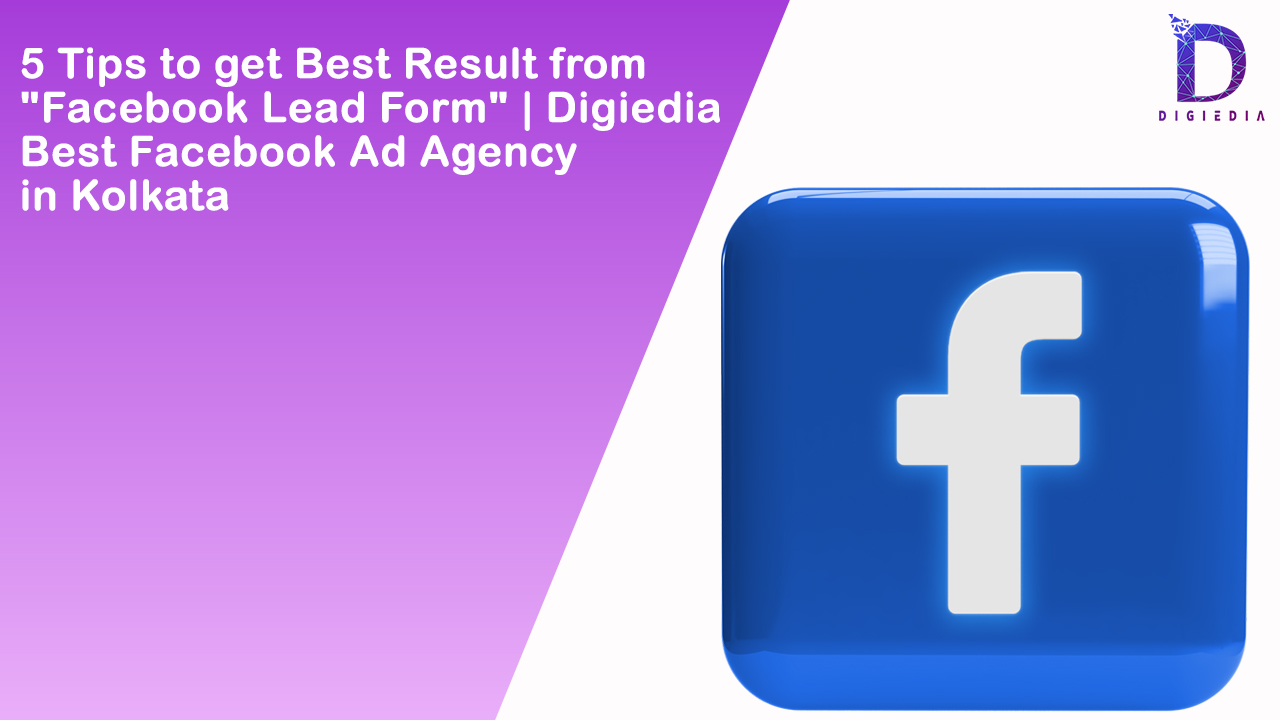 5 tips to get best result from "Facebook lead form"
DIGIEDIA

23 November 2022
Facebook lead advertising is mobile-friendly, low-cost advertisements that may help you reach your target audience and collect more leads. Facebook lead advertising is an excellent approach to get individuals to reach out to your company and seek information or services with little effort. The bottom line, they are the most effective ad unit for Facebook lead generation. This user-friendly, mobile-friendly ad type allows potential clients to offer you their contact information as well as further information about the items or services in which they are interested. Lead advertising not only allows users to seek particular information but also allows you to collect client information for future targeting without the person visiting your site. Lead form advertisements feature a call-to-action that opens a form that is pre-populated with whatever information the user has already submitted through the Facebook platform. These particulars can then be checked and changed before they are submitted. 5 tips to get best result from facebook lead form are mentioned as follows –
Add images and videos
For each AdGroup, test at least three alternative images/videos. If you're going to add text to your photographs, follow the 20% rule and consider utilizing images with no text at all – they will look more natural. If you include individuals in your photographs, keep in mind where the person is looking since this might influence your audience's attention. In certain instances, video can outperform graphics. Because movement draws attention, it's worth experimenting. Before you panic about attempting to generate video material, there are several low-cost tools available. You only need a 10-second video to grab the attention of the audience. Visual attraction is one of the top 5 tips to get best result from Facebook lead form. There are various professional tools to use from. Canva's commercial edition allows you to create short animated films from pictures. Canva is also an excellent place to get stock pictures for your advertisements.Videohive.net is another option. With a vast collection of stock movies to choose from, you can get a short video for as low as $10. For roughly $16.50 per month, you can subscribe to Envato Elements and get limitless downloads of video, images, and other goods.
Make people interested
The key to getting the optimum result from the Facebook lead form is to make people interested to click your ad, and it comes in the list of the best 5 tips to get best result from Facebook lead form. To get someone to give you their personal information, you must offer them something they desire – this must be considered before producing your ad. Consider something particular to your business that is a low-cost giveaway that provides you with the information you need from a relevant target group, allowing you to meet your goal. Many lead advertising provides free material. This is extremely useful for people looking to broaden their reach and mailing list. If you are a company that provides a custom service, you could want to use a lead form ad that gives a free consultation or estimate. Other incentives for form submission might include competition entrance, event registration, test drives, newsletters, and early access to new products or services.
Targeting your audience
It's vital, as with any ad type, to target the correct people. A replica of the lead audience is the easiest audience to start with for conversions. Upload a customer database of your leads and then generate a 1-2% lookalike of this database to target this bespoke audience. If you don't want to target all of your leads, you may target only consumers who look like them. You may also target those who have interacted with your business, and you can contact these people using Facebook's engagement targeting tools.
Analytics
In case you are running B2B ads, and trying to generate leads for business software, for example, don't launch ads on Monday afternoon expecting to see results the day after. It does not happen so easily and fast. Consult your web analytics and page insights, if you have enough day-to-day engagement, and schedule your ads according to when your audience is most active on Facebook and Instagram. Analytics help you to get a judgment on your marketing approach, whether it is working, or you need to change your strategy.
Question section
Another of the 5 tips to get best result from Facebook lead form is adding questions to your Facebook lead form. Facebook will autofill the normal fields (name, email, and phone number). While this promotes a more smooth signup experience, it also leads to users skipping over it without studying the content. The email field is more likely to be erroneous than the phone number field. Phone numbers do not change as frequently as email addresses. And, as a security measure, most users have connected their phone number at the request of Facebook prompts.
The ultimate goal of the 5 tips to get best result from Facebook lead form is to tailor your ad to your company's needs, achieve your goal, and generate high-quality leads. By doing these measures, you should be able to attract prospects who will stay in your sphere of influence for a longer period and continue to connect with your firm. Even better, these high-quality leads are more likely to become new clients or customers.