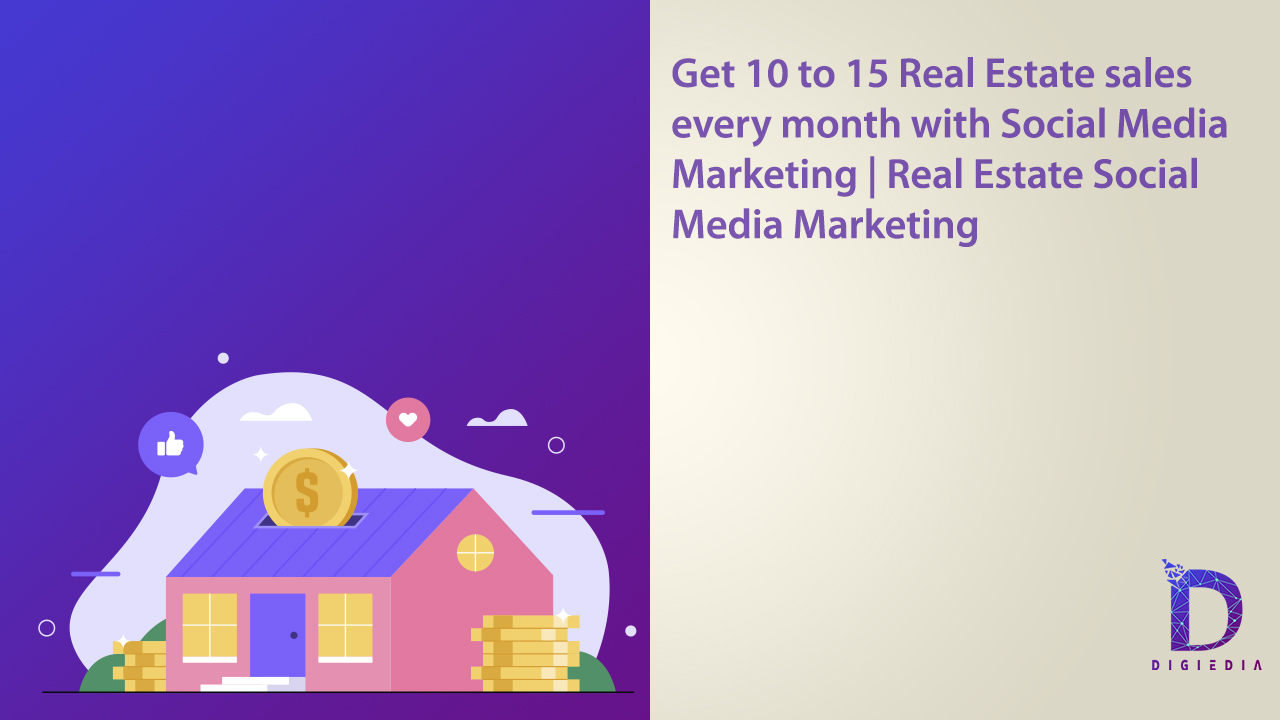 Get 10 to 15 real estate sales every month with Social Media Marketing
DIGIEDIA

24 November 2022
Social Media Marketing has proven to be the single efficient way of brand awareness and marketing your products and services, especially after Covid 19. Real estate Social Media Marketing has similarly been in vogue with the evolving market and its trends.  There were periods when yard signs and newspaper advertisements were sufficient to sell properties. However, with the rapid growth of technology, purchasers are much more alert and actively hunting for houses online these days. Social media is a wonderful resource for anyone wanting to purchase a home, and it has a substantial impact on every step of a buyer's decision-making process. Buyers are unlikely to deposit based only on Facebook posts or tweets. However, real estate Social media marketing, if implemented tactfully, may provide incredible benefits.
Promote the town
For realtors, it is equally important to promote your town along with your property. Real estate Social Media Marketing enables you to be aware of people more about your town or city. The potential buyers are interested to know the pros and cons of the towns they're thinking about moving to. However, most real estate blogs merely provide consumers with basic demographic information and sometimes some flowery verbiage about the neighborhood, which is not enough. There is a risk of such marketing sounding flaky. Instead, you can utilize your social media platforms to provide potential consumers with a far more in-depth understanding of the areas you service, including the advantages and disadvantages of each location. This will help the customers make informed choices, and as a realtor enhance your credibility.
Appropriate Social Media platforms
Choosing the right social media platform for all businesses is important. Different platforms have different benefits in real estate Social Media Marketing.
Facebook
Facebook, being one of the top social media sites, assists realtors in growing their property company by engaging with prospective consumers. Facebook's user demographics reflect the real estate industry's target audience since the majority of users are between the ages of 25 and 56, the earning group in society. Realtors may use Facebook to publish property listings and video material, hold live streaming, engage with prospective consumers, and so on. One of the primary tools that help you to interact with more potential consumers in real estate social media marketing is Facebook Ads.
Instagram
Real estate Social Media Marketing is now focusing heavily on Instagram. Instagram, with over 1 billion active users, is an excellent medium for implementing a real estate social media marketing strategy. Instagram is predominantly a visual-based platform. As a result, unlike Facebook, you'll need to devote more attention to the images than the text. It is crucial to create amazing Instagram videos and photographs of the property, neighborhoods, interior, etc. The better the visual quality, the more the chance of potential customers. It is essential to keep consistency across all social media sites. Post stuff on your Instagram handle regularly, with some variation. Post more than just listings or social proof. Add some flavor to the conversation like posting about business tidbits or a tour of a celebrity's house.
LinkedIn
LinkedIn's enormous user base enables realtors to connect with new customers and fellow realtors. Realtors may use LinkedIn to write articles, connect with customers, market homes, and so on. LinkedIn is one of the most important social media platforms for real estate Social Media Marketing since it provides access to a vast pool of company owners and professionals seeking suitable property. Recent reports have shown that LinkedIn is the most successful social media site for lead creation, outperforming Facebook and Twitter.
Interaction with customers
To increase its reach and consumer base, each business has to create a good rapport with its consumers, especially in real estate Social Media Marketing. Consumers today expect instant answers to their questions, but where they ask those questions has shifted. Home buyers are calling real estate agents with questions about a property or neighborhood much less frequently than they used to. They're going online, using Facebook's Recommendations feature, and Twittering at real estate offices. Leverage this outreach option, answer their questions, and use these questions to initiate dialogue with followers who may be in the early stages of the purchasing process. Respond quickly and politely to customers who leave comments on your social media pages. if visitors write negative words on Social Media platforms, don't feel obligated to reply to people who publish harsh remarks. Social media attracts its fair share of online bullies, and not every remark directed at you is worth your time. Take positive criticisms, but resist the need to argue with your sharpest detractors, and instead thank those who applaud your work. Many viewers who contact you are just searching for more information about a property – or a listing they believed was still available but has now been sold or rented. Be patient and utilize their statement to redirect their attention to other things.
Content
What you post on your Social media channels needs to be diverse in the case of real estate Social Media marketing. Real estate social media is largely visual that attracts viewers. That's why amazing, high-resolution property images are at the heart of so many real estate companies' social efforts. Eye-catching photographs not only promote "likes" and shares, but they also drive your followers to contact you. Keep in mind that practically all photo-based real estate material is accompanied by writing that "sells" the property and also includes facts and contact information. Therefore, provide substantial information in the caption of your social media posts. Be unique in what you write. Help spread the word about why you are enthusiastic about real estate and share your brand's narrative; explain how you got started in the business and who works for your firm. You can also share client tales about issues they encountered and obstacles they overcome. Describing the locations of services and amenities in each geographical area is useful for the customers as well. In a FAQ page, ask people questions and provide expert answers; create tailored content for the consumer personas you identified earlier, and whether you're creating social media posts, articles, ebooks, or newsletters, constantly think about how it will meet the demands of a certain persona.
Have a social media strategy
Making a plan entails establishing clear expectations and strategies for meeting them. The first stage in developing a social plan is to develop goals that are S.M.A.R.T., i.e., Specific, Measurable, Achievable, Relevant, and Time-bound. In real estate Social Media Marketing, it is important to carry on thorough research. You have to understand that not everyone is a prospective customer. Real estate caters to a certain demographic: those aged 28 to 50 who have purchasing power, i.e. savings or a consistent source of income. This demographic should be engaged on social media as well. You may also use research to construct a buyer persona, which will help you identify the best method to communicate with your potential clients.