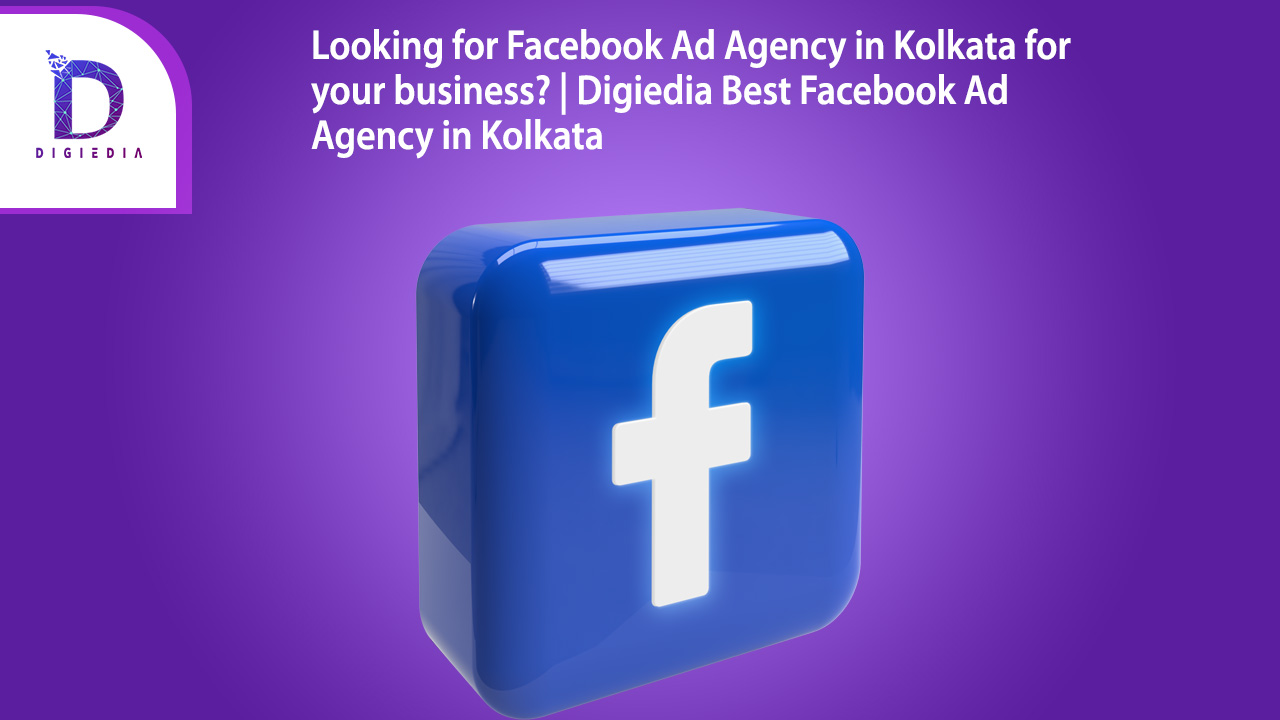 Looking for Facebook ad agency in Kolkata for your business?
DIGIEDIA

29 November 2022
Facebook Ads only appear on Facebook's advertising platform. They are shown in Facebook's news feed, Messenger, and even non-Facebook applications and websites. They are available in several media, including single images, videos, slideshows, and more, and may be tailored to highly particular audiences. They have sponsored advertisements that brands post on Facebook. This provides you the freedom to write in your own style. Furthermore, it allows you to reach out to the individuals who are most important to you. The term "paid" is critical to understanding this concept. Anyone may post for free on their Facebook profile, but the viewership remains un. A sponsored ad allows you to target a certain demographic, and you can be as exact or as wide as you like. For creating a proper Facebook ad you need a Facebook ad agency. If you are looking for a good Facebook ad agency in Kolkata, Digiedia is your best option.
Why do you need Facebook ads?
Faster results
Since they could start generating revenue or conversions as soon as they go live, Facebook business advertisements are perfect for organizations wishing to conduct both short-term and long-term digital marketing strategies. They are excellent for quick results. Once ad campaigns are created in Ads Manager, they are reviewed by Facebook, and they go live, they begin functioning immediately and display your brand or products to potentially thousands of individuals. Because ads are often approved within 24 hours, Facebook advertising benefits come from providing businesses with a chance to begin receiving purchases within a very short period of time.
Customization
One of the most appealing aspects of Facebook ads is their ability to be customized. Because the platform collects so much data on each user, you can target your advertisements based on practically various demographic attributes, like – gender, age, marital status, professional interests, and location. Furthermore, tailoring the audiences who view a specific article might lower your customer acquisition costs.
Largest audience reach
The Facebook advertisements platform provides companies with access to one of the largest digital ad networks, with over 2.7 billion active users. Since Meta's acquisition of  Instagram, the social media behemoth has expanded its marketing network to provide simple access to both platforms. Their ad network spans both sites, giving advertisers the option of having their advertisements appear on both Platforms with minimal additional setup. Instagram currently has over 1 billion users, with well over 500 million daily active users. In reality, both Facebook and Instagram have impressive utilization figures. Facebook advertising benefits companies of all sizes by providing them with access to an audience that they would not have otherwise.
Affordable
Affordability is the key advantage of any Social Media Marketing strategy, including Facebook ads. You have the option of spending according to your capacity on Facebook advertising. You set your budget from the start, and when you reach it, Facebook stops showing your ad. The more users you reach, the greater your budget.
Digiedia – Facebook ad agency in Kolkata
One of the most popular and low-cost ways of online marketing is Facebook social media marketing. With Digiedia's Facebook marketing services, you can demonstrate your excellent customer service while also driving traffic to your website. The company's Facebook advertising team estimates your marketing budget, monitors your Facebook page, optimizes Facebook advertisements, cleans up posts, and does regular Facebook optimization to help you create your brand authority.
Paid and organic team
Digiedia has an incredible group of organic and paid strategists with years of skill and experience. As a result, you can relax knowing that your campaign is in good hands. Although sponsored and organic Social media marketing is extremely different. To enhance your Facebook ad conversions develop a more appropriate and effective plan.
Diverse marketing experience
Digiedia has extensive expertise in a wide range of markets of varying sizes. Whether you operate a start-up, a large corporation, or a multi-location business, its social media marketing service attempts to exceed your expectations. In other words, the team will provide your brand with a strong social media presence and online reputation by doing ongoing research and reacting to changing online trends and resources.
Dedicated account manager
Digiedia, your Facebook ad agency in Kolkata, will allocate specialist strategists to your industry demands, social media marketing objectives, and goals. The agency has a team of social media digital marketing specialists working on your business. You may contact any dedicated account manager through email or phone if you have questions or need answers to any topics. Digiedia as your Facebook ad agency in Kolkata is always at your service.
PPC strategy
You pay for Facebook advertising every time someone clicks on them Pay-Per-Click (PPC). An excellent Facebook advertising strategy uses this concept and increases the number of individuals who click on advertisements. The more hits your ad receives, the more likely it is to direct visitors to your site, and thus the larger your income potential from that ad. A strong Facebook advertising plan employs many PPC strategies so that if one underperforms, another is in place to compensate. With Digiedia's PPC advertising services, they can assist you in making a large impression on your consumers and engaging them through your PPC advertisements. Their dedicated team can help you with identifying your target demographic, determining high-performing keywords, implementing sponsored updates, and using appealing photos, videos, and captions to boost your Return On Ad Spend (ROAS) across social media marketing platforms.
Digiedia's team of professionals believes in hard effort and dedication. The firm has open policies and makes significant efforts. If you want the best results for your company through advertisement, appoint Digiedia as your Facebook ad agency in Kolkata and witness an increase in your online income and engagement.