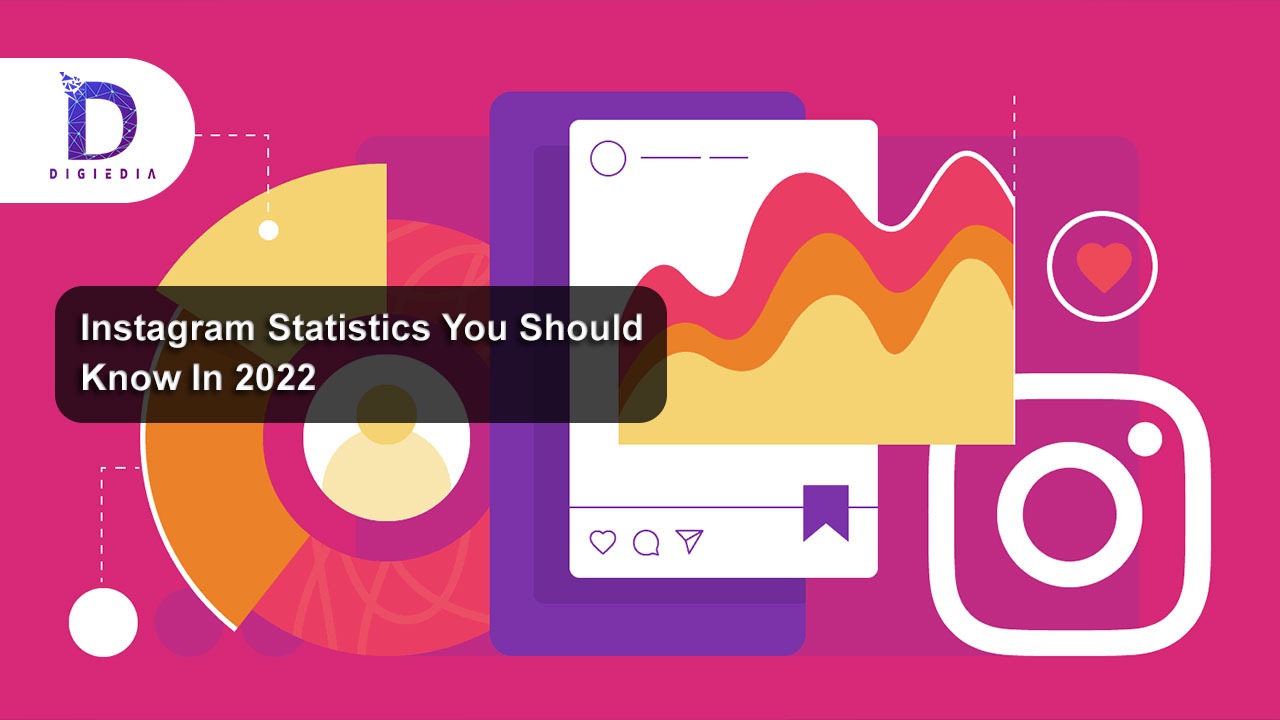 Instagram Statistics you should know in 2022
Instagram is now experiencing a surge in popularity among both consumers and companies. There's no disputing that this worldwide platform enables businesses and brands to work with top Instagram influencers, humanize their content, and present their goods and services in a distinctive and relatable way. Let me break down some key data for 2022 that every marketer should be aware of now, and show you how to use them to your advantage.
Instagram Statistics in 2022
Following are the Instagram Statistics in 2022:
1. 3.8 Billion People Have Downloaded Instagram
Although the number 3.8 billion is difficult to understand, it suggests that Instagram is a very big social media platform with a massive reach. Let's take a look at some other download statistics to put that in context. Facebook has been accessed over 5 billion times, whilst TikTok has been accessed 2.6 billion times.
The amount of downloads is important since it gives you insight into the attractiveness and engagement of a platform.
2. Instagram has a user base of over one billion people.
Instagram recently revealed that its monthly active user base had topped one billion people. They are much ahead of LinkedIn, Twitter, Pinterest, and Snapchat in this regard. The total number of active monthly members for these four networks may not reach one billion!
With YouTube, mobile messaging apps like Facebook Messenger, WhatsApp, and WeChat, and Chinese social media removed, Instagram is the world's second most popular – and active – social networking site.
3. Instagram users spend 30 minutes per day on average on the social media platform.
Instagram users rarely get on their phones, check a single post or account, and then leave.
Instagram users are known for taking their time on the app, whether it's lingering over fresh Instagram stories or joyfully browsing through shopping posts or fashion labels.
Knowing user information like how long your audience spends on the app you're promoting is useful because it can help you decide how to develop your marketing strategy. Shorter engagement times may drive your marketing team focuses on smaller pieces of news and information, whereas longer engagement periods may prompt you to generate image postings, videos, and live events, among other things.
4. Eighty percent of Instagram users interact with businesses.
With 80 percent of users following at least one business account, users are following their favorite brands. According to the most recent data, 200 million people view a company's page daily. It's no surprise that 25 million businesses and 2 million advertisers are already using ads, including Stories ads, to sell their products and services. Instagram is a unique social media platform that necessitates the creation of new types of visual content; more businesses are figuring out how to do so, and Instagrammers WILL follow & consume content from businesses, whether this comes from a direct company contacts or micro-influencers.
5. Branded hashtags account for 70% of the most popular Instagram hashtags
Every type of user, from brands to teens bragging about how much fun they had playing their favorite video game or creating the latest cosmetics look, uses hashtags. Even the elderly can use branded hashtags in their posts to help spread the word about the latest trend. Although the hashtag originated on Twitter, the way Instagram users utilize it has elevated it to a new level of popularity and significantly increased the number of their audience. While hashtags might help your company be discovered, don't be scared to utilize branded hashtags as part of your regular Instagram marketing strategy. They may not be used by users on other platforms, but Instagram users will.
6. Instagram is used by 180 million people in India and 170 million people in the United States.
Instagram has a big audience in both India and the United States, according to Statista, with 180 million and 170 million users, respectively. Each of these cities has a sizable population, so knowing who you're talking to is crucial to creating effective and attractive social media marketing campaigns. Understanding which nations use Instagram the most is useful because it can inform marketing campaign development decisions.
Instagram's viewership is focused primarily on India and the United States, which might guide social media marketing strategies and point to the ideal regions to focus on.
7. Instagram is used by 67 percent of marketers for influencer marketing.
Instagram is still the most popular platform for influencer marketing. While other social media sites may use some form of influencer marketing, Instagram wants to maintain the pack when it comes to this type of promotion. Marketers place a high value on Instagram's reach and the influencing power provided to influencers by its audiences, thanks to its tens of millions of regular visitors and practically limitless reach. While the photo-sharing app began as a method to share with friends, influencers have grown to be a huge part of social media marketing, & Instagram is their preferred channel.
If you want to concentrate your marketing approach on the Instagram platform, influencer marketing is a great option.
8. Over 55% of influencers choose to run their campaigns on Instagram.
Instagram's ease of use is certainly one of the reasons influencers prefer it. Simply snap a few beautiful photos, apply some effects, and tag them, and you've got yourself a wonderful small campaign. Alternatively, kids can shoot and share short videos that do not require any editing. Other platforms, such as YouTube, frequently necessitate more effort. Another benefit is that the stories aren't "out there" indefinitely. You can say whatever you want, and it will vanish. However, if you use YouTube, you'll have a long-term archive of everything you've done that hasn't been destroyed.
Conclusion
Above were some Instagram Statistics for 2022. One out of every two Instagram users now uses the platform to discover new companies, and over 91 percent of them watch brand videos every week. This demonstrates how Instagram's user behavior, algorithm, and business features have evolved dramatically over the previous decade, making it one of the most essential platforms for brand and business success. To assist you, we've compiled a summary of the most recent Instagram data to keep in mind as you prepare your Instagram Statistics for 2022.