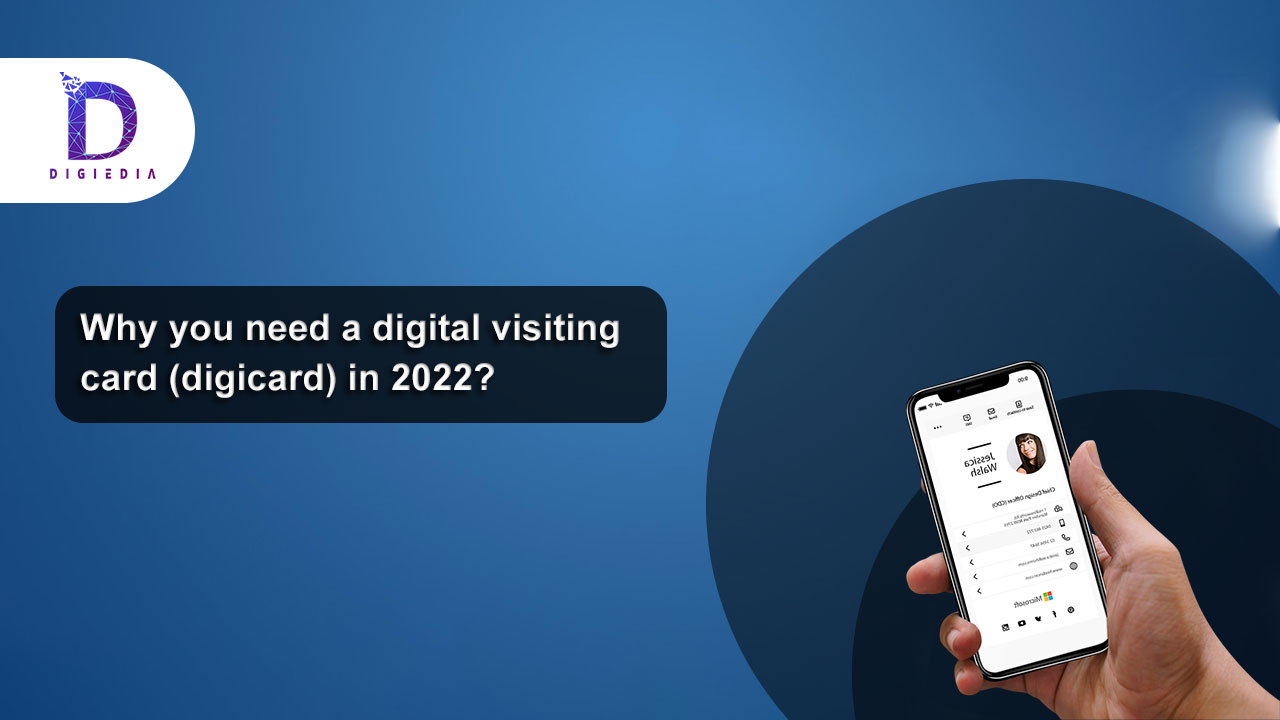 Why do you need a digital visiting card (digicard) in 2022?
Marketing on the Internet Visiting cards is necessary for all businesses, large and small, as well as all customers. In addition to providing contact information, these cards now aid in the creation of a brand. Forward-thinking businesspeople have changed traditional paper-based cards into modern advanced commerce cards, recognizing their importance. Marketers are constantly coming up with new strategies to engage their target audiences in today's commercial world. Giving out business cards is a low-cost technique to catch the attention of potential consumers. The virtual business cards offer contact information. Clients and consumers have easy access to important contact information. However, in today's businesses, the goal of the cards is not just to provide information.
Your customers will be wowed by the fashionable cards. They employ color, text, space, a brand, a photograph, and other elements in a strategic manner. These elements work together to get the intended outcome. The impression created on customers shapes their perceptions of a brand. Like their traditional counterparts, digital business cards leave an indelible impression. Designers, on the other hand, have thick card paper, for example, indicating that the company's products or services are of the highest quality. When utilizing a digital card, this benefit is not available. To make an impact on visitors, the virtual card relies solely on its overall design.
According to some marketers, the traditional business card is no longer useful. Traditional cards have several flaws, Digital cards are the way of the future for them. According to a study, over 77 percent of small and medium enterprises throughout the world believe that having a web presence helps them obtain clients. This demonstrates that digitization, which includes digital business cards, is the way of the future. According to some marketers, the traditional business card is no longer useful. Traditional cards have several flaws, Digital cards are the way of the future for them.
Why do you need a digital visiting card?
It is simple and quick to gain access
On the digital business card, clients may get your vital contact information right away. Unlike traditional business cards, your clients won't have to look for your card, pick up the phone, and call your number to contact you. Your consumers can engage with you or contact you for business questions with only a few clicks.
Customers can contact you by dialing the number on your business card. They can also send you an email by selecting the Email button, or they can send you a WhatsApp message by selecting the WhatsApp tab. By selecting the save to phone option, your consumers can save your contact information to their phones.
Affordability
Digital business cards are the most cost-effective approach to capture clients' attention without spending a lot of money or exerting a lot of work. The expense of developing and printing paper cards is prohibitively expensive for small firms. Digital cards, on the other hand, don't need to be printed; instead, you'll have to spend money on the design. As a result, compared to typical visiting cards, overall spending is lower.
It's Simple to Disseminate
Meetings and conferences are attended by the great majority of firms to exchange business cards and gain new customer cards. Exchanging digital business cards is made easier by email, social networking, SMS, and other technologies. Customers and anyone in your network can share your card with others with a single click.
Make a suggestion
You'll stand out and make an impression because digital business cards aren't used by everyone. It's a great approach to demonstrate your individuality and modernity.
Attachment of media is required
why do you need a digital visiting card is that it allows you to connect media assets to your card to provide your customers with additional information and a story about your firm. You can include movies, sign-up forms, and other external links in your message.
There is no limit to the amount of space you can occupy
When making standard business cards, space, phrasing, content, and design must all be considered, as well as the ability to fit everything into a little space. You have plenty of room on digital cards to include your website address, social media accounts, phone number, and other information.
It's simple to make changes
If you want to update information on traditional paper cards, you'll have to reprint them. Digital Cards, on the other hand, make it possible to do so in a matter of seconds. It also lets your contacts know about the adjustments you've made.
Personalization is a basic procedure
It's simple to edit digital business cards. If it's a paper business card, it'll need to be redesigned and new parts added. You only need to choose the brand color, typography, and contact information in Digital Cards.
Analytics
You can monitor how many people looked at your digital business card and clicked on it. On your digital card, you may keep track of the acts you've taken.
Eco-Friendly
You don't need to utilize paper because your business cards aren't printed. This avoids the need for tree removal.
Benefits of why do you need a digital visiting card
Some of the benefits of why do you need a digital visiting card are as follows:
To make your company known, including who you are and what you do.
to provide your company's contact information
To turn direct marketing into a technique for generating leads.
To make it as simple as possible for individuals or customers to get information from you via their smartphone
Include the story behind your firm in the form of videos from the beginning to develop your brand identity.
To astound clients by properly positioning your logo, brand colors, and other elements to convey a positive image of your organization.
To have a central spot where all of your contacts may be kept track of.
Conclusion
Physical and digital business cards are both effective ways to share contact information and leave a lasting impression. Both cards offer their own set of benefits and drawbacks for businesses. Your branding approach will decide how you employ them. To gain the benefits of both sorts of cards, it will be beneficial to use them both.