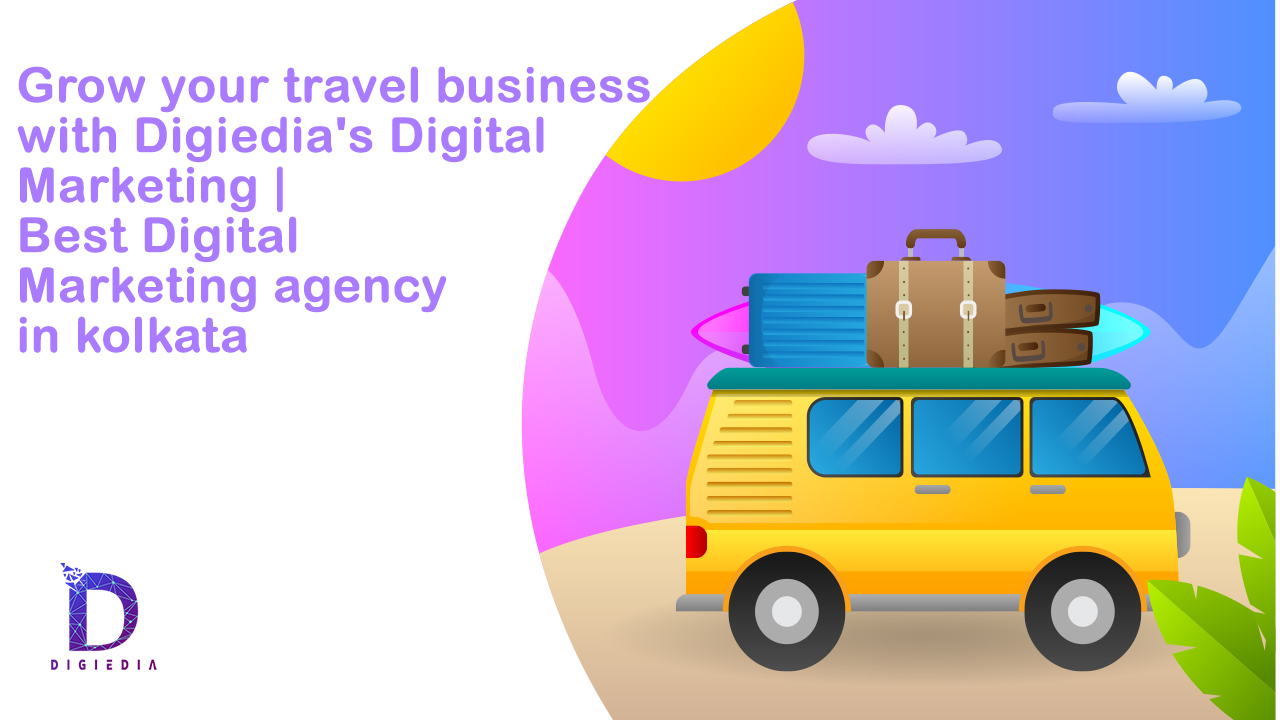 Grow your travel business with Digiedia's Digital Marketing | Best Digital Marketing Agency in Kolkata
According to Co-Schedule, marketers that set goals are 376 percent more likely to report success than those who don't. Similarly, organized marketers are 397 percent more likely to believe their efforts were successful than unorganized marketers.
The truth is that having a Digital Marketing for travel business in place allows you to be more strategic about how you promote your travel company or products. Goal-setting, plan development, and outcome evaluation allows you to evaluate the effectiveness of each action and gain a better understanding of how to spend your time and money most effectively.
To help you get started, we've put together an 8-step approach to creating an internet marketing plan for your travel firm.
A Step-by-Step Guide to Creating a Digital Marketing for travel business
Create a Buyer Persona
Identifying the people who are interested in your travel product can help you develop the most effective message for them. You must first choose your target market.
When constructing buyer personas, write descriptions based on your target consumers' motives, behavior, age, income, challenges, and demographics. Real data should be used whenever feasible to construct accurate profiles based on facts rather than preconceptions. As a result, your digital marketing approach should begin with audience research, interviews, and surveys.
Define the objectives you intend to achieve.
It's not always necessary to have sales-oriented marketing objectives. They can also be utilized to generate leads, improve brand recognition online, and increase brand loyalty. It's vital to understand how these drivers fit into your overall strategy, regardless of your focus.
To build a realistic baseline from which to steer your future travel marketing initiatives, you must also verify that the drivers are measurable. Identifying the number of leads you want to collect, the number of website visitors you want to obtain, and the social media impact you want to have will give you and your team a goal to work toward.
Make a marketing budget.
Setting a year-end budget for your marketing department will help you better track your spending and stay on track.
You should set aside a portion of your entire budget for Digital Marketing for travel business. When deciding on the number, consider the methods that will be required to reach your potential buyers.
Identifying Marketing Channels Framework
Before moving on with establishing a digital marketing plan, you should perform certain evaluation activities.
Determine which marketing platforms are available to promote your travel firm or products.
Consider where your target customer spends their time online and which digital channels are preferable to use based on the buyer's profile you've created. It might be your website, email, social media profiles, blog, PPC advertising, mobile messaging, digital billboards, QR codes, or anything else that requires delivery via electronic devices.
Take note of what you have because you'll need it to put together your plan.
Examine your media assets
Your next step should be to evaluate your current media assets or content library. This should contain photos, videos, reviews, and testimonials, as well as any other owned, earned, or acquired media you have access to.
Your website, blog content, graphics, videos, and social media feeds are all examples of owned media, which you own and have complete control over. Earned media is generated by word-of-mouth. User-generated material, reviews, public relations work, and guest blogging on other websites are all options.
Finally, paid media refers to any current or former advertising or social media campaigns you have run. Categorizing all of the data allows you to see what you have and don't have to assist you to reach the objectives of your digital marketing strategy.
Create the content needed to meet the goals.
You'll need to generate new content if you find a gap in your content that isn't reaching your marketing goals. For example, an examination may disclose that you don't have enough high-quality images of your most recent tour offering and hence need to produce more promotional content.
In any event, generating new, appealing material that can attract customers to your business or service is always beneficial.
Tie everything together in a marketing strategy.
The last stage is to compile everything into the Digital Marketing for travel business. This is the document that will guide you and your team as you advertise your travel company and products in the future.
You'll need to establish a marketing strategy for the channels you have available using your owned, earned, and purchased media. There's also the publication schedule, as well as the budget for each campaign and the priority level for everything you do.
Examine the results of your campaigns and efforts.
To determine whether your digital marketing strategies are successful, you must keep track of budgets and KPIs as you proceed. To optimize performance and spending to fulfill the goals you set, the results must be recorded and analyzed. Simply put, leaving things to chance will limit your ability to utilize and improve the internet positioning of your travel firm.
Conclusion
While building an effective Digital Marketing for travel business gives you a structure to work with, you should keep your approach adaptable. Keep an eye on the figures and don't be afraid to change things up to accomplish your marketing goals.