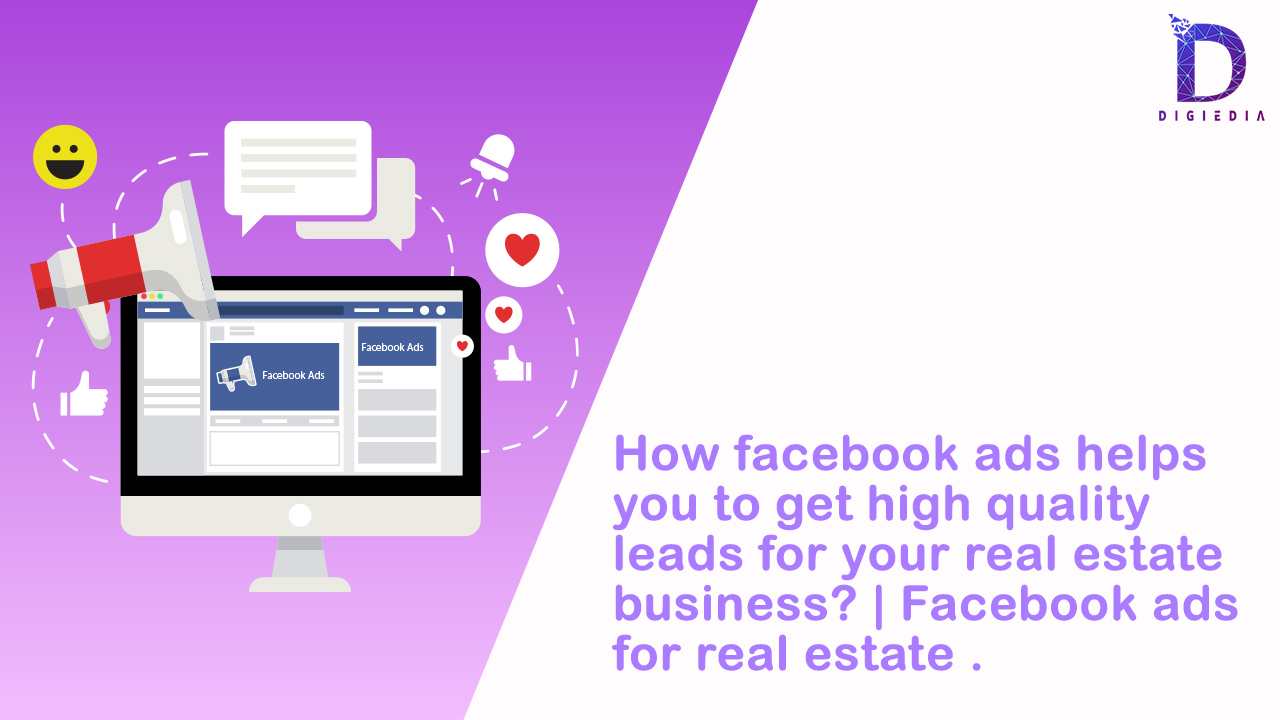 How do Facebook ads help you to get high-quality leads for your real estate business? | Facebook ads for real estate
Real estate brokers understand that their skill set cannot be limited to only selling property. The ability to generate leads through appealing marketing initiatives is probably even more vital in the competitive real estate industry. If no one wants to buy your house, how can you sell it? Real estate brokers used to network all over town, post information on the supermarket bulletin board, and even go door-to-door to greet people with a friendly grin and a bright flier. This approach is no longer adequate. However, we're all aware that Facebook advertising is effective, but what is the strategy behind Facebook ads for real estate? How can you maximize your marketing budget while avoiding wasting money on ineffective campaigns?
Half of the people in the store are glued to their phones, while the other half are relaxing in front of their fireplaces, waiting for their Instacart delivery. Facebook is also fundamentally visual (much like real estate) and allows for highly detailed targeting, allowing you to reach the exact demographic you want, from first-time homebuyers to affluent coastal retirees.
Facebook ads for real estate
Here are five strategies for Facebook ads for real estate for attracting that ready-to-buy demographic.
Layer on geography, demographics, interests, and behavioral targeting options
Aside from its ubiquity, Facebook's very comprehensive targeting capabilities make it a great platform for advertising. After you've decided on your campaign's goal, you can utilize the various targeting choices to narrow down your possibilities and ensure that your ads are seen by the right individuals.
Here are a few ideas on Facebook ads for real estate for alternate options that can appeal to your target demographic.
Another option is to target by zip code
The first step is to set up some location targeting based on where you're selling properties.
Moreover, it's important to tread carefully here since you don't want to be too specific and target people within a one-mile radius because they might be traveling from other locations. I'd recommend targeting the zip codes that regularly migrate to where you're selling based on previous selling experience.
Target the Age Groups Most Likely to Purchase
This one should go without saying, but it's crucial to remember because it's worthless to show your ads to an 18-year-old who is unlikely to be able to afford the $2 million waterfront properties you're trying to sell.
Demographic targeting by income
By heading to Detailed Targeting > Demographics > Financial > Income, you may target your audience based on their income. Pretty neat, right? This is super valuable to real estate agents since this often determines the types of properties that people can buy.
There will be three sorts of homebuyers: investors first-time purchasers, homeowners, and renters. Detailed Targeting > Demographics > Home > Home Ownership Status Demographic Targeting: Target by Home Ownership Status This will be quite helpful in identifying qualified purchasers depending on the types of properties you're selling. You should probably target the "first-time homebuyer" if you're selling inexpensive condos in a trendy city.
Custom Audiences: Lookalike Audiences
You presumably have a list of recent buyers if you're good at what you do (which I'm sure you are). You can upload that list to Facebook using Custom Audiences, and Facebook will use its magic to find people who are similar to you (also known as lookalike audiences) and are interested in your gorgeous properties.
Behavioral targeting might help you find people who are "Likely to Move."
Furthermore, one of the most interesting options is that Facebook allows you to target people who are likely to migrate. Go to Detailed Targeting > Behaviors > Residential profiles to find people who are "Likely to Move."
2. Bring your properties to life with video
Video marketing is underutilized in the real estate industry! While some have caught on, video remains a terrifying and difficult medium for many others.
But it doesn't have to be! And the work pays off handsomely.
Isn't this logical? Some of you have probably discovered the hard way that photographs may be deceiving! This is true for both online dating and real estate. While video cannot replace being present, it can provide a more accurate representation of the property. Our team is an expert in promoting properties through video. They not only make beautiful videos of their listings, but they also include a nice face to add context and build trust.
3. Carousel ads allow you to display numerous properties (or multiple rooms in one property)
If you haven't already, familiarize yourself with Facebook's Carousel ad type. This ad format is appropriate for any industry with a strong visual component, such as real estate. Advertisers can use the carousel ad type to show a series of images in a catalog format. Therefore, allowing the viewers to scroll through and view several photos or listings.
4. Transparent Advertising Copy
One of the most difficult aspects of the real estate industry is establishing trust. When someone is faced with a huge financial choice that will impact their everyday lives, they want to deal with someone they can trust. It can be difficult to build trust when there are so many real-estate horror stories out there, but one way to do so is to be as upfront as possible to ensure your lead never feels duped.
When producing Facebook advertising for real estate, use realistic graphics and exact ad text. Include information in your Facebook ad such as price, square footage, location, number of bedrooms, and so on so that the customer knows exactly what they're getting before clicking.
5. Capture eye-catching advertising that targets a specific demographic.
Last but not least: It should go without saying, but make sure your photography is fantastic! Real estate agents typically have this down to a science and engage professional photographers to capture the desired look. You appeal to a distinct lifestyle and attract potential customers by using high-quality photos in your advertisements.
This can be included in your ad copy as well, but remember that first impressions matter! If you can appeal to a desired lifestyle through outstanding images, you've got an obvious hook for new leads.
Conclusion
We hope that the above-mentioned strategies for Facebook ads for real estate would be helpful to you in the future. However, please feel free to contact Digiedia, one of the best digital marketing companies in Kolkata for further queries. We would love to help you.