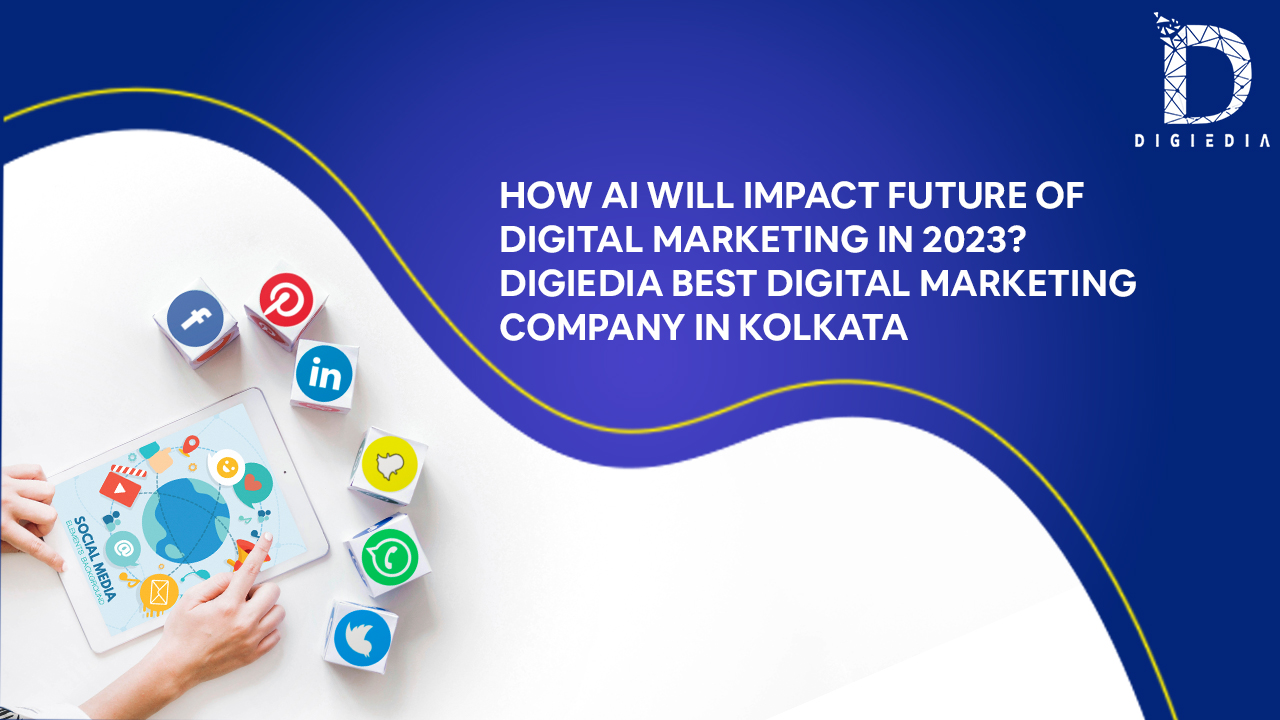 How Will Ai Impact the Future Of Digital Marketing In 2023? Digiedia Best Digital Marketing Company in Kolkata
As digital marketing is a vast sector, we need to rely on AI to excel our work. The future of digital marketing in 2023, seems to be bright. AI will be able to complete any kind of activity which requires data as it grows and evolves. There is no question that machine learning and AI will significantly alter the digital marketing industry. Today, when people think of artificial intelligence (AI), they may picture sophisticated technologies like self-driving vehicles or machines that can communicate with humans verbally like Alexa or Siri. While these are thrilling and get people's attention, the reality of AI is dozens of tools and applications working silently in the background to simplify our lives by automating routine chores or generating predictions. Here, we will discuss how ai is changing the future of digital marketing in 2023 –
Where is AI used most?
In the field of digital marketing, the usage of AI is becoming more and more common. Many digital marketing companies are currently utilizing AI, including web design and development, customer experience optimization, content production, social media ad and campaign creation, analytics, and data mining.
Apart from that, in the future of digital marketing in 2023, By making better product suggestions, customizing the user experience, and automated activities like email answers, AI technologies will assist in the improvement of search engine optimization (SEO).
The usage of AI in digital marketing
Automation of campaigns, reporting on them, and A/B testing are just a few of the things that AI-powered computers will be able to complete more quickly and effectively than people. AI will lead to a more advanced business strategy. This software has become more accessible that's why companies and business owners are now able to use it to analyze data, predict upcoming trends and enhance the quality of their brands. AI is crucial for the success of every marketing effort, from the planning stage through the conversion and customer loyalty phases. As a result, businesses that fully utilize AI will have an advantage over rivals. Here are some of the AI tools you can utilize in your business –
The most popular and well-known system for paid advertising, Google AdWords employs machine learning to support campaign optimization and result improvement.
Use an AI tool like SEMrush if you're searching for a strategy to enhance your SEO. SEMrush gives you the ability to monitor your website's position in search results and discover the keywords that are bringing visitors to it. You may use SEMrush to analyze your competitors and find out what steps they are taking to boost their SEO.
The Chatbots tool Hootsuite Insights analyses social media data to produce insights that might aid with social media strategy. Use an AI solution like Hootsuite if you're searching for a way to automate your marketing duties. You can manage all of your social media accounts with Hootsuite from one location. You can plan articles, monitor brand mentions, and track your outcomes with Hootsuite.
most people use MailChimp for email marketing. You can automate your email marketing activities and produce eye-catching email newsletters with Mailchimp. You may give your subscribers customized messages by grouping your subscribers into different categories using Mailchimp.
In order to improve digital advertising and analyze customer behavior, marketers have access to robust machine learning algorithms with Google Cloud AI. It also has features for picture identification and natural language processing.
Crayon, an AI marketing tool on the list, allows you to keep tabs on your rivals' activity. It is an intelligence tool that allows you to keep an eye on your competitors' online and offline activity and to follow their digital footprint. This might involve adjustments to products and prices, staff evaluations, marketing initiatives, and more.
The power of AI will change the FUTURE OF DIGITAL MARKETING IN 2023
Predictive marketing
Predictive marketing will become more popular, which will make decisions for digital marketers simpler and easier. The method of predictive marketing identifies the most effective marketing approaches to employ in a specific circumstance. The AI assistant does this by looking through data analytics to identify the marketing tactics and plans that have the best chance of being successful.
Transparency
According to research, a recent survey found that 71% of marketing respondents believe companies don't comprehend their target audience. Because of this, 66% of marketers say they want businesses to invest more in cultivating connections with and among their customers. With AI, You can create reminders and alerts and receive precise information when it counts with the help of an AI-based voice assistant and technologies.
Personalization
You can get a wide range of personalized options for your business. Your AI assistant, like Apple's Siri or Amazon Echo, can advertise your brand or your company for you, so you no longer need to do it yourself. You can make your marketing initiatives incredibly personalized by using AI and machine intelligence. You may divide your audience into even more granular target groups by using AI techniques with personalization. You may simply develop even smaller specialty audiences of 10 individuals or even one individual, as opposed to targeting an audience of more than 1k people.
Recognize your brand's voice
The future of digital marketing will change for the following reason. Finding people online and making connections with them is now lot simpler. Even if you don't spend the time to become proficient with it, companies like Google, Amazon, Facebook, and Apple enable others to recognize your voice.
Conclusion
With the help of AI, we will be able to understand what sorts of content our current and potential clients are interested in, as well as the most effective channels for reaching them. Marketers will spend more time on creative and strategic duties with the help of artificial intelligence (AI) and less time on technical chores like forecasting, creating contents manually or buyer behaviour. In this way, AI will change the FUTURE OF DIGITAL MARKETING IN 2023.