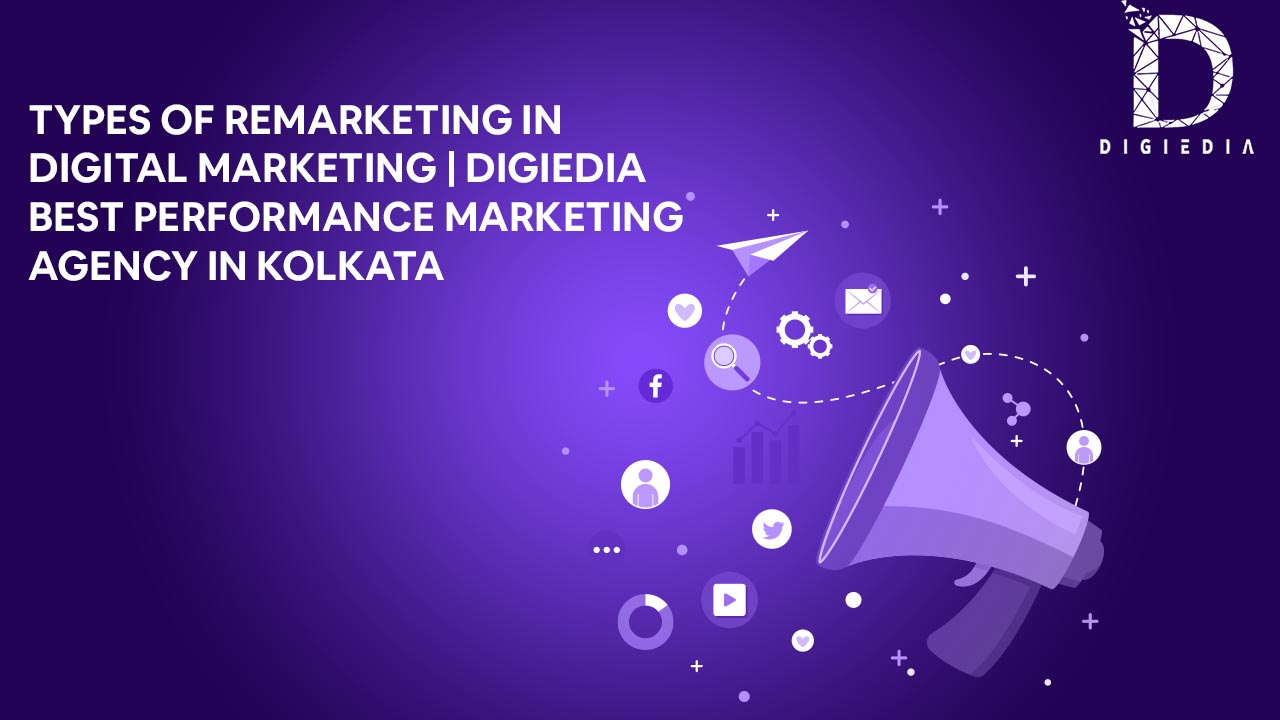 Types of Remarketing in Digital Marketing | Digiedia Best Performance Marketing Agency in Kolkata
In 2023, Digital marketing is becoming an essential part of every business. By the use of digital marketing, you can retarget your audience in various ways. Remarketing, a type of marketing that focuses on customers who have already interacted with your company online, is a very efficient way to increase conversion rates. It allows you to display advertisements to users who have already visited your website or engaged with your content on social media. In order to contact those who have visited particular pages or taken certain actions on the website, a pixel is placed there. By using different types of remarketing in digital marketing, you can draw your customers back in and reawaken their interest in your goods or services by remarketing to them.
Why remarketing is important?
The possibility of increasing conversion rates is one of the primary reasons for doing this kind of remarketing. Remarketing allows businesses to contact customers when they are most likely to make a purchase. Remarketing works by collecting users' data and creating lists, which can also later be used to create email campaigns.
Remarketing ads are one of the valuable tools for helping companies connect with website visitors. Remarketing campaigns come in a variety of forms and are used for various goals.
Digital remarketing may be carried out using a variety of methods, and it's essential to be familiar with them all. There are different types of remarketing in digital marketing available, in here we are going to discuss the top 6 remarketing tactics which are effective
Display ads marketing
Display ads are one of the popular remarketing ads types. It entails employing paid advertising, especially display advertisements, or adverts that show up in the sidebars of external websites, to connect with visitors who have already visited your website. They use cookies to track the users that visit your website, and they subsequently display advertising for your items to those visitors. On websites connected to the ad network you are utilizing, display advertising is displayed. For example, if you use Google Adverts, individuals who visit websites that are a part of the Google Display Network will see your ads. To perform display remarketing ads, you may utilize a variety of platforms, with Google Ads being one of the finest.
Search remarketing
Search remarketing works as a display marketing. It is a standard remarketing. It uses paid advertising on search engine results in pages in place of display adverts (SERPs). This function is known as remarketing lists for search advertising in Google Ads (RLSA). It works by monitoring visits to certain pages on your website, just as display remarketing. Remarketing campaigns come in a variety of forms and are used for various goals.
Video remarketing
Remarketing that uses video ad, is the main attraction of video remarketing, which is an amazingly easy idea. The most convenient platform for this kind of retargeting is none other than YouTube. You may set up your video advertisements in Google Ads in the same manner that you set up your search or display ads. Users who are searching for other videos on YouTube may come across your advertisements and be reminded of their interest in your goods or services.
Your YouTube advertising will often start playing before or in the middle of other people's videos. These adverts should be kept brief to prevent consumers from clicking "Skip Ad" out of boredom. Users who have recently watched your videos or visited your website are shown retargeting ads by this sort of campaign.
Email remarketing
Email remarketing is one of the popular types of remarketing in digital marketing. For personalization in remarketing, email is a fantastic choice. By using Email remarketing, it will let you send bulk emails that address every recipient by name. You can use email marketing to send promotions and reminders to subscribers on your list. You can set up brief forms on your website asking visitors to provide their email addresses in exchange for things like a newsletter or exclusive discounts to start building out an email list. After that, you may begin sending the stuff you promised to everyone on your list. Additionally, you may send emails to website visitors who have abandoned their shopping carts urging them to finish their transactions.
Social media remarketing
Social media remarketing advertising frequently shows as in feed advertisements in consumer's social media feeds. Social networking sites like Facebook and Twitter have a variety of distractions that, in theory, might prevent consumers from seeing your advertisement or from paying it the proper attention for it to result in conversions. Finding a strategy to grab attention and gain people's interest to the point that they want to take additional action is one of the key ingredients to making social media remarketing work for you.
People can be targeted depending on a variety of factors. One option is to use the same strategy as the other categories on this website and focus on customers who have already visited particular pages on our website. However, you can also choose individuals based on how they interact with your social media.
Dynamic remarketing
Dynamic remarketing is one of the popular Types of Remarketing in Digital Marketing. Because it is customized for each user, dynamic remarketing is one of the most effective and well-liked retargeting types. Dynamic advertising is behavioural advertisements that are shown to a person in response to certain features of their online or webpage behaviour. Dynamic remarketing advertisements can come in several shapes, but what makes them distinctive is that each user sees them differently. Dynamic advertisements target consumers depending on an activity they did on your website, typically concerning a particular item or service. The ability to dynamically create advertisements that are specifically tailored for the audience member viewing the material is advantageous. The likelihood that a user will return to your website to finish the transaction improves with this dynamic strategy depending on user behaviour.