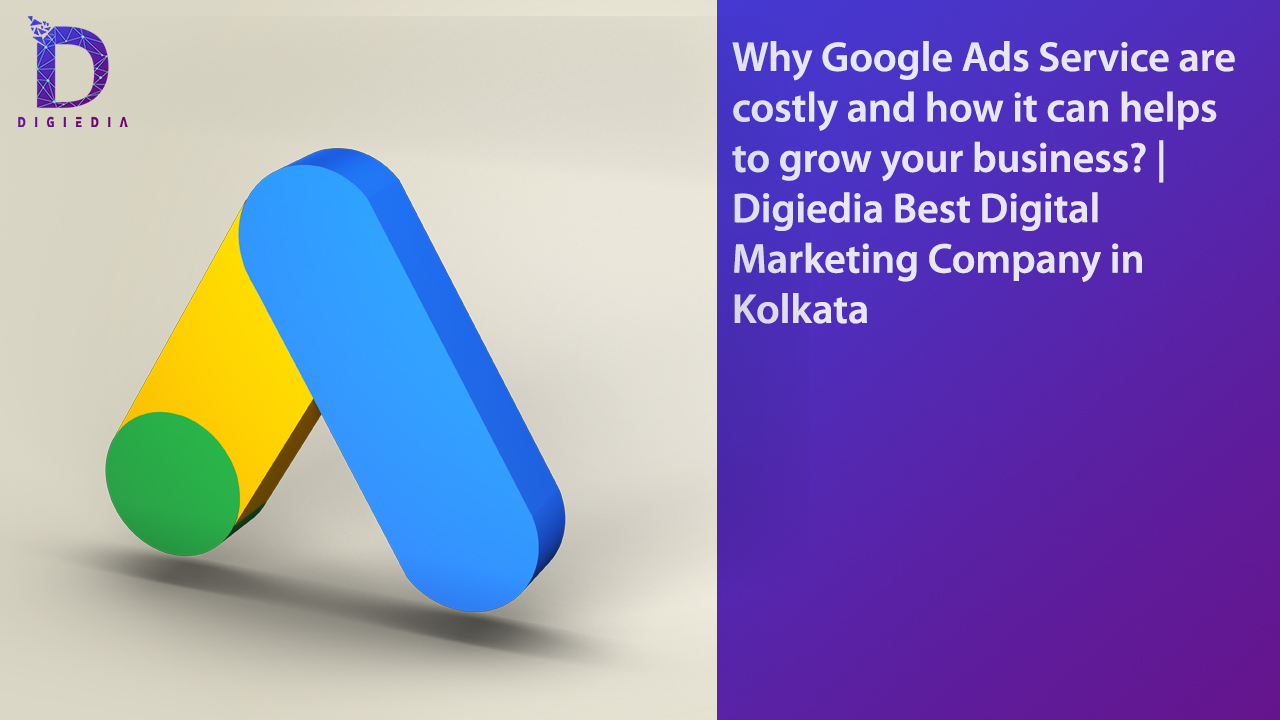 Why Google Ads Service are costly and how can it help grow your business? | Digiedia Best Digital Marketing Company in Kolkata
DIGIEDIA

16 February 2023
Offline, It might be difficult to expand your business and spread awareness about it. More and more companies are using search engines to promote their brands and exclusive deals. After the rise of digital marketing, Both small and large businesses can promote on an equal footing and expand their customer base. In online businesses, The ideal tool to use for optimizing traffic to both your company website and physical presence is Google Ads. In this article, we are going to deep dive into google ads, Why Google Ads Service are costly and how can it help grow your business.
What are google ads?
Google's pay-per-click (PPC) program, known as Google Ads, allows companies to increase their visibility across Google properties. You may advertise to Google and YouTube, the two biggest search engines in the world, using this ad platform. With Google Ads, the company's online advertising program, you can expand your core audience and attract new clients with this advertisement. Google Ads are intended to get you up to speed fast so you can produce effective commercials and generate income from your advertising investment.
Why Google Ads Services are costly?
Google ads costs vary depending on several variables. when do people think why Google ads are costly? then you should know that When Google advertising is pricey, this should serve as a warning to you to make some improvements to your campaign. It is up to you whether the advertising you post on Google cost money or not. If people click on your advertising, you'll have to pay. The click is profitable if the same customer who clicked on your advertisement also visited your website and made a purchase. After all, the whole objective is to profit by displaying an advertisement you have paid for to encourage them to click the advertisement and make a purchase. However, this will cost you more if your advertisement is unrelated to the individual who clicks on it. 
Ads will cost more if keywords are not correctly grouped. This factor makes google ads costly. The process of grouping keywords involves organizing each keyword into groups of closely similar terms. To create effective content for term groups, keyword grouping is crucial for paid search marketing.
If you choose a broad match and several keywords, you could get traffic from those who are not very interested in what you have to offer(irrelevant customers). Broad matching is still acceptable in light of this. Use them sparingly instead since there is a possibility of attracting the incorrect audience, which would raise click expenses. The clicker and your page are both wasting a lot of time with this.
Apart from that, there have other reasons why Google Ads Services are costly, and here we have discussed one of the major and common reasons.
Still, people continue to use Google advertisements, and the reason is that, when done correctly, they are worthwhile. Google Ads can help to grow your business in various ways.
How do google ads help to grow your business?
You can always reach your customers when they want your products because of Google Ads. You can reach your target audience at the precise moment when they are looking for your particular offer, service, or product.
With Google Ads, you can target extremely specific searches. Google will rank your ad higher if your keywords (and keyword phrases) are more specifically focused. Additionally, you'll get in front of a lot more customers that need what you're offering right now.
You can display your contact information using Google AdWords. Ad extensions are definitely there wherever you look, but you might not have realized how they functioned. Businesses can expand their Google AdWords campaigns with ad extensions by adding phone numbers, addresses, URLs for app downloads, landing page links, reviews, and much more. Just under your ad description, they display in blue.
With Google AdWords, you can pick and refine the locations where your ad will appear. Google has a huge number of advertising partners. You may have read a blog in your area of marketing and seen advertisements for that market. That blog most likely belongs to the Google Display network.
You can get more conversions using Google Ads. Make sure the page the advertisement leads to reflects the advertisement's message. When your landing page matches the ad, Google rewards you. When users can easily locate what they're looking for on that page, it's better. This increases your opportunity to gain more conversions.
When a potential consumer clicks on a Google AdWords link, the code you added to your website's back end creates a cookie for them. You may target your ads to appear after they leave your site on Google search or Google Display Networks. With retargeting, Google AdWords gives you the ability to follow your customers.
Are google ads worth the money?
In a short, Google Ads are profitable. With the aid of Google Ads, you can extend your online presence and make it easier for customers to find you. They assist in putting your company at the top of Google's first page of results. There are several advantages to Google Ads for both big and small businesses. To target people based on geography or demographics, you can design personalized advertising campaigns.
Now you have got a clear idea of Why Google Ads Service are costly and how can it help grow your business. If you need any assistance on your business, contact Digiedia – as they are currently the leading digital marketing company in Kolkata and provide top-notch google ads services for every business.